All about linen bedding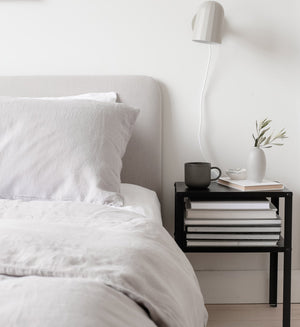 Linen bedding is a great choice if you are looking for comfortable, breathable bedding with a relaxed, effortless aesthetic. Made from the fibres of the flax plant, linen bedding offers a range of benefits that make it a desirable option for a restful and stylish sleep environment all year round.
In this guide, we'll explore the benefits of linen bedding, factors to consider when purchasing linen bedding, how to care for linen bedding and more.
WHAT IS LINEN?
Made from the stem of the flax plant, linen is a highly durable, lightweight fabric - three times stronger than cotton. It has hollow fibres that are naturally insulating, so it keeps you cool in the summer and warm in the winter.
French flax and Belgian flax are the premier types of flax available and produce the best types of linen.
Linen bedding is a great investment as it can be used all year round, is long lasting and becomes softer the more it is used.
WHAT DOES LINEN BEDDING FEEL LIKE?
Linen bedding has a natural softness that gets better over time, usage and washing. Linen is breathable and absorbent, so if you get warm at night, pure linen bedding stays light and dry.  
WHAT ARE THE KEY BENEFITS TO LINEN BEDDING?
BREATHABILITY: One of the key advantages of linen bedding is its exceptional breathability. The natural fibres allow air to circulate, keeping you cool in hot weather and providing a comfortable sleep experience.
MOISTURE-WICKING: Linen has excellent moisture-wicking properties, meaning it can absorb and release moisture quickly. This helps keep you dry and comfortable throughout the night, especially for those who perspire during sleep. Linen sheets are comfortable in any climate.
TEMPERATURE REGULATION: Linen is known for its thermoregulatory properties. It adapts to your body's temperature, keeping you cool in warm weather and cosy during cooler seasons. This makes linen bedding suitable for year-round use.
HYPOALLERGENIC: Linen is naturally hypoallergenic and resistant to common allergens such as dust mites and mould. If you are vulnerable to skin conditions or allergies, sleeping on linen bedsheets and linen pillowcases is a great choice as linen's antimicrobial properties will be soothing for your skin.
BECOMES SOFTER: Linen bedding gets softer the more it is used due to the natural qualities of flax.
RELAXED LOOK: Your linen bedding will also naturally wrinkle easily, which creates a casual but comforting look. There's no need to iron linen bedding unless you really want to!
DURABILITY: Linen is renowned for its durability and strength. It is a robust fabric that can withstand regular use and washing without losing its quality. Linen bedding can last for many years, often becoming softer and more comfortable over time. Linen sheets make a perfect long-term investment. 
ECO-FRIENDLY: Flax grows quite quickly and uses less water and energy to grow than cotton and other bedding materials, so it is sustainable. 100% linen is also recyclable and biodegradable.
IS LINEN AS GOOD AS OTHER OPTIONS FOR BEDDING?
Yes, linen is a great bedding option due to it's many natural advantages. It has quite a different feel to cotton or other types of bedding so if you haven't used linen bedding before, we recommend requesting a linen swatch before you buy or choosing a brand that allows you a trial period, like scooms!
Linen often comes in a selection of plain colours so, if you like the more casual look of linen and want to move beyond white, linen bedding can be a great option when you are shopping for new bed sheets. 
Our linen bedding comes in three classic colours, Calm grey, Soft pink and white. You can also save 5% with our linen bundles featuring a bedding set of duvet cover, fitted sheet and two pillowcases. 
WHEN AND HOW SHOULD LINEN BEDDING BE USED?
Linen bedding can be used all year round because of its naturally insulating and cooling properties.
Your linen duvet covers, linen sheets and linen pillowcases will look inviting and attractive on your bed, layered with other natural fibres, such as wool throws or woven cushions. 
DOES LINEN BEDDING HAVE A DIFFERENT WEAVE?
There are different types of linen but most linen bedding is made from tight or close-weave linen, also known as sheeting linen, which is tightly woven and softer than other varieties. The strong flax fibres are knitted together on looms using a combination of plain and satin weaves, resulting in a sturdy, long-lasting fabric.
DOES LINEN BEDDING COME IN DIFFERENT THREAD COUNTS?
Thread count refers to the number of threads per square inch in a piece of fabric. However, unlike other bedding materials, linen is not typically measured by thread count, so you can't really compare it to other bedding options, like cotton, in that way. Instead, focus on the quality and weight of the linen fabric. Look for a heavier weight linen (measured in GSM - grams per square meter) for a more substantial and durable feel.
Linen's unique feel comes from the texture of the flax, which becomes softer over time.
HOW SHOULD YOU WASH AND DRY LINEN BEDDING?
Always follow the care label instructions. Most linen bedding should be machine washable. We advise washing your linen sheets in warm water and either line drying or tumble drying linen on a low setting. Overdrying may result in increased wrinkles and stiffness.
If you choose to iron your linen bed sheets, do so while they are still damp. Remember though, that part of the charm of linen bedding is its casual, crinkled look, so why not use the time you would have spent ironing your bedding doing something more fun instead!
Store linen bedding in a cool, dry place to prevent moisture build-up and mildew. Avoid storing your linen in plastic bags, as linen needs to breathe. Opt for a linen or cotton storage bag or use a pillowcase to protect it.
See more in our guide: How to care for your linen bedding
IN CONCLUSION, Linen bedding offers a range of benefits, including breathability, moisture-wicking properties, temperature regulation, durability and hypoallergenic qualities. With proper care, linen bedding can provide years of comfort and style. Consider factors such as size, material, weave, colour and price range when selecting linen bedding that suits your preferences and sleep needs. Enjoy the relaxed and timeless elegance that linen bedding brings to your bedroom.
---
Also in Bed linen
Our bed linen guide covers the key things to think about when buying bedding: the feel, fabric, weave, thread count, sizes, styles, accreditations, packaging & care.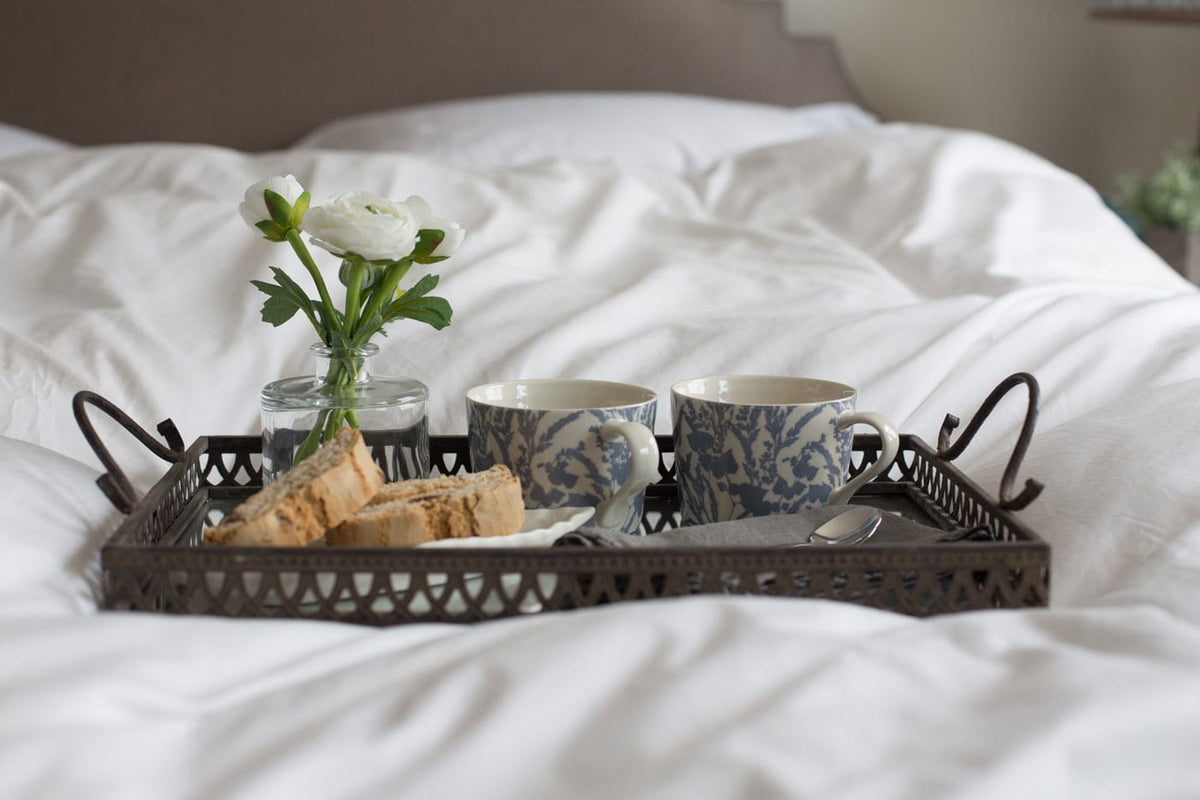 Egyptian cotton bed linen 
is strong, light, breathable and durable with a high 
thread count
. This is
 a luxurious fabric which is why we use it in all our 
scooms bed linen
!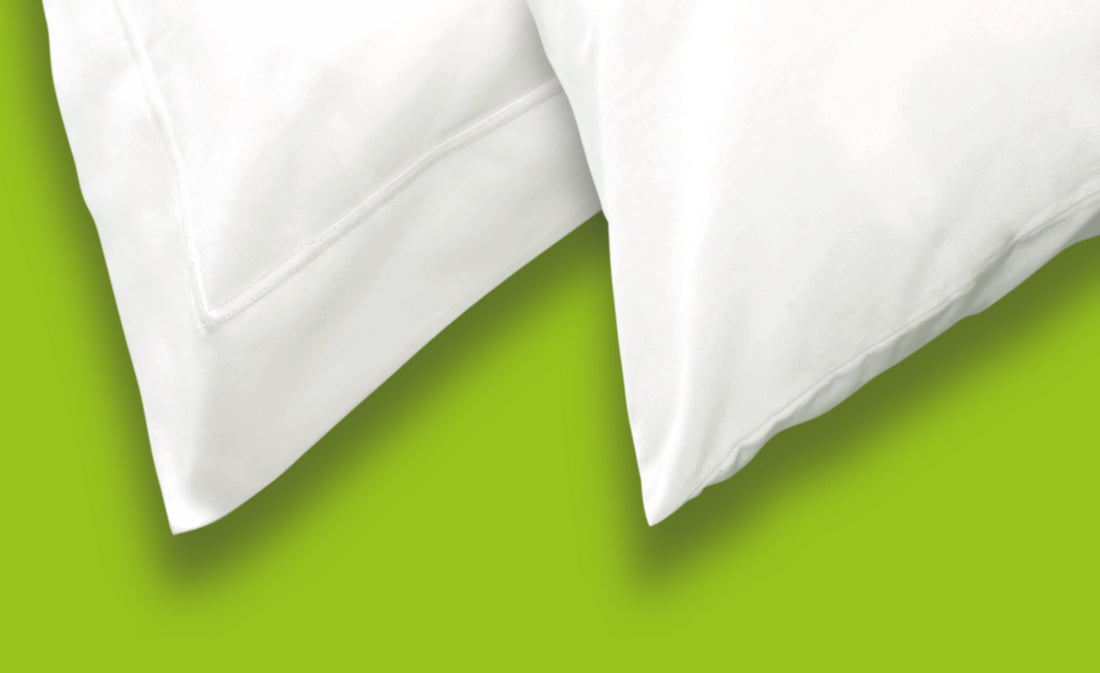 There are two types of pillowcase, the 
Oxford
 and the Housewife. The Oxford has a fabric border around the edge, usually ranging from 5cm to 10 cm. The Housewife has no border, just a plain sewn edge.