Egyptian Cotton Towel Guide
It's no secret that Egyptian cotton towels are the gold standard when it comes to luxury, durability and comfort, but what is it about the way they're made that makes them so well regarded by millions of people around the world? While there's a lot to be said for the superior raw materials in an Egyptian cotton towel, there's a lot more to their manufacture than meets the eye.
Why you should buy Egyptian bath cotton towels:
THE WORLD'S FINEST COTTON
Egypt's amazing cotton isn't just marketing, there's science behind the softness and durability. Thanks to the exceptional growing conditions around the Nile valley, Egyptian cotton produces much longer and stronger fibres than cotton grown in other countries. These are much easier to work with and produce long, luxurious loops in your towel that feel much softer than shorter, stubbier loops made using inferior cotton. Egyptian cotton is also handpicked, which guarantees only the highest quality fibres are chosen, while mechanical gathering throws in the bad with the good which brings the average quality down.
SOFTER AND MORE ABSORBENT TOWELS FOR LONGER
Egyptian cotton is the best in the business when it comes to creating top quality towels, but there's more to the magic than that. Manufacturing is important as well as materials, and that's where Egyptian cotton really shines. Those amazing long fibres let us create Egyptian towels with extra long loops, meaning there's way more surface area to absorb water than with other types of cotton. That makes our Egyptian bath towels super breathable too, so they dry faster and stay fluffy and fresh throughout their life.
EASY TO CARE FOR
It feels like there has to be a catch, but did you know that Egyptian cotton towels are also really easy to care for? Unlike artificial alternatives, all those amazing qualities are totally natural, so it's easy to care for your towels to keep them fluffy and fresh. Wash them at 30°- 40° once a week, without fabric conditioner, and either tumble dry or hang them out to dry, and you'll get years of top quality service from your towel!
GUILT FREE LUXURY FOR YOUR HOME
So 100% Egyptian cotton towels are naturally soft, fluffy and hard wearing thanks to the quality of the materials and manufacturing. Want to know the best part about that? It means we don't need to use any harsh chemicals or artificial ingredients to make our towels top quality. We simply rely on the natural quality of Egyptian cotton, so there's nothing nasty hurting the planet and you can enjoy the best in life. Our luxurious Egyptian cotton bath towels are a great investment and well cared for, they will last for years.
BROWSE OUR EXCELLENT RANGE
Find out more about how we created our luxury Egyptian towel range of Egyptian cotton bath towels and Egyptian cotton bath sheets, plus Egyptian cotton hand towels and Egyptian cotton bath mats. Luxury towels made to the highest standards, sold at a great price, free from anything that could irritate your skin or harm the environment. We don't use single use plastics, so your towels will be tied with a material ribbon and delivered in a fully recyclable cardboard box for a guilt free shopping experience.
Want to know more about how to choose the best Egyptian cotton towels? Check out our guide to choosing the best towels.
---
Also in Towels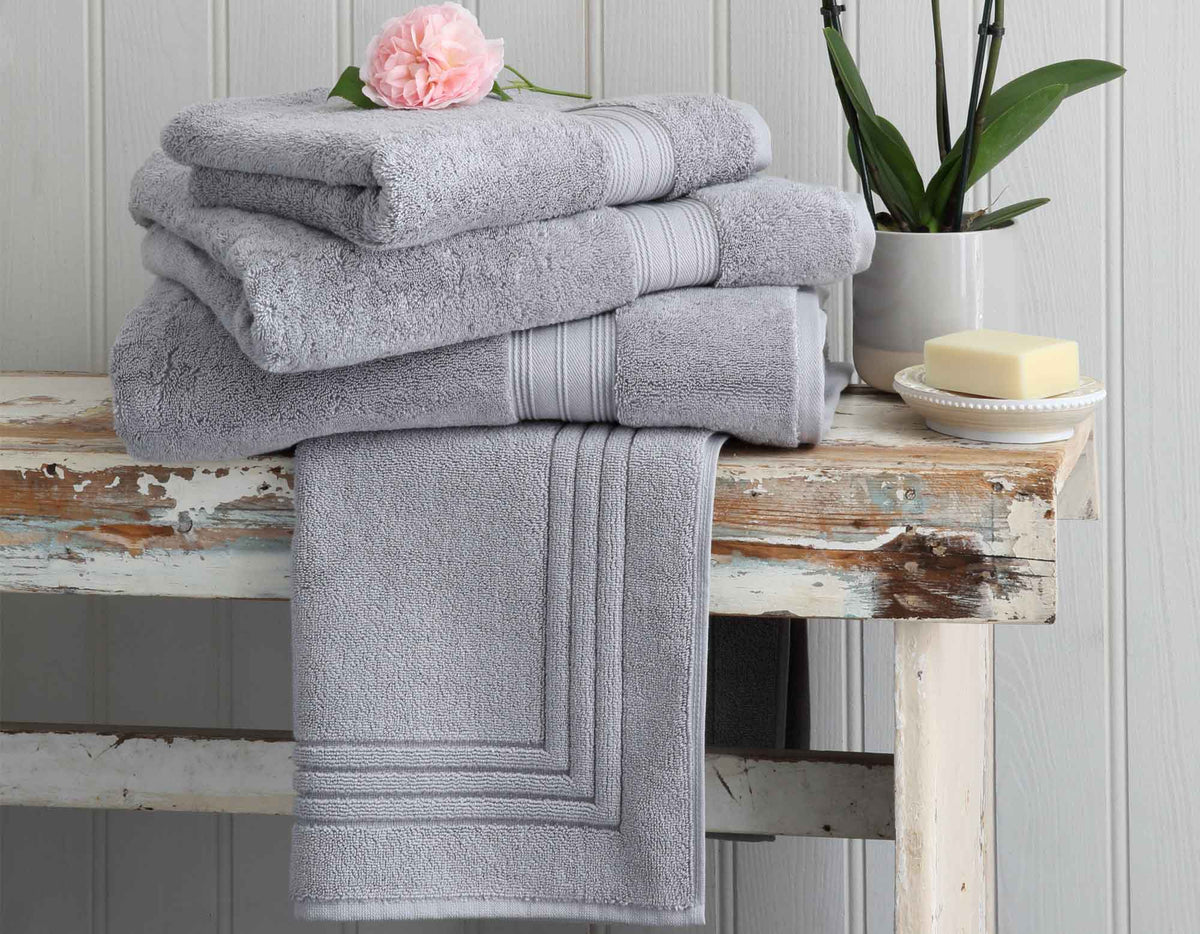 What size towel or towel bale is best for you? Read our expert guide to towel sizes and towel sets. Bath towel, guest towel, hand towel and bath sheet sizes. Covering UK, US and European towel sizes measured in both centimetres and inches.