How to choose the best towels
The best bath towels are fluffy, plush, absorbent and feel soft and luxurious. But when you shop for bath towels, how can you tell which towel you will most enjoy wrapping round you after your bath or shower?
Don't 'throw in the towel' too soon, read our bath towel guide covering the 8 things to consider when you choose your bath towels: material, construction, weight, size, finish, colour & style, no harmful chemicals and plastic free packaging. 
TOP TIP: Check the bath towel care label or towel details for these terms and you will know you are buying a great towel: Around 700 GSM, 100% Egyptian cotton (base & pile), zero twist pile and combed cotton construction. 
How to choose the best bathroom towels:
For tips on how to wash your bath towels, see our guide 'How to wash and care for your towels'.
BATH TOWEL MATERIALS 
The most popular bath towel material is 100% cotton, with finer long staple cottons producing the plushest towels such as Egyptian cotton, Turkish cotton and Pima cotton. 
Cotton, in particular a premium long staple cotton, is the ideal towel material as it is breathable, absorbent, soft and comfortable. 
EGYPTIAN COTTON TOWELS - We think Egyptian cotton produces the best towels due to its strong and long staple fibres. It's handpicked, yielding extra fine fibres which are ideal for creating zero twist towels that are soft yet super absorbent.
TURKISH COTTON TOWELS - The long staple fibres are thinner than Egyptian cotton fibres, though still strong and sleek, which produces towels that are less absorbent but can be quicker to dry.
PIMA COTTON - A long staple cotton that is grown in the US. The fibre shares many of the same properties as Egyptian cotton and produces good quality towels but is considered to be inferior in quality.
Other towel materials include:
Bamboo towels - Soft and absorbent but with a longer drying time. An eco-friendly option.
Linen towels - Durable and super absorbent, but much thinner than cotton, so can be great for hand towels.
Microfibre towels (super fine synthetic fibres) - Fast drying, absorbent and light. Excellent for camping and the gym.
Cotton/synthetic blend towels with polyester, nylon or rayon - Long lasting but not as absorbent or fluffy as 100% cotton.
TOP TIP: Check the care label for the Egyptian cotton trademark to make sure that your towels use genuine certified Egyptian cotton. During our research, we discovered that some towels from well known stores are described as Egyptian cotton but the towel base is actually a standard cotton and only the towel pile is made from 100% Egyptian cotton...!
BATH TOWEL CONSTRUCTION
The way a bath towel is made will impact the finish of the towel.
TWIST - The terms zero twist, twisted or low twist are used to describe towels, but what does this really mean? Think of your towel as having a base (sometimes called the ground) with lots of cotton yarns woven into it (the pile). The yarns that make the pile can either be woven into lovely loops (zero twist) or they can be twisted. 
ZERO TWIST – In a zero twist bath towel, the cotton yarns are woven into loops. To make these loops you need high quality, long, strong cotton fibres (like Egyptian cotton). The advantages of loops are that they are softer than twisted stubby cotton, giving a more luxurious feel. The air gaps and high surface area of the loops adds to the softness and means that the towel dries you quicker and the towel itself dries faster.
Zero twist towels are also better for sensitive skin as the soft luxurious loops don't irritate the skin. If you have sensitive skin or a skin condition, then it's essential that your towels don't exacerbate any issues.
We only use zero twist in scooms bath towels. It makes our bath towels feel luxuriously soft and fluffy and helps them to dry faster.

 
TWISTED TOWEL – in a twisted towel, the yarns are typically made from shorter, often inferior cotton fibres that need to be twisted. Twisted yarns are harder, don't feel as plush, not as good at drying and less absorbent.
LOW TWIST OR SINGLE TWIST – Is a compromise between zero and high twist. Yarns are typically twisted one or two times. They don't feel as plush and are not as good at drying as zero twist towels.
COMBED COTTON - Combing is a process that is only possible when using the best grades of cotton. The cotton yarns are combed to remove the shorter, inferior fibres and debris leaving pure, long, strong and smooth yarns, which keeps the towel soft and prevents pilling. We use combed Egyptian cotton in scooms towels for superior softness.
WEAVE - The towel pile can have a number of different weaves. All scooms towels use terry cotton. Here are the differences:
TERRY COTTON: A woven cotton with long loops that increase the towels surface area, feeling super soft. Able to absorb large amounts of water.
 
RINGSPUN COTTON: A twisted combination of short and long fibres. Ringspun towels can be hard wearing but don't feel as luxurious.
 
WAFFLE WEAVE: Woven in a honeycomb pattern, they are not as plush but can be fast-drying.
BATH TOWEL SIZES
Bath towel sizes in the US and Europe are similar to the UK. There can be small size differences across different towel brands however. Choosing which size towel to use after your bath or shower, a bath towel or a bath sheet, is a personal choice. A bath sheet is a bit larger and will be more enveloping.
Here are scooms towel sizes:
Hand towel: 50 x 100 cm or 19.6 x 39.4 inches
Bath towel: 70 x 135 cm or 27.5 x 53.1 inches
Bath sheet: 100 x 160 cm or 39.4 x 63 inches
Bath mat: 50 x 80 cm or 19.6 x 31.5 inches
Standard UK bath towel sizes in centimetres and inches:
| | | |
| --- | --- | --- |
| TOWEL  | TOWEL SIZE CM |  TOWEL SIZE INCHES |
| Face cloth | 30cm x 30cm | 11.8 x 11.8 inches |
| Guest towel | 30cm x 50cm | 11.8 x 19.7 inches |
| Hand towel | 50cm x 100cm | 19.7 x 39.4 inches |
| Bath towel | 70cm x 135cm | 27.6 x 53.1 inches |
| Bath sheet | 100cm x 160cm | 39.4 x 63 inches |
| Bath mat | 50cm x 80cm | 19.7 x 31.5 inches |
See our Towel Size Guide for more information on bath towel sizes.
BATH TOWEL WEIGHT, DENSITY & GSM
Bath towel GSM refers to the weight of the towel in grams per square meter. Along with the quality of the cotton and the towel construction, GSM can be a good indicator of the quality of a bath towel.
Towel GSM ranges from 300gsm to 900gsm. Lower GSM towels, 300-400gsm, are thinner and lighter and often used for beach or travel towels. 400-600gsm towels are medium weight and generally used for everyday bath towels. 700-900gsm towels are higher end, producing fluffier and more absorbent towels though they may take more time to dry.
The higher and denser the cotton loops that make up the pile are, the higher the GSM will be. This produces an extra soft, absorbent towel. We chose a particularly high GSM for scooms towels - 720gsm - so we could pack in more of those lovely loops. 
BATH TOWEL FINISH
It's often the small details that make a big difference to how your bath towel feels and performs.
TOWEL PILE HEIGHT AND DENSITY - This refers to the height and density of the loops or twists that make up the pile. There is a balance between getting the pile height and the pile density right. Too low a pile and the towel won't be as plush, too high and it will take too long to dry. The same for the density. 
DOUBLE STITCHED EDGES - Check that your bath towels and bath mat have been finished with a strong double-stitched hem so that there will be no chance of fraying. We take extra care and double stitch our edges, ensuring that your scooms bath towels and bath mats will have a long and happy life. 
SEWN IN LOOPS - We have added handy sewn in loops to our scooms towels so that they are easier to hang. It helps them dry quicker and keeps the towel off the floor. (We just need to train our kids to use them!)
BATH TOWEL COLOUR & STYLE
What is the best bath towel colour? The colour you choose for your bath towels can add a sense of style or a pop of colour to your bathroom. It can be argued however, that the best bath towel colour is white. White towels go with everything, are easy to clean and ooze luxury.
WHITE BATH TOWELS - White towels have a minimalist, clean and timeless look with a spa-like or boutique hotel like feel. White bath towels match any design and if you change your bathroom decor, you won't have to invest in a new set of towels (although you might want to treat yourself!)  White towels don't fade with washing and white towels are easy to clean. White towels can more easily show staining but you can use a gentle stain remover, bicarbonate of soda or a little bleach (if recommended by the towel manufacturer) when washing white towels.
COLOURED BATH TOWELS - Adding a new set of coloured towels or patterned towels to your bathroom can instantly update and brighten up your bathroom without a full redecoration. Warm colour towels in shades of brown, pink and red can add a cosy feel to your bathroom. Cooler colour towels, like blues and greens, can create a feeling of calm and relaxation. Classic towel colours in grey, cream and stone are soothing and stylish.
Coloured towels can be susceptible to fading, so you may want to choose a lighter colour towel that won't so obviously show fading. Be careful when using skincare products containing benzoyl peroxide or suncream as they can cause spots of discolouration to coloured towels.
BATH TOWEL ACCREDITATIONS
When choosing new bath towels, what is important is the source and quality of the cotton and how the towel is made.
Check for these certifications on the product labels and packaging.
Egyptian cotton - 100% certified authentic Egyptian cotton. (Make sure that  the whole towel is made from Egyptian cotton. Some manufacturers skimp by using Egyptian cotton for the towel pile and a lower grade cotton for the towel base.)
BATH TOWEL PACKAGING - PLASTIC FREE PACKAGING
A lot of towels come wrapped in single use plastic packaging. Look for towels that come in plastic free or reduced amounts of packaging, which will be more environmentally friendly. 
All scooms products come in plastic free packaging without any unnecessary wrapping or paper inserts. Our towels and bath mats are folded and tied with a simple cotton ribbon. 
Investing in high quality cotton bath towels will give you that luxury spa-like look and feel at home. What's not to like!
TOP TOWEL FAQS:
What are the best quality towels to buy?
scooms believe the best quality towels to buy are: 100% certified Egyptian cotton, zero twist pile, high 720 GSM, combed cotton, OEKO-TEX certified free from chemicals, with plastic free packaging. A towel loop is also handy.
Are Egyptian cotton towels the best?
Yes, Egyptian cotton towels are the best.  Egyptian cotton produces yarns that are thinner and smaller in diameter making luxurious towels. Check that your towels use genuine certified Egyptian cotton.
What is the difference between a bath towel and a bath sheet?
The difference between a bath towel and bath sheet is its size. A bath sheet typically measures 100 cm x 160 cm (39.4 x 63 inches). A bath towel measures 70 cm x 135 cm (27.5 x 53.1 inches). Hand towels measure 50 cm x 100 cm.
Who makes the best quality bath towels?
While many companies make good towels, only scooms make 100% certified Egyptian cotton, zero twist pile, high 720 GSM, combed cotton, OEKO-TEX certified towels that are free from chemicals and with plastic free packaging.
What is a zero twist towel?
The yarns that make up the pile of your towel can either be woven into lovely loops (zero twist) or they can be twisted. To make these zero twist loops you need high quality cotton fibres like Egyptian cotton. Zero twist towels are softer, feel more luxurious and dry you faster. Zero twist towels are also better for sensitive skin. Twisted or low twist yarns use lower quality cotton, are harder and less absorbent.
---
Also in Towels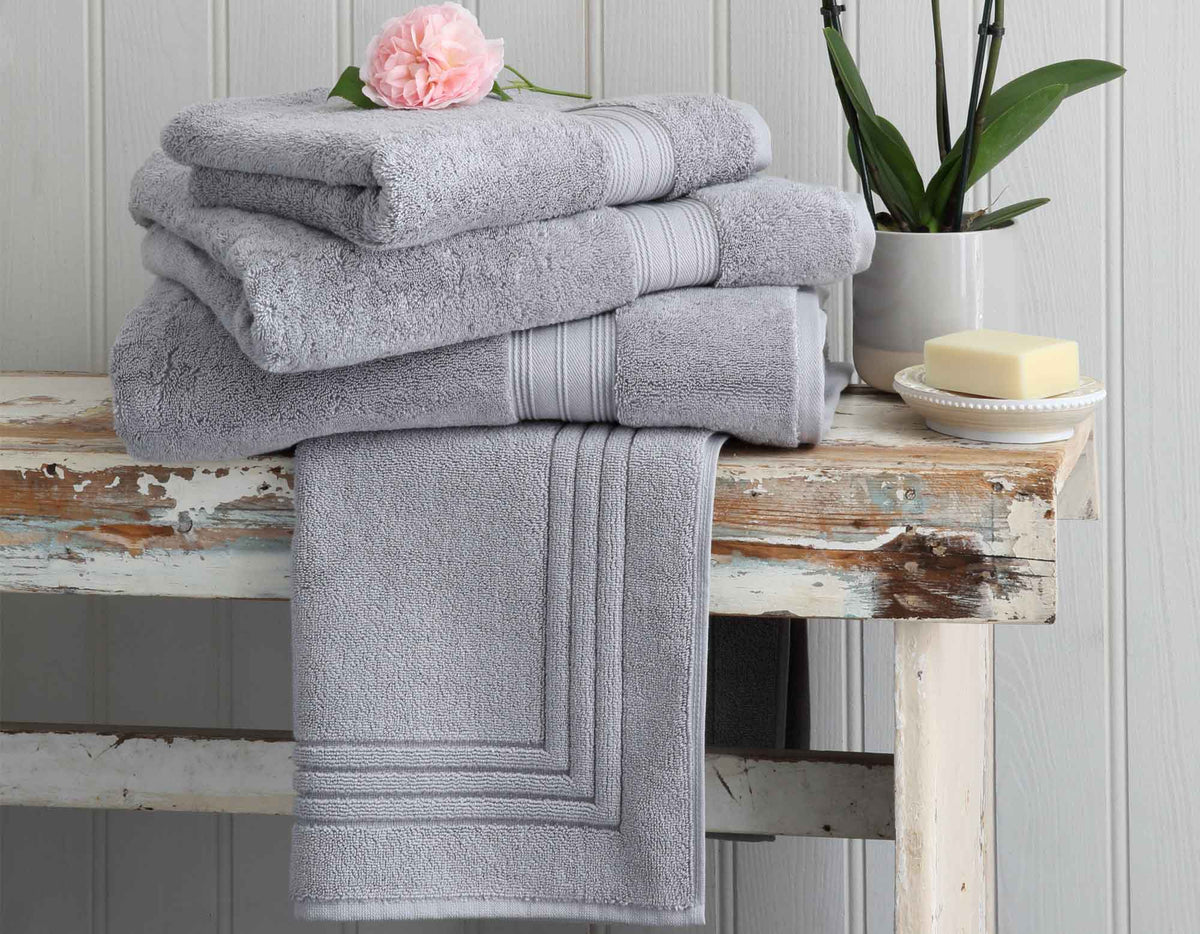 What size towel or towel bale is best for you? Read our expert guide to towel sizes and towel sets. Bath towel, guest towel, hand towel and bath sheet sizes. Covering UK, US and European towel sizes measured in both centimetres and inches.