Oeko-Tex Standard 100 bedding
When you're buying bedding, make sure it comes with the top industry standards. After all, you do spend a third of your life in bed! Oeko-Tex 100, which verifies that the product has been tested against harmful toxins and chemicals, is one of the standards to look out for.
Find out all you need to know about Oeko-Tex 100 in our guide:
WHAT IS OEKO-TEX 100?
The Standard 100 by Oeko-tex® is a worldwide consistent, independent testing and certification system for the screening of harmful substances in textile products at all processing levels, as well as any accessory materials used. It's recognised as the global leader in eco-labelling. Since it started in 1992, Oeko-Tex has issued over 36,000 certificates to more than 5,000 manufacturers and over one million products. 
We recommend that you always buy Oeko-Tex certified bedding to ensure that it is free from harmful chemicals.
OEKO-TEX 100 CRITERIA
This is what Oeko-Tex state about their stringent test criteria:
Since its introduction in 1992, the central focus of the STANDARD 100 by OEKO-TEX® has been the development of test criteria, limit values and test methods on a scientific basis. With its decades of experience, the STANDARD 100 by OEKO-TEX® therefore contributes to high and effective product safety from a consumer's point of view. Test criteria and limit values in many cases go far beyond applicable national and international standards. Extensive product checks and regular company on-site visits also ensure that the industry has a globally sustainable awareness of the responsible use of chemicals. With this concept, the STANDARD 100 by OEKO-TEX® has taken on a pioneering role for many years.
OEKO-TEX DUVETS, PILLOWS, BED SHEETS AND TOWELS
It's important to most of us that the products we use on a daily basis don't affect either our health or the environment. Bedding like duvets, pillows, Egyptian cotton sheets, duvet covers, pillowcases and towels are often a long-term investment and we would all ideally want them to be free from harmful chemicals.
So, make sure that the duvets, Egyptian cotton bedding, linen bedding, pillows and towels you are buying adheres to strict standards like the Oeko-Tex 100. They test bedding and bed linen to product class II for textile products used close to the skin. This includes verification of the following specific requirements:
Exclusion of allergenic disperse dyestuffs.
The strict regulation of formaldehyde.
Verification of good colour fastnesses (particularly resistance to sweat and rubbing).
Skin-friendly pH-value.
OEKO-TEX SCOOMS BEDDING AND TOWELS
Oeko-Tex 100 is the standard verifying that the scooms duvets, pillows, Egyptian cotton and linen bedding and towels have undergone extensive testing for harmful toxins and chemicals. We are licensed to use the registered Standard 100 by Oeko-tex® on all scooms duvets, bedding, pillows and Egyptian cotton towels.
WHAT IS THE DIFFERENCE BETWEEN OEKO-TEX AND ORGANIC CERTIFICATIONS?
Organic certifications relate to how the raw materials used to make your bedding is grown such as organic cotton. Oeko-Tex refers to how the fabric is processed, including the dyes and finishes used in the manufacture.
TOP OEKO-TEX BEDDING FAQS:
How do I know that I am buying Oeko-Tex certified bedding?
Check the product label and the manufacturer's product description for the Oeko-Tex logo and certification.
What are Oeko-Tex Standard 100 sheets?
These are sheets that meet the Oeko-Tex 100 Standard and have been tested and found to be free from harmful substances, with a good colour fastness and skin-friendly pH-value. They are sometimes referred to as Oeko-Tex sheets.
What is an Oeko-Tex Standard 100 pillow
 and an 

Oeko-Tex Standard 100 duvet?

These are pillows and duvets that meet the Oeko-Tex standard for bedding. They can be called Oeko-Tex pillows and Oeko-Tex duvets.
---
Also in Duvet fillings
Hungarian goose down duvet guide, we tell you why you should choose goose down duvets and goose down pillows; 12 things you need to know about goose down before buying your goose down duvet or pillow; and the 7 elements we believe make up the best goose down duvet.
Say hello to one perfect all natural Hungarian goose down duvet! The 7 key elements that we believe make up the perfect duvet.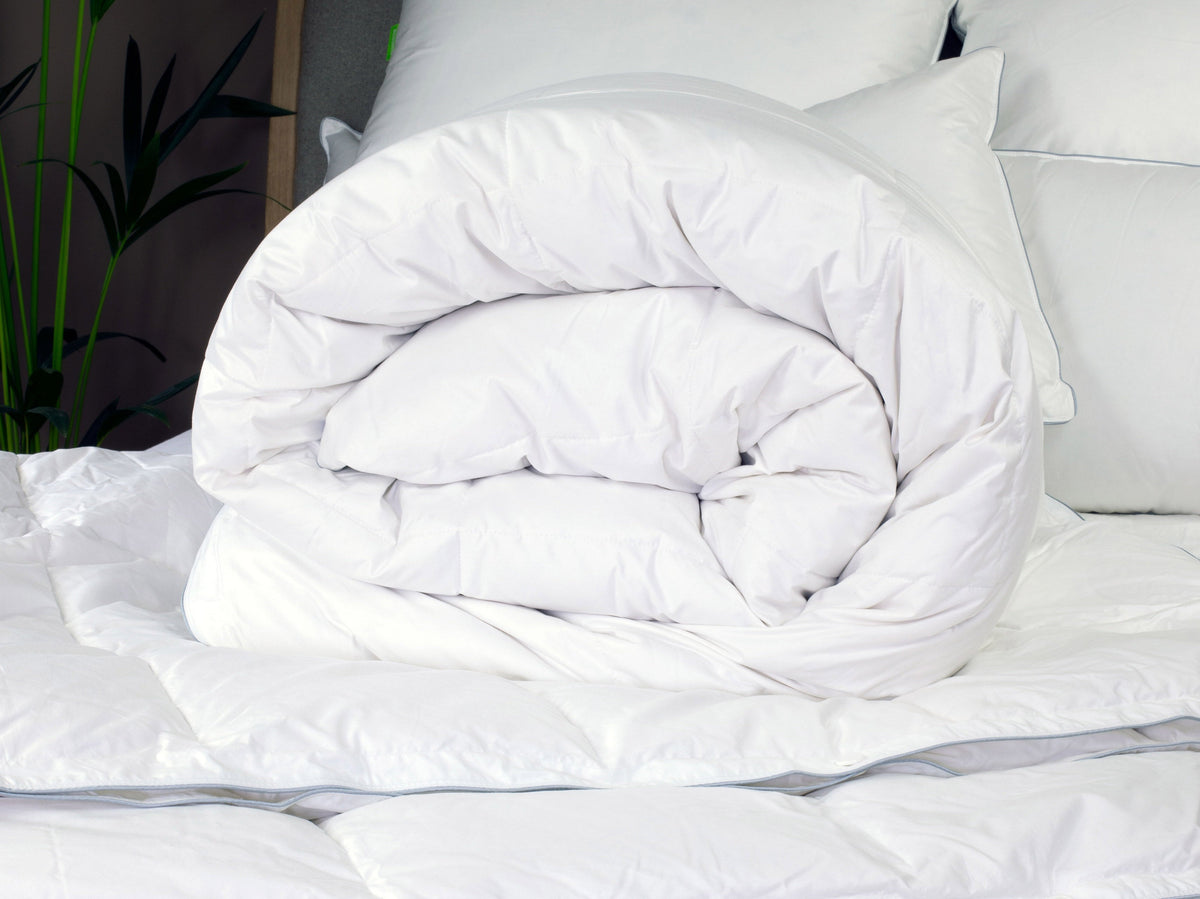 Our best duvet buying guide covers the 10 most important things to think about when buying a duvet: tog rating, duvet filling, fill power & weight, how the duvet is made and the environmental impact. Plus, duvet sizes, anti-allergy bedding, accreditations to look for and how to care for your duvet.