How to choose the best bed linen: 10 things to know
Our bed linen guide covers the key things to think about when choosing the right bedding, the best sheets, types of duvet covers and pillowcase style. Consider the feel, fabric, weave, thread count, sizes, styles, accreditations, packaging and how to care for your bed linen.
The best bedding should feel wonderful, enhance the look and feel of your bedroom, and most importantly help you to sleep well. If you invest in the best quality bed linen, you will discover that it really can improve your sleep.
We've demystified bed linen jargon to help you choose the best bed linen that's right for you:
THE BED LINEN FEEL
Along with your duvet, pillow and mattress, the bed linen that you choose will have a big impact on how your bed feels and how you sleep. As your sheets, duvet cover and pillowcase are against your skin every night, it's important to think about what kind of bed linen will give you the best night's sleep. There are, after all, many bed linen types.
Different fabrics and weaves have different characteristics and therefore have a different feel. The best bed linen is made with the highest quality natural materials and woven to the highest standards.
Decide whether you like your bedding to feel smooth and silky, cool and crisp, or cosy and warm. This will help you choose which bed linen fabric and weave will suit you best. 
THE FABRIC / FIBRE
The biggest impact on your bed linen will be the fabric or fibre used. Do you want to go for natural fibres or synthetic? Different fabrics all have their own unique feel and characteristics.
COTTON BED LINEN - Cotton is probably the most common fabric used to make sheets and bed linen. Cotton is natural, breathable, biodegradable and feels great next to the skin. There are many types of cotton. The two best quality cottons are Egyptian cotton and Supima cotton.
EGYPTIAN COTTON - Egyptian cotton is recognised as the finest cotton for bed linen the world over and it's our favourite! Bed linen made from Egyptian cotton is strong, light and breathable. One of the great benefits of Egyptian cotton is that the feel improves with use and with each wash.
Egyptian cotton comes from a different plant (Gossypium Barbadense) to regular cotton, which is why it has different and superior properties. Egyptian cotton has extra long fibres which produce thread or yarns that are thinner and smaller in diameter yet stronger than other cottons. This means that the threads can be woven into a luxurious durable fabric that no other cotton can match.
Bed linen described as 'luxe' or 'hotel quality' is not necessarily made from Egyptian cotton. Look for the symbol of Egyptian cotton authenticity on the care label or packaging.  
SUPIMA / PIMA COTTON - Supima or Pima cotton was created in the USA to compete with Egyptian cotton. It is grown in the USA. Like Egyptian cotton, it is made from a long staple fibre which gives the cotton its premium properties. 
BRUSHED COTTON / FLANNEL - Brushed cotton is made from loosely spun cotton. It has been carefully brushed to create a soft and fuzzy raised texture, which holds in your body heat, resulting in a fabric that's warm and cosy, but still breathable.
Brushed cotton can also be called flannel or flannelette, though there is a difference. A brushed cotton fabric is only brushed on the face side. Flannel or Flannelette fabric is brushed on both sides.
POLYCOTTON - Polycotton sheets or 'easy care' sheets are made with a blend of man-made polyester (a type of plastic) and cotton. Polycotton bed linen is generally cheap to buy and easy to care for. It dries quickly and doesn't require much ironing.
It doesn't have the luxury top-quality feel that other fabrics have. It is also not as breathable as a natural fibre like cotton and linen, so not a great choice if you suffer from night sweats or if you are a hot sleeper.
As polyester is made from a petrochemical, it's not biodegradable like natural untreated fabrics. It can also shed plastic microfibres when washed which can end up in our rivers and seas.
LINEN - Linen is made from the natural long, hollow fibres of the flax plant, which is spun into yarn. Flax is mainly grown in Europe. French and Belgian flax is generally regarded as the highest quality. Our linen bedding range is made from French flax.
Linen has natural breathability and insulation properties and therefore, offers excellent temperature regulation all year round. The fabric is very strong and durable, which means that linen bedding is really long-lasting.
Linen fibres are naturally eco-friendly, renewable and biodegradable; as well as being antimicrobial, which can help if you have an allergy or skin condition.
Whilst linen may not initially feel as soft as cotton, it does get softer with each wash. Choose pre-washed - garment washed or stone washed - linen if you want that softer feel straight away.
scooms linen has been garment washed in small batches to relax the fibres, resulting in linen that is soft, supple and luxuriously light. Amazingly comfortable from night one!
SILK - Silk sheets feel really smooth and luxurious against the skin. Silk bedding is made from the cocoons of silk spun by silkworms. As with other natural fibres, silk is breathable and wicks moisture away from your skin to help keep you cool as you sleep. Like linen, silk has anti-bacterial properties.
It is also said that silk has beauty benefits. The naturally occurring proteins and oils in silk help care for your skin. Silk tends to draw less moisture away from your skin, while the smoothness of the fabric means that there is very little friction to pull at the skin and hair while you sleep. Which should lead to a smoother complexion and less tangled hair!
Silk sheets and bedding can be more laborious to care for as it may need to be hand washed and air dried. It wrinkles easily and can also be very hard to iron. A labour of love for your beauty sleep!
We sell scooms Mulberry silk eye masks which help prevent unwanted light from disrupting your sleep while skin-friendly properties help protect against frown lines and eye creases.
BED LINEN WEAVES
As well as the fabric, the weave that your bed linen fabric is made with will also affect the feel. Fabrics are woven from threads or yarns. These can be woven together in different ways to change how your sheets feel. Sateen and Percale weaves are the top choice for good quality cotton bed linen. 
These are the main types of bed linen weaves:
SATEEN - Sateen weave sheets feel soft, slightly silky and luxuriously smooth so this weave is often used in luxury bed linen. Sateen sheets have a slightly warmer feel than percale. It's what we use for our Egyptian cotton bed linen.
PERCALE - Percale is a tightly woven weave so percale sheets tend to feel crisp and cool. Percale fabric can be woven with pure cotton or with a blend of cotton and polyester.
TWILL - A twill weave creates bed linen with a diagonal pattern that has a distinctive textured herringbone appearance. Twill bed linen is known for being supple with a great drape (the way it hangs).
JACQUARD - Joseph Jacquard invented this weaving technique in 1804. A special loom is used to weave a pattern directly into the fabric.
WAFFLE - The yarns are woven so that they form a honeycomb grid structure with recessed squares. This creates a fabric that is 3 dimensional and highly textured.
JERSEY - Jersey bed sheets use the same type of knit cotton or cotton mix as the humble t-shirt! They are soft and stretchy but not particularly durable.
SATIN - A satin sheet may be made of silk but is generally made from synthetic fibres which are woven or knitted tightly together. This synthetic fabric has a silky, smooth finish and is inexpensive. However, it is not very durable, can snag easily and feel hot and sweaty to sleep in.
MICROFIBRE - This synthetic fibre creates a soft, durable and wrinkle resistant fabric. Although, as it is quite a dense fabric, it may feel a bit warm and sweaty in hot weather.
THREAD COUNT / GSM / MOMME
Great sheets are determined by the quality of the fabric, the weave and the thread count in cotton or GSM in linen or Momme in silk. A high measurement won't make up for poor quality fabric but it can go a long way to contributing to fantastic bedding.
COTTON THREAD COUNT - Thread count is the measurement used in cotton materials. It refers to the number of threads woven together per square inch of material. The more threads woven together means a higher thread count. The right thread count can make a difference to the smoothness, quality and feel of your sheets.
Thread counts for bedding typically range from 200 to 800, though 1,000 and higher thread counts do exist. Thread count is not however, the most important indicator of quality bedding, more important is the quality of the cotton threads that the bedding is weaved from. You can have high thread count sheets made from poor quality cotton.
Choose 200 thread count and above - anything less will wear badly, rip and develop holes! Be wary of really high thread counts over 800 which can produce very stiff sheets and duvet covers that are not very comfortable to sleep on and are really hard to iron! We picked 600 thread count for our Egyptian cotton bed linen.
LINEN GSM - Linen is measured in GSM (grams per meter) and typically ranges from 100gsm to 200gsm. We use 150 GSM for our linen bedding range. We found lower GSM too thin and higher GSM too heavy and rough to the touch.
SILK MOMME - As silk fibres are much thinner in diameter than cotton, momme is used instead of thread count. Momme describes silk's weight and density. The higher the momm, the more strands of silk per 100 yards of fabric, which means that the silk will be higher quality and more durable. Momme measurements range from 11-momme to 25-momme, with 22-Momme the ideal measurement for the best quality silk bedding or clothing.
FINISHING TOUCHES
It's often the little details or finishing touches that can help make your bedding feel luxurious. After all, it's the thought that counts! So we have added several special details to our scooms bed linen. 
SHEETS -
Deep fit fitted sheets - up to 40cm / 15.7" mattress depth so that it fits any mattress.
Fit - continuous elastic hem so it fits just right.
Feet label - so it's easy to tell which way round your sheet goes.
DUVET COVERS -
Button fastenings - we have large easy to use buttons on our Egyptian cotton and pretty oversized mother-of-pearl buttons on our Linen.
No tie fastenings - we experimented with ties but found them fiddly, hard to undo and easy to break!
Feet label - so it's easy to tell which way round your sheet goes.
PILLOWCASES -
Housewife style closures - an inside flap at the end prevents the pillow from easily falling out. 
Standard end not central envelope closures - it's much easier to fit a pillow inside the end of a pillowcase rather than trying to squeeze it into a central envelope closure. 
PACKAGING - Each of our bed linen products, our duvet covers, fitted sheets, flat sheets and pillowcases pairs are all delivered in a matching linen or Egyptian cotton bag without any plastic wrapping.
STYLES, COLOURS & PATTERNS
The styles and colours you pick for your bedroom should serve to enhance the relaxing and peaceful ambience of the room where you rest and sleep. Your bed linen styles and colours should complement the overall design of your bedroom.
You may therefore want to choose a neutral colour palette for your bedding that will match any bedroom style. Colours which clash or are overly busy can irritate and cause vision fatigue.
Using splashes of strong colour or pattern through throws or cushions can add a sense of happiness to your sleep sanctuary without affecting your sleep and help you to feel ready to take on the world when you wake up in the morning. 
Bed linen colour is a very personal choice. The most popular colours for bed sheets are neutral colours like white and cream, while popular duvet cover and pillowcase colours include white, grey, pink and green in various shades.
White bedding - Creates a fresh, calming feel and always looks new rather than dated.  Gives that luxury hotel bed feel at home - see more in our blog.
Cream & beige bedding - These neutral colours are soothing and easy to match to most colour schemes.
Light & warm grey bedding - These cooler colours can help make you feel cooler at night, giving you a more comfortable sleep. 
Pink, red, yellow & orange bedding - Warmer shades can promote a healthy nervous system. Pops of pink, red, yellow or orange in your bedroom can ensure that you wake up happy, cheerful and refreshed.
Green bedding - Earth toned greens like forest green, moss, and sage can provide a serene background, for walls and bed linens.
Blue bedding - Induces a sense of calm, contentment and peacefulness. Studies have shown that blue shades can reduce your heart rate and lower your blood pressure, as well as helping you to sleep more soundly.
Black bedding - The colour of a dark night, black may help lull you to sleep. However, it won't make it easy to get up in the morning! It can be an easy colour to match with any colour scheme and could be deemed a rather sexy bedding colour!
Patterned bedding - Keep patterned linens simple, with minimal neutral or earth tone colours that will blend well with the rest of the colours in your bedroom. If your pattern is too busy or too loud, it will clash with the any other patterns you have, curtains, rugs, throws, etc. 
BED LINEN SIZES
It important to get the right size bedding for your bed.
Here are the scooms duvet cover, sheets and pillowcase sizes:
View our size guide for international bedding and duvet sizes.
ACCREDITATIONS TO LOOK FOR
When choosing bed linen, it's important to cut through the clutter. Phrases such as 'luxe' and 'hotel quality' are marketing terms that don't really mean anything. What is important is the source and quality of the fabrics and how the bedding is made.
Check for these certifications on the product labels and packaging.
PLASTIC FREE PACKAGING
A lot of bedding comes wrapped in single use plastic packaging. Look for bed linen that comes in plastic free or reduced amounts of packaging, which will be more environmentally friendly.
All scooms products are free from plastics, toxins and chemicals, and delivered in reusable, recyclable packaging. 
CARING FOR YOUR BED LINEN
To wash or not to wash your bed linen before use? Well it's a personal choice but we recommend that you do. Your bedding will feel softer and refreshed. Both our bedding ranges, Egyptian cotton and Linen will improve and become softer with each wash.
To keep your scooms Egyptian cotton bed linen in tip top condition:
Wash your bed linen at 40° before use and then once a week, or go greener at 30°.
Tumble dry on low heat or air dry in the sunshine to keep your whites bright.
Use our Wool Dryer Balls to reduce drying time and creases naturally.
Iron damp on a high steam iron setting.
To keep your scooms linen bedding in tip top condition:
Wash your linen separately using mild detergent at 40° or go greener at 30°.
Do not use bleach or fabric softener.
Tumble dry at lower heat - use our Wool Dryer Balls to reduce drying time and creases naturally.
Iron damp if desired, being careful not to scorch the linen, or immediately make your bed with slightly damp bedding to reduce wrinkles without ironing.
A handy tip: To keep your linen set together and ensure that the matching pieces are always easy to find, store them inside one of the pillowcases.
Love your scooms bed linen and it will love you!
TOP BED LINEN FAQS:
How to choose bed linen?
When you buy bed linen - sheets, duvet covers and pillowcases - the main things to consider are the feel, fabric, weave, thread count, sizes, styles, accreditations, packaging and care.
What is the best bedding?
The best bed linen for you will be the bedding that gives you the best night's sleep. Decide whether you like your bedding to feel smooth and silky, cool and crisp, or cosy and warm. This will help you choose which bed linen fabric and weave will suit you best.
What is the best type of bed linen?
The best type of bed linen is made with the highest quality natural materials and woven to the highest standards. Egyptian cotton is recognised as the finest cotton for bed linen. Bed linen made from Egyptian cotton is strong, light and breathable, and the feel improves with use and with each wash. 
What are the best bed sheets?
Cotton is the most popular fabric for sheets and bed linen as it is natural, breathable and feels great next to the skin. The best bed sheets are Egyptian cotton sheets and Supima cotton sheets.
---
Also in Bed linen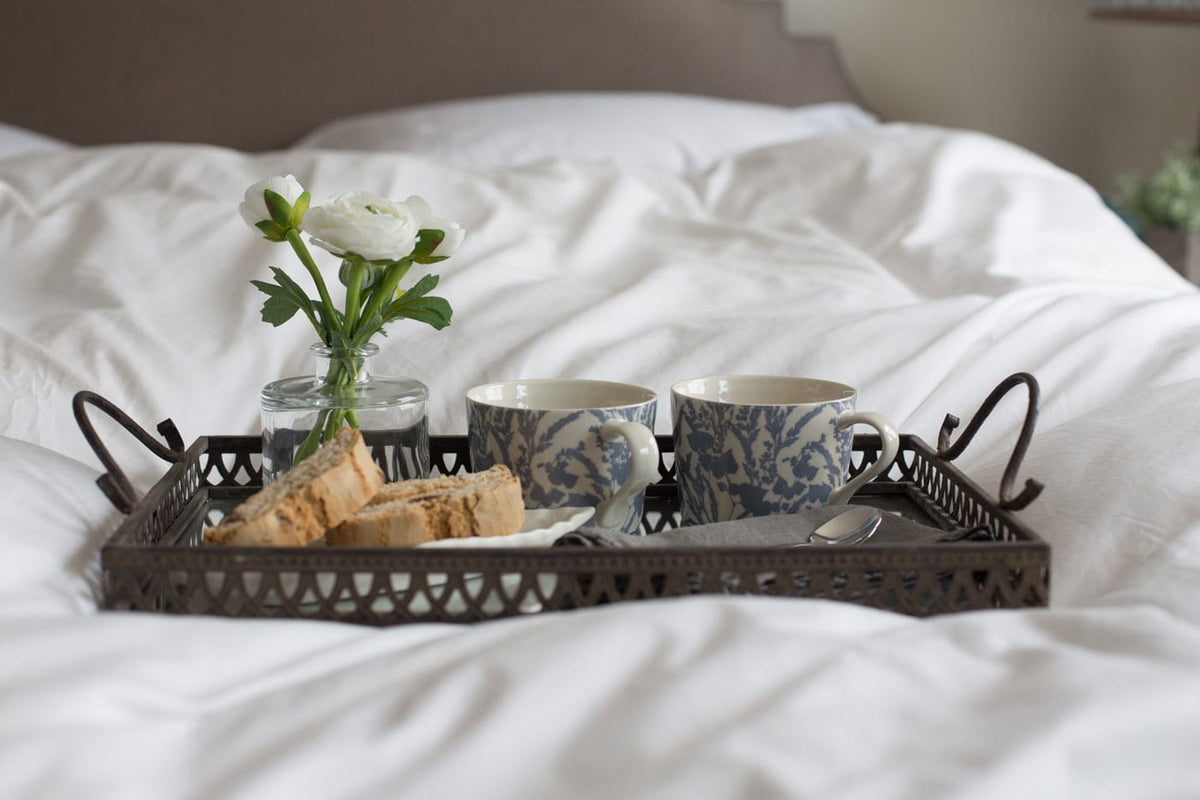 Egyptian cotton bed linen 
is strong, light, breathable and durable with a high 
thread count
. This is
 a luxurious fabric which is why we use it in all our 
scooms bed linen
!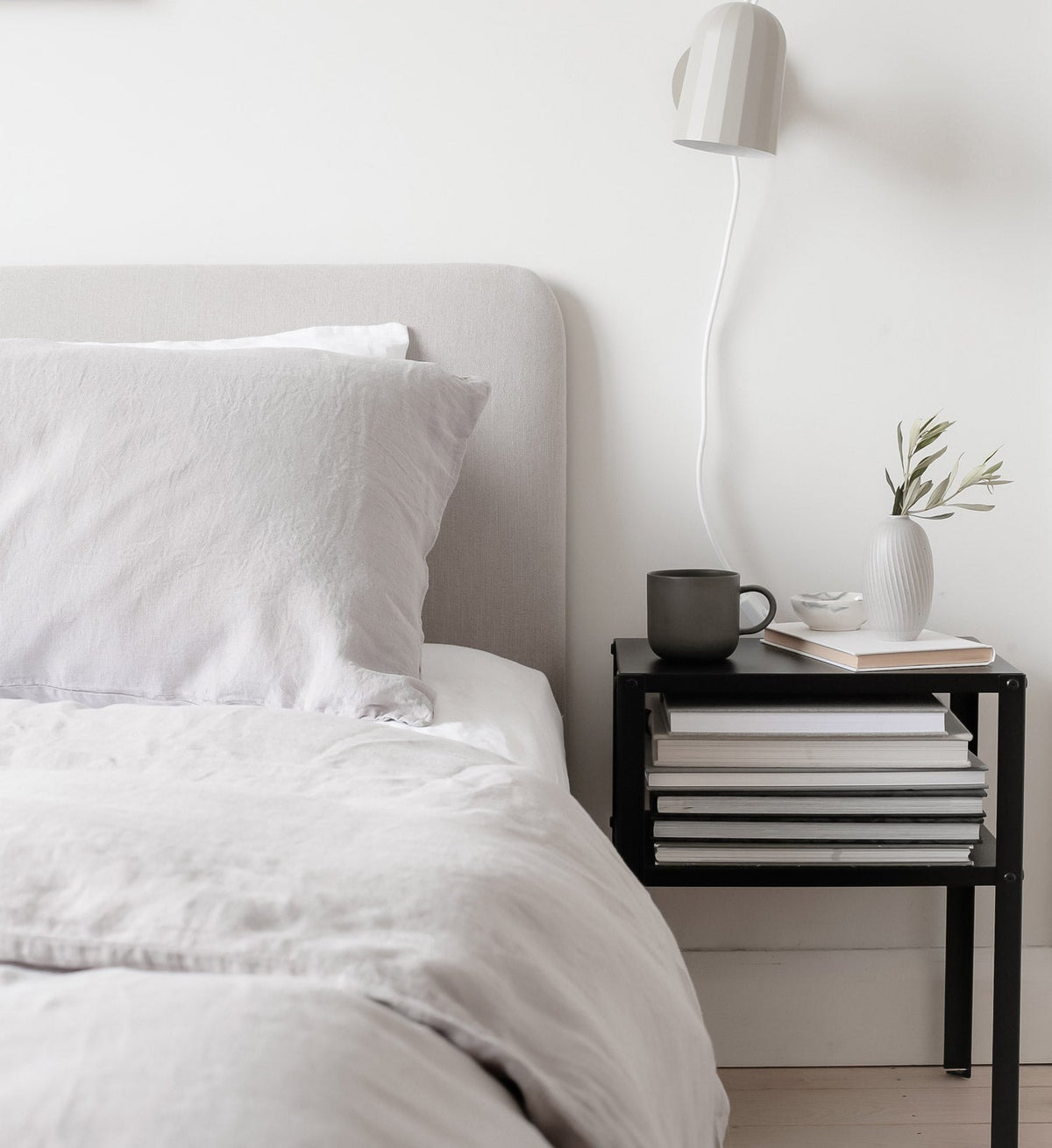 Linen bedding is a great choice as it's comfortable & breathable with a relaxed aesthetic. Naturally insulating, keeping you cool in summer & warm in winter.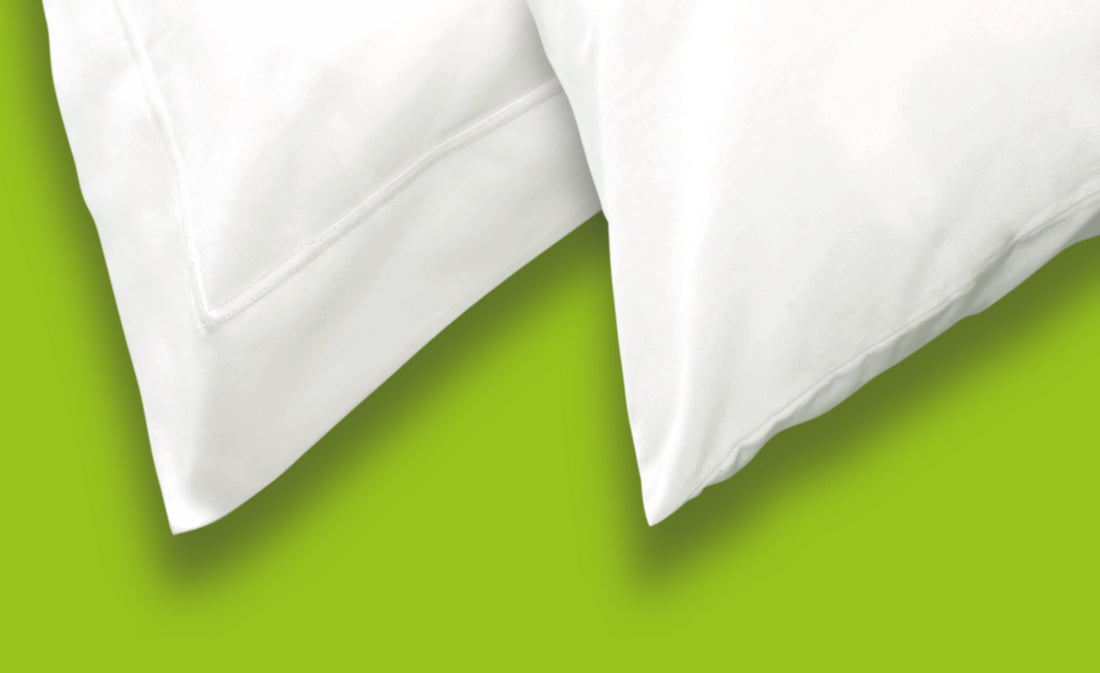 There are two types of pillowcase, the 
Oxford
 and the Housewife. The Oxford has a fabric border around the edge, usually ranging from 5cm to 10 cm. The Housewife has no border, just a plain sewn edge.