Get that luxury hotel bed feel at home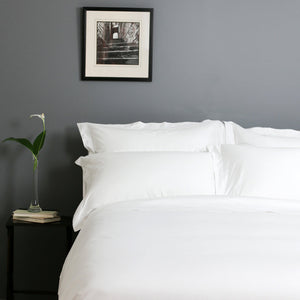 With many of us not going away on holiday this summer, we thought we'd give you some top tips on how to give your bed a hotel style make-over including the secret to getting your sheets and covers wrinkle free!
Slipping into a luxurious hotel bed with fluffy pillows, silky-soft sheets and a cloud-like duvet is one of the best parts of being on holiday. But why wait! Create your own luxury hotel bed feel at home.
The hotel bed essentials:
ALL WHITE BEDDING
Exude a modern coolness like a high-end hotel with spotless white bed linen. White bedding creates a fresh, calming feel and it always looks new rather than dated. Use warmer colours on your headboard, throws and cushions to balance the coolness of the white and keep your bedroom looking cozy and luxurious.
EGYPTIAN COTTON SHEETS
High end hotel sheets are almost always made from Egyptian cotton.  Why? This long-staple cotton produces a luxurious fabric which is strong, light, supple, breathable and durable. It also gets softer with each wash. All essential qualities for hotel quality sheets.
How to look after your 'hotel quality' sheets:
Change and wash your sheets once a week.
Dry your sheets outside if you can. Or use wool dryer balls to minimise creases from tumble drying.
Hotels iron sheets with a roller iron. At home, the best way to iron your sheets and duvet covers is to fold them in half, first iron one side and then iron the other.
FLAT SHEETS
Hotels don't use fitted sheets. Instead they use two flat sheets as it is easier to iron a flat sheet and then to pull it over the mattress without creases.
The bottom flat sheet is often a larger size than the top sheet. Both sheets are tucked around the mattress using hospital corners.
How to tuck in your sheets like a hotel housekeeping pro:
Lay both sheets flat on your mattress, making sure the top sheet is on upside down so that when you fold over the top, the correct side of the sheet is showing.
Tuck both sheets into the sides and end of your bed, leaving the corners hanging out.
Lift the edge of the sheets to a 45-degree angle to your mattress and pull tight. Then tuck both sheets together under your mattress.
FLUFFY DOWN OR DOWN ALTERNATIVE DUVET
A goose down and feather filling produces the fluffiest, softest and most insulating duvet. This is what all top hotels use. If this is not an option for you, a down alternative duvet is another choice. Make sure your duvet has a pocket construction so that the filling is evenly spread and doesn't sink down to the foot of the duvet.
How to put your duvet into your white Egyptian cotton duvet cover:
Give your goose down duvet a good shake to fluff up the down.
Lay your duvet cover on the bed.
Grab one top corner of your duvet and put it up into the top inside corner of your duvet cover. Then do the same with the other corner.
Pull the cover down a bit and then hold the top two corners of the duvet cover and duvet together and give it a good shake.
Place your duvet on the bed so that it is 5cm away from your headboard and then smooth out any wrinkles.
PLENTY OF PILLOWS
Hotels often have a variety of pillows both on the bed and in the cupboard. You should have two main larger size King pillows filled with fluffy goose down and feather. For a king size bed, you could have up to 4-5 pillows. Two of the pillows should be placed standing up against your headboard.
How to flatten your pillows so they stand tall:
Put your hands in the middle, then keep slowly pushing both sides out in opposite directions until your pillow is half as thick as you started.
Take the top two corners of your pillowcase and stand the pillow up next to the headboard.
Stack your other pillows against this base pillow.
See our blog post on What makes hotel pillows so comfortable.
FEATHER MATTRESS OR TOPPER
Do you need to upgrade your mattress? If you have had your mattress for longer than 7 years, then it might be time to invest in a new one. A typical top quality hotel mattress is innerspring and thicker (coupled with a boxspring) giving that luxuriously comfortable feel.
Another (cheaper) option is to buy a goose down and feather mattress topper. A good topper will provide softness, warmth and support. Close your eyes, sink into your topper and you will be able to imagine you're on holiday in that luxury hotel!
THE SECRET TO WRINKLE FREE LINEN
How do hotels get that pristine unwrinkled look? The secret is simple and something any of us can do easily at home. All you need is a spray bottle filled with tap water. Spray a light mist over your sheets or duvet cover. Wait a minute and then gently shake or smooth your linens until the creases settle.
FINISHING TOUCHES
Add some colour to balance out your white linen. Give your bedroom a brand new look with a colour or patterned upholstered headboard. Add a gorgeous Alpaca or Merino wool throw and some decorative cushions to really complete that luxury hotel look.
Light your lavender scented natural candle and relax on your luxury hotel style bed. 
Bedtime will never be the same again!
---
Also in The scooms blog
What could be better than a beautiful set of luxury bedding to gift a newly married couple? Practical, thoughtful and timeless, it's a gift any newlywed couple are sure to appreciate and the perfect way to mark the start of an exciting new chapter in their lives.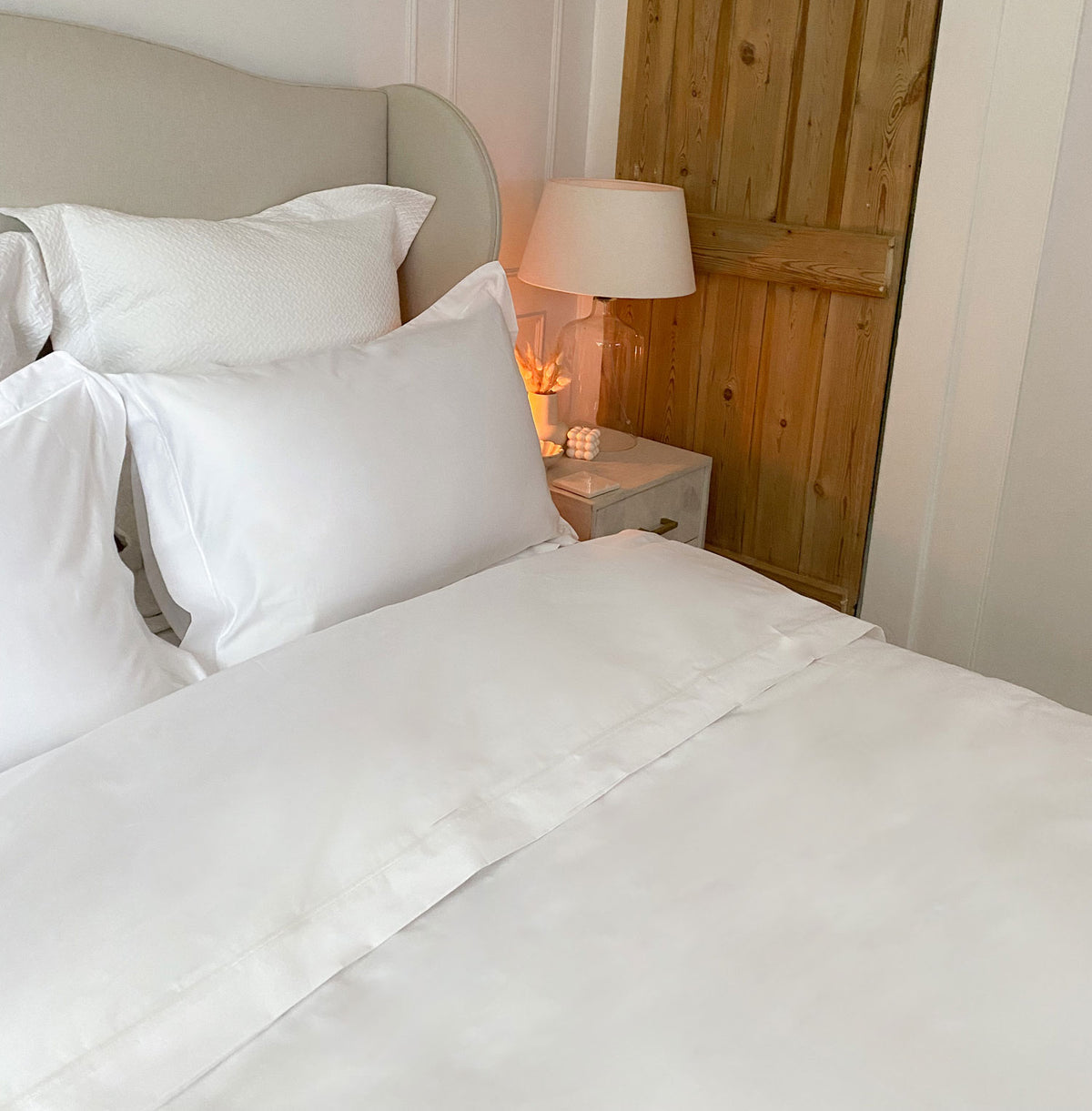 The best hotel quality pillows have a distinctive weight and feel and one of the main reasons is the filling. Hotels with the best pillows typically use a blend of luxury down and feather and they do so for good reason. 
Is it time to spring clean your bedroom? Decluttering your bedroom and giving it a good spring clean can help create a calm, relaxed bedroom sanctuary.