Natural linen bedding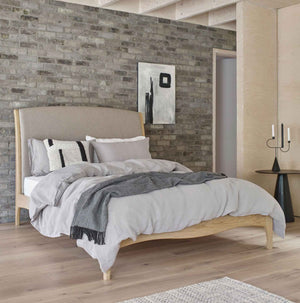 The natural characteristics of linen are ideally suited to bedding; with superior breathability and insulation, linen provides excellent temperature regulation all year-round.
Combining super-soft comfort with laid-back looks, our range of linen sheets, duvet covers and pillowcases has been designed to be the perfect choice for relaxed luxury all year round, keeping you cosily warm in the winter and blissfully cool in the summer.
WHY LINEN BEDDING?
Effortlessly elegant with a casually relaxed appeal, linen bedding has a lovely laid-back look and feel. The fabric is also incredibly strong and durable which means linen bedding is reassuringly long-lasting.
And if you have an allergy or skin condition, linen could be a great choice as it's antimicrobial, helping prevent bacterial growth.
THE PERFECT LINEN
Linen made without enough love and care can feel rough to the touch, stiff and heavy. We have crafted a range of linen that feels soft against the skin as well as being light and supple enough to pair with our goose down duvets and pillows. Our linen bedding gently wraps around our Hungarian goose down duvets and pillows without restricting the loft, insulating and body contouring properties of our lovely fluffy down.
Like our range of Egyptian cotton bedding, our linen bedding is amazingly comfortable and long lasting, improving with each sleep and every wash.
OUR PRODUCTION
THE MILL - Our linen is woven specifically for us and produced in small batches in one of Portugal's leading mills. Our Portuguese suppliers are a family owned business that have been at the top of the textile industry for many years. We worked with them for several months exploring different types of flax, weights, finishes and most importantly, feel.
THE FLAX - We use the highest quality French flax for our linen, which is renowned along with Belgian flax as the best linen flax in the world. Flax is eco-friendly and sustainable.
THE FEEL - We found that much of the linen bedding currently on the market was too heavy, which we knew would squash all the lovely fluffy down in our duvets, reducing their insulation and breathability. Other linen bedding was simply just not soft enough or made to appear soft by reducing the number of threads which could also detrimentally affect the durability of the bedding.
Preventing linen from future shrinking was also vital. Our linen is pre-washed (garment washed) in small batches to relax the fibres so that our duvet covers, sheets and pillowcases won't shrink and will feel luxuriously soft from night one.
NO CHEMICAL NASTIES – As with all scooms products, our linen is Oeko-tex Standard 100 certified which means our linen range has been manufactured free from harmful toxins and chemicals.
PLASTIC FREE PACKAGING - Guaranteed plastic-free sleep. Our linen bedding arrives in matching, linen drawstring bags and recyclable cardboard boxes.
TIMELESS COLOURS
We've chosen three timeless colours, Calm grey, Soft pink and classic white, for our duvet covers and pillowcases. Our linen fitted sheets come in classic white.
Distinctive but gentle, our colours have been developed so that they can be mixed and matched with each other and our Egyptian cotton bedding. 
IT'S ALL IN THE DETAILS
We know ourselves with bedding that It can be the details that make the difference, so we've added some special features to our linen sheets, duvet covers and pillowcases:
Our duvet cover is fastened with elegant mother-of-pearl buttons, slightly oversized to make them easy to use.
Our fitted sheets come with handy foot labels so that there's no confusion with which way they go on the bed.
Our fitted sheets are deep fit to 40cm so that they can be used with any mattress depth.
All our linen comes in a matching drawstring linen bag.
Like all our products, our linen is delivered in plastic-free packaging.
Amazing comfort from night one… We hope you love our linen bedding!
---
Also in The scooms blog
What could be better than a beautiful set of luxury bedding to gift a newly married couple? Practical, thoughtful and timeless, it's a gift any newlywed couple are sure to appreciate and the perfect way to mark the start of an exciting new chapter in their lives.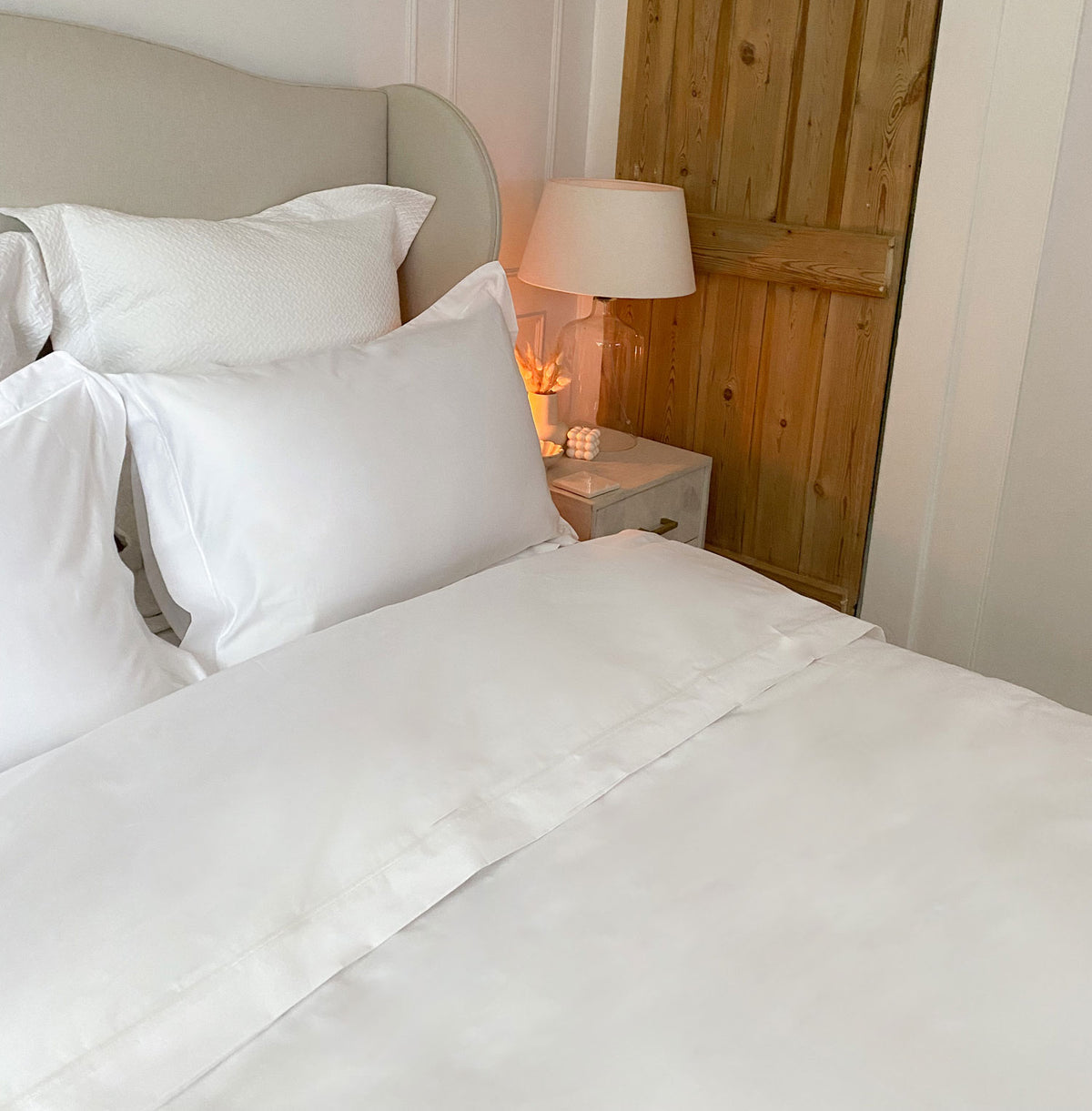 The best hotel quality pillows have a distinctive weight and feel and one of the main reasons is the filling. Hotels with the best pillows typically use a blend of luxury down and feather and they do so for good reason. 
Is it time to spring clean your bedroom? Decluttering your bedroom and giving it a good spring clean can help create a calm, relaxed bedroom sanctuary.