Spring cleaning your bedroom
Spring is in the air and you might be feeling the urge to throw open your windows and spring clean your house! Why not start with your bedroom. Decluttering your bedroom and then giving it a good spring clean can help create a calm, relaxed bedroom sanctuary.
HOW TO SPRING CLEAN YOUR BEDROOM
Throw open your windows to give your bedroom a proper airing while you clean.
Declutter & donate:
Have a quick tidy up and put things in their proper place.
Remove anything that shouldn't be in your bedroom and put it back where it belongs!
Throw away things you no longer need.
Sort out your wardrobe - If you no longer wear it, if it can't be repaired or if it doesn't fit, then it's time to give it to your local charity shop so someone else can make use of it.
Get summer ready - If you are short on storage space, pack away your winter clothes and move your summer finery to the front of your wardrobe.

Dust & clean:
Start high and finish low! You might need a step ladder to reach the ceiling.
Dust any cobwebs from the ceiling using a long handled duster or vacuum cleaner attachment.
Dust or wipe clean lights and lampshades, removing them if necessary, using glass cleaner for bulbs.
Take your artwork off the walls and dust the frames and clean glass with glass cleaner.
If your wall paint is easily washable, use a clean cloth to wash off any marks.
Dust all surfaces using either a small vacuum cleaner head or a microfibre cloth and wipe clean any painted surfaces, such as window sills and frames, with a gentle cleaner.
Clean mirrors and the inside of your windows with a white cloth and glass cleaner.
And finally, vacuum or wipe any dust from your skirting boards.

Focus on the floors:
Move as much furniture as you can so that you can vacuum behind and underneath. The crevice attachment is ideal for getting into those hard to reach areas.
Mop your wooden floors with specially designed wooden floor cleaner and a good mop such as a microfibre mop.
Give your carpets and rugs a good clean. Hire a carpet cleaning machine or use a professional company. Or if your rugs can fit in your washing machine, pop them in for a wash.
Curtains & blinds:
Vacuum your curtains and blinds. If they're machine washable, give them a wash on the delicate cycle.
Wipe your Venetian blinds with warm water.
Wooden furniture & soft furnishings:
Polish your wooden furniture using special furniture polish, but use sparingly and make sure the the polish you use doesn't trap dirt and dust.
Don't forget to clean your upholstered furniture and soft furnishings like sofas, chairs and beds. Use special fabric cleaning products and follow the instructions carefully as these fabrics can be more delicate.
Change your bedding:
Review all your bedding - mattress, duvets, pillows, bed linen, protectors, throws, etc, and decide if it needs replacing or just a good wash.
Mattress - You should change your mattress every 7 years according to The Sleep Council. Vacuum your mattress using the upholstery attachment, top, sides and underneath.
Duvet - We recommend washing your duvet every 12 months and changing your duvet every 5 to 7 years, to keep your bedding fresh.
Pillow - We recommend washing your pillow every 6 to 12 months and changing your pillow every 1 to 2 years for peak support.
Bed linen - Wash your bedding once a week. Good quality bed linen, like Egyptian cotton or 100% linen, should last for at least 7 years.
Throws, blankets & bed covers - Check the washing label and either dry clean or gently machine wash when required.
WHEN DO YOU SPRING CLEAN?
Depending on the weather, the months of March, April and May are the best times to spring clean. You don't want to be throwing open your windows when it's cold and raining!
However, you can of course have a spring clean any time of year. Particularly if you or one of your family suffers from seasonal allergies, you may want to spring clear their bedroom more regularly than once a year.
DEEP CLEAN BEDROOM CHECKLIST / HACKS
What you'll need:
Bin bags, recycling bags, storage boxes.
Vacuum cleaner & various attachments.
Dusters or microfibre cloths or other cleaning cloths.
Long handled duster for cobwebs.
Microfibre mop or carpet cleaner.
All purpose cleaner.
Furniture polish.
Glass cleaner.
Furniture upholstery cleaner - if needed.
Floor cleaner for hard floors - if needed.
TEENAGE BEDROOM CLEANING
Encouraging your teen to clean their room can be a real chore! Here are some tips to help get them going:
Motivating messages - "Your room will feel bigger and you'll actually be able to find what you're looking for." / "It will be much nicer having a dust and germ free bedroom!" / "You won't feel embarrassed when your friends come round."
Make it fun - Suggest they: Put on their favourite music playlist while they tidy and clean. Set a timer so they are motivated to finish in a set time. Plan a nice reward for afterwards - a snack, a game of footie, seeing a friend, etc!
Get them started - Make sure they have these essentials: A laundry basket in their room, a bin bag, a box for things that don't belong in their room. The cleaning supplies they need - cloths, spray, vacuum cleaner, etc.
Schedule it in - Choose a realistic time when they're not tired, wanting to go out with friends or busy with school work. The same time each week will help them to focus on getting it done.
Don't over expect - Encourage them to give their rooms a good clean once a week including putting things away, sorting dirty laundry, wiping down surfaces and vacuuming. If you want a full spring clean, you'll probably need to do this yourself. Find a happy medium. Pushing them too hard could result in a permanently messy bedroom!
---
Also in The scooms blog
What could be better than a beautiful set of luxury bedding to gift a newly married couple? Practical, thoughtful and timeless, it's a gift any newlywed couple are sure to appreciate and the perfect way to mark the start of an exciting new chapter in their lives.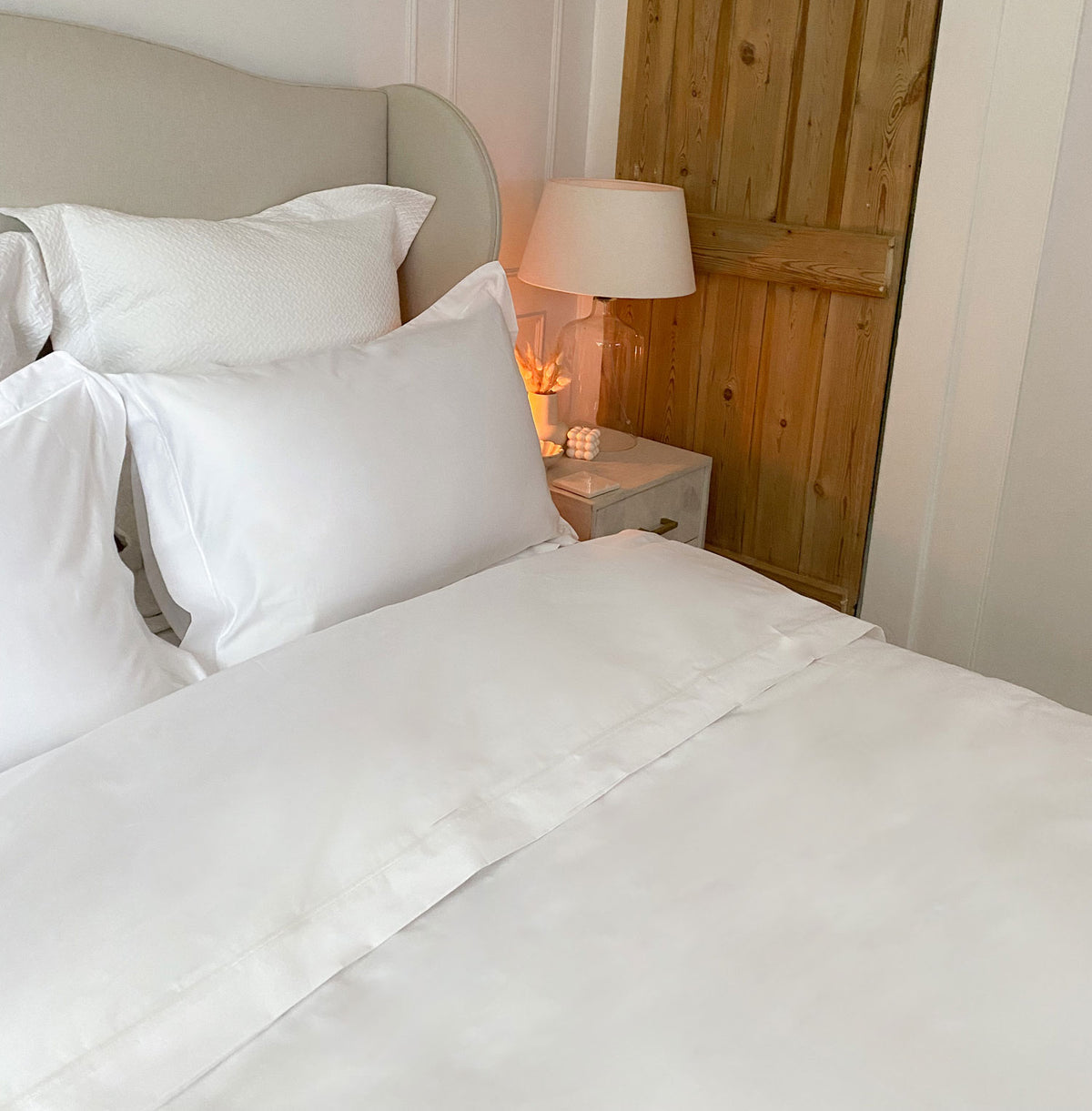 The best hotel quality pillows have a distinctive weight and feel and one of the main reasons is the filling. Hotels with the best pillows typically use a blend of luxury down and feather and they do so for good reason. 
More cost effective than replacing your mattress and the perfect way to future-proof it, a mattress topper can help you to enjoy a better night's sleep and keep your mattress fresher for longer. In guide, our sleep experts offer their advice.