What makes hotel pillows so comfortable?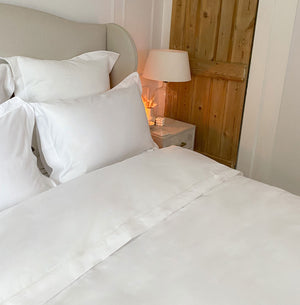 If you've ever wondered "why are hotel pillows so comfortable?" or "what are hotel pillows made from?" you're definitely not alone. Just typing hotel pillows into Google brings back millions of hits, while asking "what kind of pillows do hotels use?" generates over 22 million results.
That's a lot of web pages dedicated to hotel pillows.
WHAT DIFFERENCE DO HOTEL QUALITY PILLOWS MAKE?
Well, when it comes to where we lay our heads on holiday, hotel pillows have a big influence on whether we sleep well while we're away.
Get a hotel pillow that's the perfect fabric and firmness and your holiday nights will be as blissful as the days you spend exploring. Get a pillow that's badly made and poorly maintained however, and you'll be endlessly tossing and turning, lamenting yourself for not taking those negative customer reviews more seriously.
Location, price and facilities may all be front of mind when it comes to choosing our holiday accommodation but by the time we return home it seems hotel pillows are all we can think about.
WHY ARE THE BEST HOTEL PILLOWS SO COMFORTABLE?
Now you may notice that we've inserted the word 'best' above. That's because hotel pillows (while often great) can still differ in their quality. And that's the key to what makes the best hotel pillows the best: quality.
One of the main reasons hotel pillows can feel more comfortable than the pillows we sleep with at home is because of what they're made of.
Pillows, just like duvets, come in a range of fabric casings and material fillings that can vary greatly in their quality and vastly affect our ability to get to sleep and stay asleep. We cover these in more detail in our How to choose a pillow guide (which we highly recommend you read) so for now we'll just focus specifically on what makes hotel style pillows so great.
WHY DO HOTEL PILLOWS FEEL SO GOOD?
Hotels that are serious about sleep won't spare any costs when it comes to pillows and that's why most premium hotels have pillows that feel so luxurious - they're willing to invest.
Like so many thing things in life, if you want a quality product you have to be prepared to spend a little more to get it. That's as true with fine dining as it is with a pillow. When you start to increase the quality of something - whether it's better ingredients or better materials - the price tends to also go up, relative to the quality you're receiving. But, the end result is also so much better.
The best hotels in the world aren't phased by this. They want their guests to enjoy an incredible night's sleep as it reflects well on them, so they're prepared to pay whatever it takes to make that happen - including laundering and replacing their pillows regularly to keep that quality at its peak.
WHAT KINDS OF PILLOWS DO MOST HOTELS USE
The best hotel quality pillows have a distinctive weight and feel and one of the main reasons is the filling.
Hotels with the best pillows typically use a blend of luxury down and feather and they do so for good reason. Firstly, it's a combination that feels extremely comfortable, yet also supportive - already ticking two big boxes when it comes to getting the perfect night's sleep.
That's because the core of the pillow typically consists of mainly feather, which is firmer, surrounded by mainly down, which is softer. These layers are known as chambers and it's the precise ratio of feather to down that will determine how comfortable and supportive a pillow feels.
A pillow with an inner feather ratio of around 85% and an outer down ratio of around 90% is very typical of luxury hotel pillows. This is one of the most important things to get right if you want to recapture that hotel pillow feeling you experienced on holiday in your own bedroom at home.
WHY DO MOST HOTELS CHOOSE DOWN AND FEATHER PILLOWS?
Down and feather filled pillows are a natural choice for hotel collection pillows because they can be easily re-plumped with just a few shakes.
It's also a combination that allows the pillow to gently contour to your head, while still feeling soft and springy - providing all the support your head, neck, and shoulders need to sleep comfortably throughout the night, but without leaving a permanent impression. This means that when the next guest checks-in the hotel pillow is like new again - perfectly fluffy feeling and full in appearance.
Another reason down and feather is such a popular hotel pillow filling is that it's naturally breathable. This allows up to 3-4 times more air circulation than with synthetic filled pillows, so moisture can escape more easily. Not only is this more hygienic, it's also perfect for keeping dust mites, which are attracted to moisture, at bay - something that will help to prolong the life of hotel style pillows, while ensuring you can breathe easily at night. 
WHAT ARE THE BEST HOTEL QUALITY PILLOWS TO BUY AT HOME?
You'll find many online stores offering hotel collection pillows for sale just by googling '5 star hotel pillows UK'. Just be sure to carefully check the product specifications to determine the down to feather ratio and also what each pillow is made from, as a high price tag doesn't always denote a quality product.
Selected hotel chains also sell their own hotel brand pillows directly to consumers online. Marriott and Ritz-Carlton are just two hotel chains offering this option, while Premier Inn pillows can also be ordered online via the brand's website.
For a hotel style pillow that's extremely comfortable and also environmentally friendly, we recommend our scooms Hungarian goose down pillow  which can be found in boutique hotels and luxury B&Bs as well has some of the finest homes and country estates across Europe.
Filled with an ethical blend of Hungarian goose feather and down, our pillow is as luxurious as those you'll find in the world's best hotels. It comes in a premium 300 thread sateen cotton casing and is available in two sizes: standard pillow (50cm x 75cm) or king size pillow (50cm x 90cm) with free next day delivery - perfect if you're craving that luxury hotel pillow feeling in a hurry.
See our blog post on Get that luxury hotel bed feel at home.
---
Also in The scooms blog
What could be better than a beautiful set of luxury bedding to gift a newly married couple? Practical, thoughtful and timeless, it's a gift any newlywed couple are sure to appreciate and the perfect way to mark the start of an exciting new chapter in their lives.
Is it time to spring clean your bedroom? Decluttering your bedroom and giving it a good spring clean can help create a calm, relaxed bedroom sanctuary.
More cost effective than replacing your mattress and the perfect way to future-proof it, a mattress topper can help you to enjoy a better night's sleep and keep your mattress fresher for longer. In guide, our sleep experts offer their advice.