How to wash and care for your towels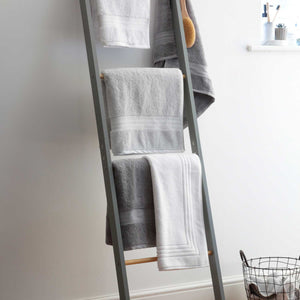 There's nothing like the feeling of wrapping yourself in a plush, fluffy bath towel for that spa like feeling every day! But how do you keep your towels soft and fluffy? Follow our guide to washing and caring for your towels and your towels will last longer and feel like new for years to come.
HOW TO WASH YOUR EGYPTIAN COTTON TOWELS
To keep your scooms Egyptian cotton towels in tip top condition follow these washing guidelines:
Wash before use and then weekly.
Machine wash at 30° - 40° using non-bio (enzyme free) detergent. Don't add too much detergent as this can clog up your machine and your towels.
Fabric softener can reduce absorbency so it is best not to use it but if you do, use it sparingly.
Line dry or tumble dry at low/medium heat - use our Wool Dryer Balls to reduce tumble drying time and add a little extra softness without using chemicals.
If you use ingredients such as benzoyl peroxide in your skincare routine or suncream, we recommend white towels, as these chemicals can discolour coloured towels.
Don't use detergents or stain removers containing optical brighteners or bleach, as these may leave marks your towels.
TOP TIPS FOR WASHING YOUR TOWELS
Separate your laundry and wash similar colours, whites and fabrics together.
Don't over fill your washing machine or tumble dryer. Give them space to do their job.
Use a good quality laundry detergent which works well at lower temperatures. It's more environmentally friendly.
Different fabrics dry at different speeds. We suggest tumble drying similar fabrics together.
Make sure your towels are fully dry before folding them or putting them in a cupboard.
Fabric softener can 'clog up' all those lovely soft zero twist loops in your scooms towels that act like thousands of mini sponges. That's why we don't suggest using it. Our towels are so soft, you won't need fabric softener in any case!
SHOULD YOU WASH NEW TOWELS?
We recommend washing new towels before you use them for the first time. Here's why:
FINISHING CHEMICALS - Unlike scooms, some brands use a finish on their towels to give them an extra sheen, but it can impact absorbency. A wash will remove this.
FRESHNESS - A towel will have been weaved in a factory, then either stored in a shop or packed and delivered to you. A first wash ensures that your towels are at their best on first use.
LESS SHEDDING - It is possible to get a few stay threads or cotton fibres on new bath towels. This shedding is normal and can be removed by a first wash.
MAXIMUM ABSORBENCY - The absorbency of cotton towels can be improved by a first wash as it helps the cotton fibres absorb and release water.
FLUFFIER TOWELS - Your towel may have flattened a little in its packaging or delivery box. A first towel wash will fluff up the cotton fibres and give you a super plush towel from day one.
LOCK-IN COLOURS - If you have coloured towels, the colour may run a little the first time you wash them.
CAN YOU WASH TOWELS WITH CLOTHES?
If you only have one or two towels to wash, then it can make sense to wash them with other items of a similar colour and fabric (cotton) that require the same wash cycle. But make sure you don't overfill your washing machine.
If you generally wash your towels at a warmer temperature or on a longer washing cycle than your clothes, then we recommend running a separate wash for towels of a similar colour.
HOW TO DRY YOUR TOWELS
The best way to dry your towels so that they are soft and fluffy is in a tumble dryer. Check the temperature settings on the care label. Use our Wool Dryer Balls to reduce your tumble drying time and to add a little extra softness without using chemical softeners like dryer sheets. 
TOP TOWEL CARE FAQS:
How to keep towels soft?
The best way to keep towels soft is to wash them correctly. They should be machine washed at 30°- 40° once a week using a non-bio (enzyme free) detergent. It is best not to use fabric conditioner. Towels can get stiff and lose absorbency when they clog up with washing powder and fabric conditioner.
What

temperature

 to wash towels?
Towels should be machine washed at 30°- 40 once a week using a non-bio (enzyme free) detergent. Modern detergents are so good at their job, that there's no need to wash towels at a higher temperature. It's also kinder to the environment.
How to wash towels to keep them soft?
Washing detergent and fabric conditioner can clog up the fibres in your towel, reducing the softness. The best way to wash towels to keep them soft is to machine wash at 30° - 40°, use a quality detergent sparingly and don't use fabric conditioner. Tumble dry with wool dryer balls or air dry.
How to make towels fluffy again?
Towels can get stiff when they clog up with washing powder and fabric conditioner. You need to remove this to make your towels fluffy again. Wash once using vinegar instead of detergent and a second time using baking soda instead of detergent. Tumble dry with dryer balls or air dry in the wind. If your towels are old they may just need replacing.
---
Also in Towel Care Guide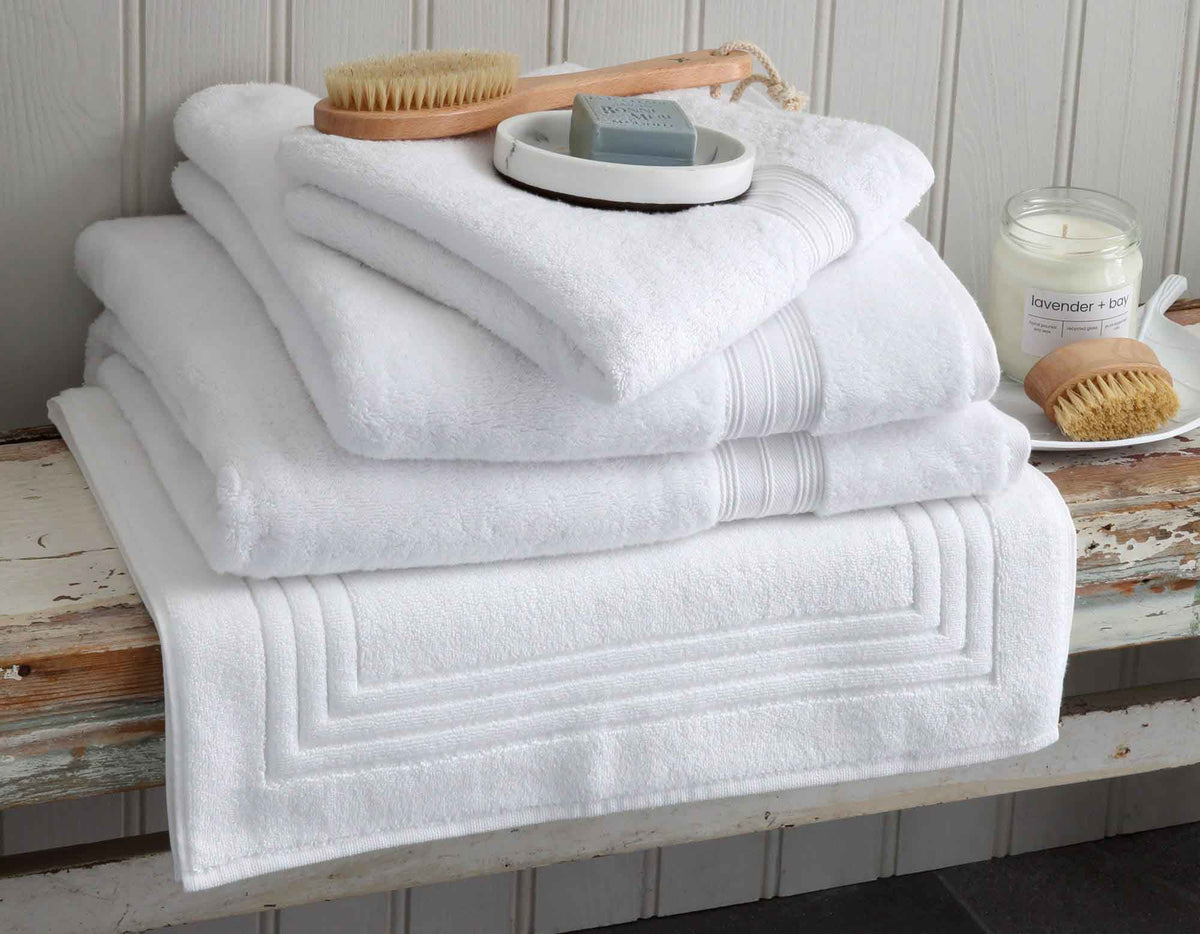 The best bath towels should envelop you in lovely soft fluffiness and it can be disappointing if they lose their softness. Don't despair, follow our top tips.