Towel size guide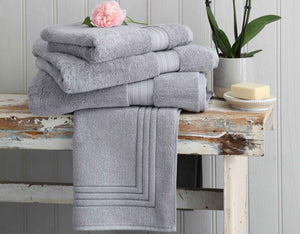 All your towel size questions answered. Which size towel is best? What is the size difference between a bath towel and a bath sheet? Which size towels come in a towel bale or towel set?
Read our guide to towel sizes including bath towels, guest towels, hand towels and bath sheets. We cover UK, US and European towel dimensions measured in both centimetres and inches.
If you have any towels size questions we haven't covered, email us as sleep@scooms.com.
TOWEL SIZES UK
No more wondering what size a guest towel or a bath sheet is! Here are the standard UK towel sizes in centimetres.
Towel sizes and names:
See our bath towel size chart to compare bath towel sizes in centimetres and inches:
| | | |
| --- | --- | --- |
| TOWEL  | TOWEL SIZE CM |  TOWEL SIZE INCHES |
| Face towel size | 30cm x 30cm | 11.8 x 11.8 inches |
| Guest towel size | 30cm x 50cm | 11.8 x 19.7 inches |
| Hand towel size | 50cm x 100cm | 19.7 x 39.4 inches |
| Bath towel size | 70cm x 135cm | 27.6 x 53.1 inches |
| Bath sheet size | 100cm x 160cm | 39.4 x 63 inches |
| Bath mat size | 50cm x 80cm | 19.7 x 31.5 inches |
Bath towel sizes and bath mat sizes do differ a little between manufacturers. When we were designing our towels and bath mats, we tested lots of different towel dimensions to see which worked the best.
WHAT IS THE BEST SIZE FOR A BATH TOWEL?
We get asked this a lot. Bath towel sizes are really personal preference. Our founders Emily and Jonathan prefer different sizes. For bath or shower time Emily, who is 5ft 8, loves her scooms bath towel which measures 70cm x 135cm, while Jonathan who is 6ft 1 uses a scooms bath sheet measuring 100cm x 160cm.
WHAT'S THE DIFFERENCE BETWEEN A BATH TOWEL AND A BATH SHEET?
The size of a bath towel compared to bath sheet dimensions is just down to the size. A bath towel measures 70cm x 135cm and a bath sheet size is 100cm x 160cm. So a standard bath towel size is smaller than a standard bath sheet. Sometimes bath sheets are referred to as extra-large bath towels. The bigger size bath sheet will take a little longer to dry but it will wrap fully around you as you dry.
IS A GUEST TOWEL BIGGER THAN A HAND TOWEL?
No, a guest towel is generally around 30cm x 50cm, while a hand towel is a bit larger at 50cm x 100cm.
NON-STANDARD SIZED BATH TOWELS
What are extra large bath towels called? You might come across these other names for a bath towel or bath sheet:
Jumbo bath sheet - Typically this is a standard size bath sheet measuring 100cm x 160cm. In our view a towel any bigger than this becomes too unwieldy to use. They can also be referred to as extra large bath sheets, oversized bath sheets, plus size towels or a giant bath sheet.
Bath towels extra large - This is typically another name for a bath sheet.
DO I NEED A FACE TOWEL, GUEST TOWEL OR HAND TOWEL?
When designing our luxury towel range, we reviewed face towels, guest towels and hand towels and asked ourselves, do we need to offer all three sizes?
In our view, there is little difference between a facial towel size and a guest towel. Guest towels are a bit larger (but not enough to make a real difference) whereas a face towels size is a little smaller. Since our face is very sensitive, face towels need to be super soft and ideally made from natural materials. With some towel ranges, face towels are made from a softer material to their main range. Our scooms towels all use luxury long staple Egyptian cotton so all our towel sizes are lovely and soft and suitable for sensitive faces.
When we looked at how we dry and the amount of towel hooks or rails that there are in the typical bathroom, we found that there was just not the need for 3 marginally different sized towels. We deduced that the hand towel size was by far the most useful size. In our bathroom at home, we use one hand towel for hands and reserve one for our faces. As scooms hand towels come in pairs, this makes it much simpler!
HOW THICK SHOULD MY TOWEL BE?
There isn't really a 'thickness' rating for towels. The thickness of a towel is determined by the pile height and density. (The height and density of the loops or twists that make up the pile). There is a balance between getting the pile height and the pile density right. Too low a pile and the towel won't be as plush, too high and it will take too long to dry. The same for the density.
We spent a long time getting our scooms towel pile just right…
TOWEL BALES AND TOWEL SETS
Towel bales or towel sets are different sized towels sold in a bundle. Towel bales typically include six to ten towels featuring different sized towel pairs. Buying a towel bale / towel set / towel bundle is often cheaper than buying individual towels as they generally come with a saving. Towels bales are therefore a great option if you need to replace all your towels in one go or if you are moving into a new house or flat. 
scooms Egyptian cotton towel bundles are a 5 piece towel set sold in two sizes:
Our scooms luxury towel bales are available in 3 classic enduring colours:
When you buy a scooms towel bale, you save 5% off the price compared to buying individual towels.
BEACH TOWEL SIZES
The average sized beach towel is 122cm to 147cm x 137cm to 177cm / 48 to 58 inches x 54 to 70 inches. Beach towels are generally larger than bath towels. Beach towels tend to be lower quality and made to withstand sand and sun cream!
GYM TOWEL SIZES
So what size towel will you need for the gym? We suggest taking two towels, one small towel to wipe sweat away or to lie on whilst in the gym and one larger towel to use after showering if your gym doesn't provide towels. The smaller towel could be guest towel size, 30cm x 50cm, or hand towel size, 50cm x 100cm. The larger gym towel would ideally be a bath towel or similar, around 70cm x 135cm.
US AND EUROPEAN TOWEL SIZES
Towel sizes in the US and Europe are generally the same as the UK. Similar to the UK, there are small size differences by manufacturer.
 In the US, there are also two smaller sizes:
Wash cloths - In the US, face towels are typically called wash cloths and measure 12 x 12 inches.
Fingertip towels - You may also see fingertip towels in the US. They are similar in function to a guest towel, slightly smaller than hand towels, but larger than wash cloths. Fingertip towels generally measure 11 x 18 inches.
TOP TOWEL SIZE FAQS:
What are standard towel sizes?
The main towel sizes in centimetres: Face towel size: 30cm x 30cm; Guest towel size: 30cm x 50cm. Hand towel size: 50cm x 100; Bath towel size: 70cm x 135cm; Bath sheet size: 100cm x 160cm.
Is a guest towel bigger than a hand towel?
No, a guest towel is smaller than a hand towel. A guest towel measures 30cm x 50cm and a hand towel is 50cm x 100.
What size is a bath towel?
A bath towel is 70cm x 135cm.
What size is a bath sheet?
A bath sheet measures 100cm x 160cm.