How to store duvets
How you store your duvet will affect how long it lasts and the performance of your duvet next time you use it. Don't stuff your duvet into a cupboard and forget about it until you need it again. When it comes to the best way to store your duvet, there's definitely a right way and a wrong way!
Once the seasons change and the weather becomes cooler or warmer, it's time to change your duvet for a different tog. Here's our guide to the best way to store duvets when not in use:
SHOULD I WASH MY DUVET BEFORE STORING IT?
It can be a good idea to wash and carefully dry your duvet before you store it, if you have used your duvet for more than 6-12 months. See our guide on how to clean your duvet. Once cleaned, make sure that your duvet is completely dry before storing it. 
If you don't need to clean your duvet before storing it, we recommend hanging your duvet out for 48 hours (in the fresh air preferably) to air it and remove any moisture from body oils and sweat that may have built up. If you store a down or feather duvet with any moisture present, then this may cause the natural filling to clump together.
DO I STORE MY DUVET IN A DUVET COVER?
We recommend removing your duvet cover and duvet protector before storage so that air can still circulate around and in your duvet.
SHOULD I USE A DUVET STORAGE BAG?
Yes, it's a good idea to always store your duvet inside a proper duvet storage bag or box. The best duvet storage bags are breathable and allow airflow during storage.
Whilst plastic bags can be fine for synthetic duvets, avoid using a plastic bag to store a down duvet or a feather duvet as a plastic storage bag can prevent air flow and trap moisture. Don't use a bin bag as they won't allow your duvet to breathe and can leave a nasty odour.
Another option is an acid-free box with an acid free tissue paper liner. 

All scooms duvets come with their own breathable storage bags with zips.
HOW TO FOLD YOUR DUVET FOR STORAGE
How you package a duvet to fit it into a storage bag depends on the type of duvet that you have:
Synthetic duvets can be folded and squashed into a storage bag any which way you like. It won't really affect the man-made fibres inside the duvet filling.
Down duvets and feather duvets should be loosely rolled and stored on their ends. This will prevent compression and make sure none of the lovely down clusters or feathers get damaged. 
WHERE TO STORE YOUR DUVET
You should store your duvet in a dark, dry, clean and airy space with low-humidity. The ideal place to store your duvet is a dry cupboard in your house or under your bed. This will ensure that air can circulate around your duvet allowing it to breathe which will help ward off mould and any musty smells.
Avoid storing your duvet in kitchens, laundry rooms, sheds, attics or garages as any smells or dampness can seep into your duvet filling.
Don't store your duvet anywhere that is damp or in direct sunlight. The best temperature for storing duvets is somewhere cool and dry. 
Once you have packed your duvet away into your storage bag, make sure nothing is placed on top of your duvet, particularly anything heavy. A heavy weight may squash and damage a down or feather duvet filling.
IS IT OK TO USE VACUUM BAGS TO STORE MY DUVET?
It can be ok to vacuum pack a synthetic duvet but we don't recommend using vacuum bags for storing down or feather duvets. A vacuum bag may crush the down and feathers and will prevent the duvet filling from receiving any circulating air.
HOW TO STORE PILLOWS
If you need to store some spare pillows, then you can follow the duvet storage guidelines above to store your pillows. Ideally, store your pillows in breathable purpose made pillow storage bags and avoid using plastic bags.
IN CONCLUSION, HOW TO STORE YOUR DOWN DUVET
Hang your duvet out (either inside or outside) for 48 hours before you place it into the storage bag, to make sure that there is no moisture trapped in your duvet.
Use a breathable duvet storage bag, not a plastic bag or vacuum bag.
Lightly roll up your down duvet, then place it into the storage bag. Store it on one end in the breathable storage bag in a cool, dry cupboard or under your bed where air can still circulate around the duvet.
Avoid storing your duvet in your kitchen, laundry room, shed, attic or garage as these environments may be damp or malodorous.
Don't put anything on top of your duvet or store it in a duvet cover or duvet protector.
When you need to unpack and use your stored duvet again, ideally hang it out for 24 hours to air it. Then give it a good shake to restore its natural loft. It may take 48 hours or so to fluff up your down or feather duvet after storage.
TOP HOW TO STORE DUVETS FAQS:
What is the best way to store duvets when not in use?
Store your duvets in a breathable bag in a cool, dry cupboard or under the bed. Lightly roll down and feather duvets so that they are not squashed.
Is it OK to vacuum pack a duvet?
You can vacuum pack synthetic duvets but you should not vacuum pack down or feather duvets as it crushes the down clusters and feathers.
How to store a down duvet
Lightly roll a down or feather duvet, store it on one end in a breathable bag in a cool, dry cupboard or under the bed. Don't put anything on top of your duvet.
---
Also in Duvet care
You can wash scooms 
goose down and feather duvets
 in the washing machine. Just follow the instructions on the care label. We recommend that you wash your scooms 
duvet
 every 6 to 12 months.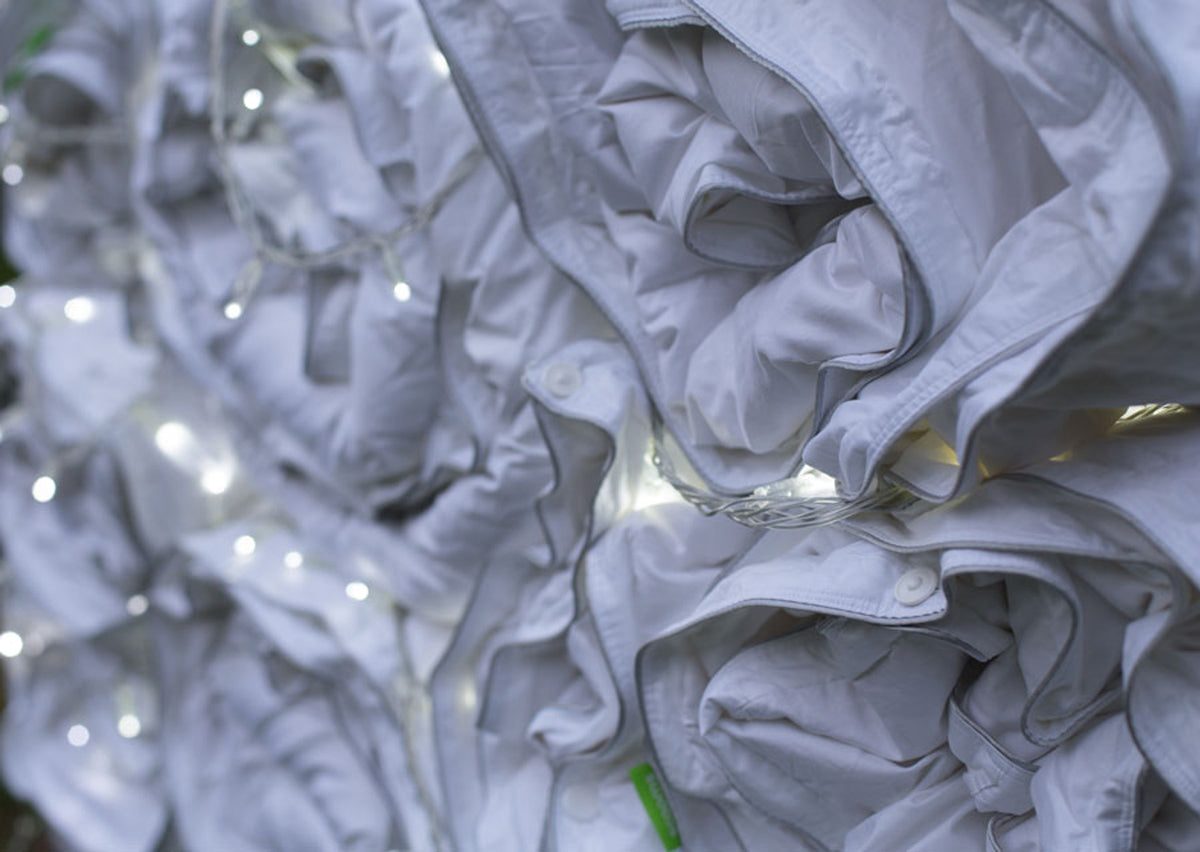 Snuggling under our 
duvets
 at night is one of life's pleasures. But what if your duvet no longer feels cosy? Read our guide and find out if it's time you updated your duvet: