How to clean and care for your pillow
HOW TO WASH DOWN PILLOWS
We often get asked if you can wash down pillows? Yes, you can wash our goose down and feather pillows in the washing machine. Just follow the instructions on the care label. We recommend that you wash your pillow every 6 to 12 months or more often if necessary.
If you notice staining on your pillow or that the loft of your pillow has decreased, this is probably due to a build up of moisture in your pillow. Pillows absorb body oils, dead skin cells, sweat, etc, which soak into the pillow's natural down and feather filling. Make sure you wash your pillow as soon as you see these signs.
TO KEEP YOUR SCOOMS PILLOW IN TIP TOP CONDITION:
Give your pillow a good shake each morning and evening to plump up the down and feather.
Don't use a tight pillowcase or pillow protector as this will flatten the down filling.
Make sure your pillowcase is made of a breathable material like cotton or linen to allow the down to breathe.
Machine wash at 40° every 6-12 months, or more often if required, using non-bio (enzyme free) detergent, a third of the usual amount for a washing load.
Dry thoroughly, preferably in a tumble dryer on a low heat setting. Take care to not over dry your pillow as this may shrink the cotton casing.
Leave your pillow to dry on a rack for the last 24 hours or so at home somewhere warm but not in direct sunlight.
Shake the pillow several times during the drying process so that the down filling doesn't stick together and clump.
Dryer balls like scooms Wool Tumble Dryer Balls or even clean tennis balls will help to keep the down fluffy as it dries.
Make sure your pillow filling is completely dry before you place it in your pillowcase. (Pillows do take longer to dry than a normal clothes load.)
Replace your pillow every one to two years for peak support.
---
Also in Pillow care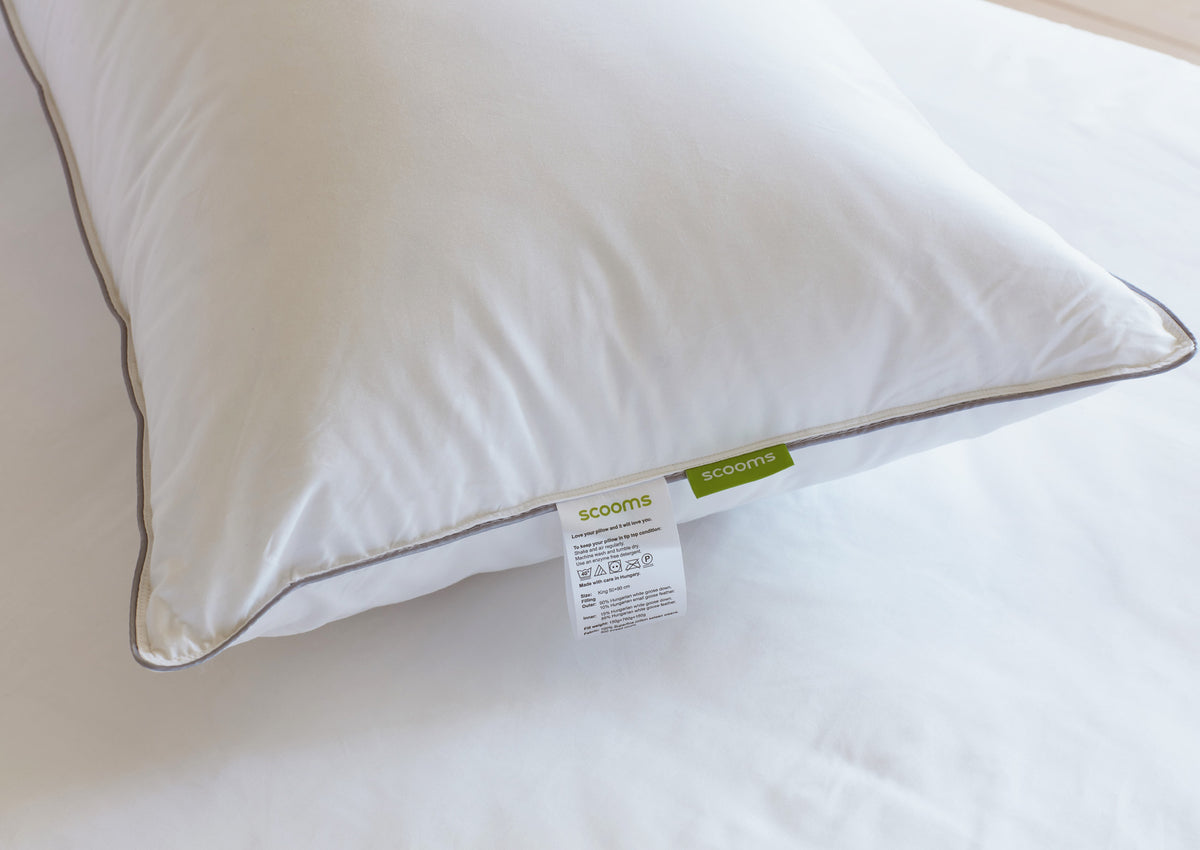 Many sleep experts recommend replacing a pillow every one to two years. Why The key purpose of your pillow is to support your head and neck while you sleep, so that you don't wake up with neck pain or stiffness.