Best pillow for neck pain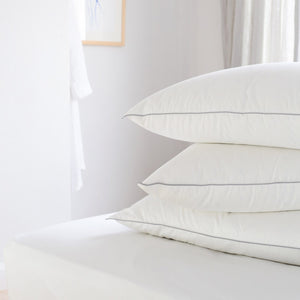 If you wake up with neck pain or stiffness, and perhaps shoulder pain too, then it could be because your pillow is not properly supporting your head and neck. Your neck should remain in line with your head as you sleep to provide proper spine alignment. If your pillow is no longer providing the right support and you are not getting a good night's sleep, then updating your pillow or trying a different type of pillow could be the right solution.
The NHS advises 'One of the most common causes of neck pain is the neck becoming locked in an awkward position while sleeping. When sleeping, make sure your head is the same height as the rest of your body.'
HOW TO EASE NECK PAIN WHILE YOU SLEEP
Neck pain can be caused by many things. It could be the way you sit at your desk, stiffness due to bad posture, an old injury, etc, but it could also be your pillow. If you find your neck is most painful after a night's sleep, then your pillow might not be providing you with the right support. 
TIME TO WASH YOUR PILLOW? - If you have been using your pillow for 6 months or more, then it could be time to wash your pillow if it is a synthetic or natural filled pillow. Check the care label for the manufacturer's washing instructions. Regular washing can extend the lifespan of your pillow.
TIME TO REPLACE YOUR PILLOW? - If you have been using your pillow comfortably for many months and suddenly find your pillow uncomfortable, then it could be time to replace your pillow. Many sleep experts recommend that you change your pillow every one to two years as many types of pillows deflate and become less supportive over time.  Try our pillow test to see if you need to buy a new pillow.
NEED TO SWITCH TO ANOTHER PILLOW? – If your new pillow is causing you neck ache, then you may need to try switching to a different type of pillow. You might have to experiment with a range of different pillows before finding the right pillow for you. Invest in a good quality pillow but be aware that it won't necessarily miraculously solve your neck pain on night one. It can take a few days to get used to a new pillow. 
TOP TIPS TO MAKE SURE YOUR PILLOW PROVIDES ENOUGH NECK SUPPORT
Look for a pillow that provides the support that you need for your head, neck, shoulders and spine. This will depend on the quality and softness of your mattress, as well as your body shape and size.
Is your pillow the right height for the length of your neck? Your pillow needs to fit in the space of your neck so that your neck is in line with your head.
Avoid too high or too firm pillows. Your neck will be extended which could give you morning pain and stiffness.
Sleep with only one pillow. If you find you need more support then you either have the wrong pillow or your pillow has deflated due to age and it's time to buy a new one.
WHAT TYPE OF PILLOW IS BEST FOR SOLVING NECK PAIN
Different pillow fillings  provide different levels of support but ultimately the right pillow for you is a matter of personal preference. What suits one person will not necessarily suit another.
MEMORY FOAM PILLOWS – The foam will feel soft at first and then firm up to mould to your neck, providing support in the natural curve of your neck. Not everyone likes the feel of memory foam however, as it can be rather rigid. If you are a combination sleeper who changes sleeping position throughout the night, then a memory foam pillow will probably not be for you. Memory foam tends to be rather warm in the summer months.
NATURAL LATEX PILLOWS – Similarly supportive to memory foam and a more eco-friendly option. They are more breathable than memory foam so not likely to be too warm during the summer. However, a latex pillow can be an expensive option, often quite heavy and may have a rather distinctive 'new' smell.
DOWN & FEATHER PILLOWS – A softer option that can still provide good support if it has a high feather content which adds more firmness than pure down. A feather and down pillow is easy to fluff up and squish into the right position to support your neck. Be aware however, that the loft of a natural filled pillow will decrease during the night.
The scooms Hungarian goose down and feather pillow consists of a core of firmer goose feather sandwiched between chambers of naturally fluffy goose down to provide the ideal combination of firmness, softness and support.
TRAVEL PILLOWS - When you travel, use a horseshoe-shaped pillow to support your neck and stop your head drooping. Inflatable ones can be handy for long journeys.
DOES IT MATTER WHAT POSITION YOU SLEEP IN?
If you have neck pain, the best position to sleep in is whatever position makes you feel most comfortable. If you normally sleep on your back, try sleeping on your side to see if that helps alleviate your symptoms. Or if you normally sleep on your side, try sleeping on your back.
Side sleepers require a higher pillow to support the inward curve of their neck and their shoulders.
Back sleepers need a flatter pillow as too thick a pillow will push their head upwards so that their spine is not in proper alignment.
Sleep experts do recommend not sleeping on your stomach for ultimate neck comfort.  Sleeping on your stomach can put pressure on your spine, because your back will be arched and your neck turned to the side.
See our sleeping position pillow tips.
---
Also in Pillows
Choose the best pillow by considering the pillow filling, the support the pillow offers, the size and any important accreditations, along with your favoured sleeping position.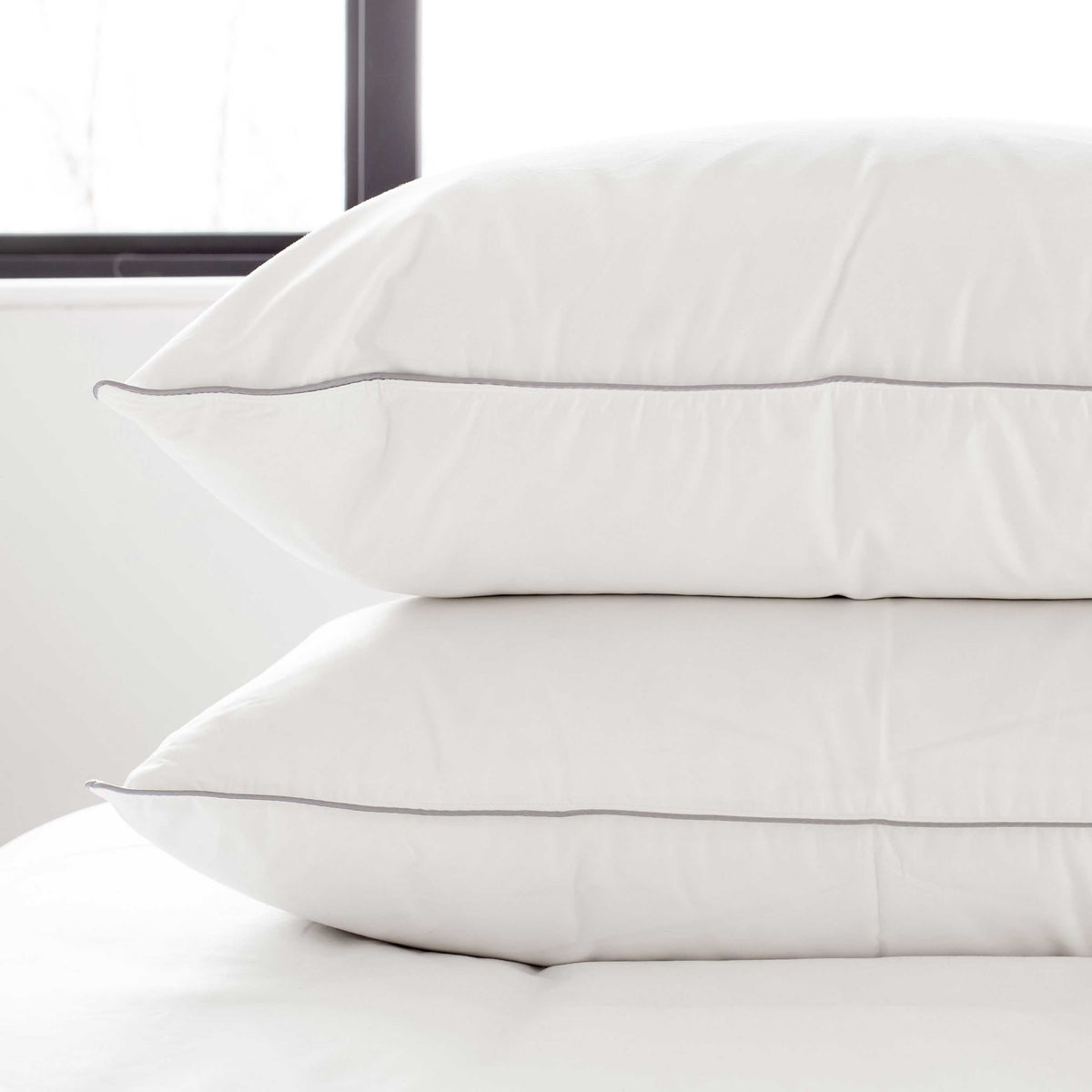 A standard size pillow in the UK is 50cm x 75cm (20" x 30"). Here's the scooms guide to pillow sizes in the UK:
You should sleep on only one pillow. The right pillow should help your body maintain the ideal sleeping position throughout the night, keeping your head, neck and spine in neutral alignment.