A guide to mattress toppers
More cost effective than replacing your mattress and the perfect way to future-proof it, a mattress topper can help you to enjoy a better night's sleep and keep your mattress fresher for longer.
In this mattress toppers guide, our sleep experts offer their advice for choosing the correct mattress topper for you and answer some of the most common questions about mattress topper maintenance and aftercare, including:
DOES A MATTRESS TOPPER MAKE A DIFFERENCE?
If your mattress is getting to the end of its life or you're experiencing problems sleeping, a good mattress topper can 100% make a difference.
Designed to lay directly on top of your mattress, a mattress topper adds an additional layer of material between your body and your mattress, helping to improve your comfort levels and provide much-needed support.
As well as its ability to help you sleep soundly, a very firm mattress topper can remedy any issues with misalignment, while mattress toppers in general can help to prevent hair, sweat, skin and dust from permeating your mattress, thereby keeping it cleaner for longer.
WHAT ARE THE BEST KINDS OF MATTRESS TOPPERS?
Mattress toppers come in a range of materials, densities and thicknesses, ranging from synthetic fibres and memory foam mattress toppers, to latex, wool and feather and down. Just as with a mattress or a duvet, what might be right for one person might not necessarily be the best mattress topper for you.
Mattress toppers also come in different sizes to provide a perfect fit for your mattress. This means you'll have a choice of everything from a super king mattress topper and a king mattress topper to a single mattress topper, double bed mattress topper and even a small double mattress topper.
Whether you sleep on your side, back, or stomach, as well as if you suffer from any known ailments that impact your ability to get to sleep and stay asleep, also has a bearing on whether a firm memory foam mattress topper or duck feather mattress topper, is best suited to you.
In that respect, the best kind of mattress topper is one that delivers the level of support and comfort you need for your preferred sleeping style and to soothe your body.
HOW FIRM SHOULD A MATTRESS TOPPER BE?
Again, how firm your mattress topper should be comes down to personal preference and your body's unique needs.
A thick memory foam mattress topper with a density of 4-5 cubic pounds, for example, can relieve pressure on your spinal cord and is generally considered the best mattress topper for back pain as well as the best mattress topper for side sleepers. A foam mattress topper or latex mattress topper are also good choices if you share your bed as the materials contour to your body and absorb movement.
Conversely, if a memory foam pad is too firm for your tastes or you're looking for a natural mattress topper, a goose down mattress topper, which has a far softer and luxurious feel (similar to that of down filled pillows and duvets) is likely to suit you better. The down can disperse easily, providing comfort, whilst also helping to keep you warmer in winter, making it a good mattress topper for maintaining an optimal body temperature at night.
IS MEMORY FOAM OR DOWN BETTER FOR A MATTRESS TOPPER?
If you're wanting a firmer feeling mattress, a dense and thick mattress topper, such as foam, is the better choice. If you're looking for softness, a down and feather filled topper will deliver.
HOW OFTEN SHOULD YOU CHANGE YOUR MATTRESS TOPPER?
You can expect a high quality mattress topper filled with memory foam, latex, or feather and down to last you somewhere in the region of three to five years with good aftercare and regular washing (one wash every three months is recommended). Just make sure to check your topper's label to ensure it's machine compatible for home washing. If not, you will need to follow the manufacturer's guidance and have it professionally dry-cleaned.
If you opt for a cheaper synthetic-filled mattress topper on the other hand, its lifespan will be significantly lower and you will need to change your topper more often for it to be effective. Just one or two years is typical of the performance you can expect from lower quality synthetic toppers, so it pays to spend a little more and invest in better quality for a longer-lasting result.
DO YOU PUT A FITTED SHEET OVER A MATTRESS TOPPER?
Yes. Your mattress topper should be positioned directly on top of your mattress and the fitted sheet placed over the mattress topper, ideally with a mattress protector placed in between.
DOES A MATTRESS TOPPER MAKE YOUR BED MORE COMFORTABLE?
A good quality mattress topper can essentially breathe new life into your mattress for a few years, so in that respect it can definitely help your bed to feel more comfortable.
A mattress topper is also designed to help you achieve a better night's sleep by supporting your body in ways your mattress doesn't or is no longer able to, as well as by keeping your mattress free from contaminants that can degrade its quality and make it unhygienic.
STRUGGLING TO SLEEP SOUNDLY?
If sleep is eluding you, have you considered that perhaps the culprit might not be your mattress but your duvet? Just as essential for good quality sleep as a quality mattress, a duvet can make all the difference to how much (or how little) sleep we achieve each night.
Our scooms duvet has been engineered precisely with the ingredients for sleep in mind. Not only is it hypoallergenic but its luxurious and ethically sourced Hungarian goose down also helps to regulate body temperature, so you never lose sleep by being too hot or too cold.
Try it for up to 60-nights and see for yourself the difference a top quality duvet can make to your health, happiness and energy levels.
 TOP FAQS FOR MATTRESS TOPPERS 
What is the best mattress topper to get?
Choose the right mattress topper for your favoured sleeping position. Side sleepers should choose a soft, thick topper that will offer pressure relief. Back sleepers will find that almost any type of topper will suit them. Stomach sleepers will sleep best on a firm mattress that will help keep their hips aligned with their shoulders. Combination sleepers need a topper that makes it easy to move around and change positions during the night.
Do mattress toppers make a difference?
Yes, having a mattress topper can really change the way your mattress feels. A topper can make a bed feel softer or firmer, depending on which type you choose. A topper can also improve the performance of older mattresses or protect newer mattresses from premature wear.
What are the most comfy mattress toppers?
The most comfy mattress topper for you is the one that suits your sleeping position best. A topper's materials will have the biggest impact on how comfortable you find the topper. Options include Memory foam, feather and down, Microfibre and Hollowfibre. Memory foam offers the most support but can be rather warm. Feather and down are softer and retain less heat but can flatten over time. Microfibre and Hollowfibre are the most affordable options but can become lumpy so have a shorter lifespan.
---
Also in The scooms blog
What could be better than a beautiful set of luxury bedding to gift a newly married couple? Practical, thoughtful and timeless, it's a gift any newlywed couple are sure to appreciate and the perfect way to mark the start of an exciting new chapter in their lives.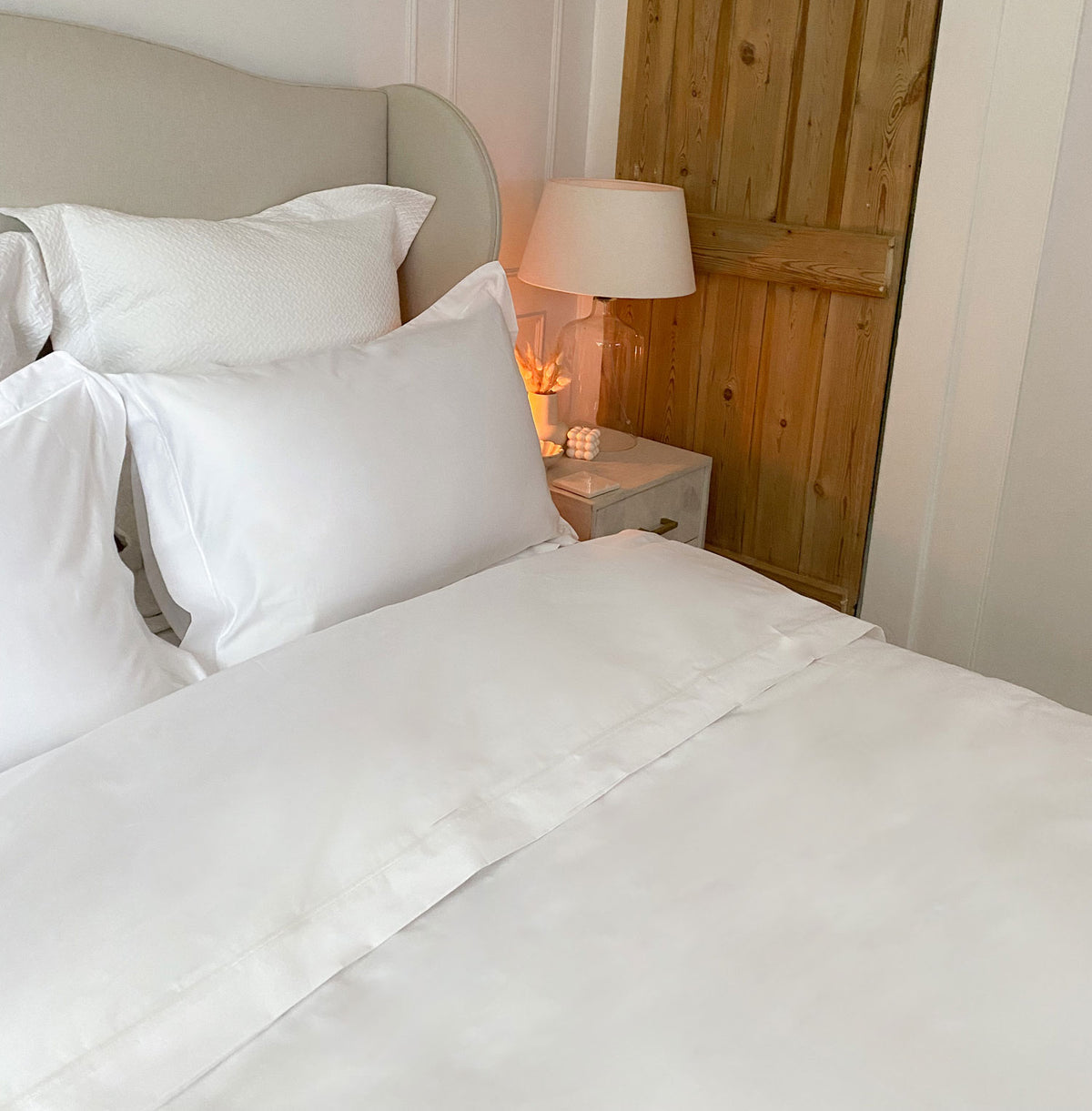 The best hotel quality pillows have a distinctive weight and feel and one of the main reasons is the filling. Hotels with the best pillows typically use a blend of luxury down and feather and they do so for good reason. 
Is it time to spring clean your bedroom? Decluttering your bedroom and giving it a good spring clean can help create a calm, relaxed bedroom sanctuary.