A guide to mattress protectors
A good quality mattress protector can play an essential role in keeping your mattress in optimal condition. Here we explain why investing in a protector is so important and the key ingredients that determine a mattress protector's quality.
Keep reading or jump straight to:
WHAT IS A MATTRESS PROTECTOR?
Put simply, a mattress protector is a piece of bedding that sits on top of your mattress, like a second skin, but beneath your fitted sheet.

Fully removable and washable, a mattress protector is intended to keep your mattress clean by minimising contamination from fluids, skin and hair, all of which can stain your mattress and degrade its quality.

Mattress protectors can also help you to achieve a better night's sleep if you're someone who suffers from asthma, eczema or dust mite allergies, by providing an extra layer of protection between your mattress and your bedding.
WHAT IS THE DIFFERENCE BETWEEN A MATTRESS PROTECTOR AND A  MATTRESS COVER?
There is no difference. A mattress cover is simply another way of referring to a mattress protector. Both 'mattress protector' and 'mattress cover' serve the same purpose: to provide a protective layer that helps to keep your mattress fresh, clean and unsoiled.

You may also come across the term 'mattress pad' in your search for mattress protectors. This is a different product from a protector or a cover. A mattress pad (as the name implies) is a padded layer that sits atop your mattress in order to add additional comfort.
IS IT WORTH GETTING A MATTRESS PROTECTOR?
If you're wondering; should I get a mattress protector, the answer is yes. A quality mattress is an investment and how long it will last depends entirely on the aftercare you give it.
A fitted sheet or bottom sheet simply isn't enough to protect your mattress from the many contaminants it comes into contact with each night. Many people aren't aware but the average adult releases around 100 litres of sweat per year whilst asleep, all of which can seep into your mattress if not protected.
As damp and moist conditions attract dust mites, not protecting your mattress also increases the risk of an infestation of these microscopic sized bugs, the faeces of which can cause nasal congestion, coughing and itchy skin. These can make it problematic to achieve a good night's sleep, something which is essential for our health.
CAN YOU MACHINE WASH A MATTRESS PROTECTOR?
Yes. Investing in a mattress protector would be pointless if you were unable to wash it and keep it clean. For this reason, you'll find mattress protectors and pillow protectors are suitable for machine washing at home. Just be sure to always carefully follow the washing instructions when doing so and likewise with tumble drying too.
SYNTHETIC OR NATURAL - WHICH IS THE BEST MATTRESS PROTECTOR?
You'll find mattress protectors and pillow protectors available in a choice of synthetic or natural fabrics. If you're looking for quality - and we'd argue this is vitally important when protecting a mattress - we'd always advocate spending a little more and going the natural route.
Opt for a 100% pure cotton mattress protector which is naturally breathable and sweat wicking. A breathable mattress protector will help to keep your body temperature perfectly regulated at night so you don't sweat excessively and experience issues with wakefulness as a consequence of being too hot or too cold.
A natural cotton mattress protector will also help to limit moisture from making your mattress damp, thereby reducing the risk of a dust mite infestation, which can lead to far greater health complications and difficulties sleeping.
WHAT SIZE MATTRESS PROTECTOR SHOULD I BUY?
You'll find mattress protectors in each of the standard mattress sizes on sale: single, double, king, and super king. You should be purchasing the size that aligns with your mattress size, so it fits comfortably and isn't in danger of dislodging.
WHAT ABOUT PILLOW PROTECTORS?
Similar to a mattress protector, a pillow protector is a removable fabric casing that fits around your pillow to provide an additional layer that sits between your pillowcases and your pillows.
Like a mattress protector, a pillow protector can play a key role in preventing oils and other moisture from sources such as skin and hair from penetrating your pillows and causing unsightly stains and odours that can permanently damage your pillows.
However, be aware that pillow protectors can often be too tight for a good quality natural pillow like the scooms Hungarian goose down and feather pillow. You want your pillow to be able to breathe and for the filling to have the ability to evenly redistribute when plumped and shaken. A pillow protector that's too snug will inhibit the pillow's natural loft and can also trap in moisture by limiting the pillow's breathability. Avoid forcing your pillows into a protector and make sure you don't struggle to get them zipped up when they are fitted.
If you do choose to use a pillow protector, also make sure it is made from a breathable material like 100% cotton. If you don't choose to use a pillow protector, make sure you wash your pillowcases once a week to keep your pillows fresh and wash your pillows carefully once every six months.
FOUND THIS GUIDE HELPFUL?
If you've found the advice on this page beneficial and insightful, take at look at some of our other bedding buying guides, including How to choose a new mattress and our Hungarian goose down duvet guide.
Or, if you're looking for the perfect restful and restorative night's sleep, why not put our 60-night duvet trial to the test. Filled with 100% ethical down and feather and featuring anti-allergen certification (among many other accreditations) the scooms duvet contains all the essential ingredients you need to sleep soundly each night.
Try yours today with a no-quibble money back guarantee if you're not convinced of its quality after 60 nights!
---
Also in The scooms blog
What could be better than a beautiful set of luxury bedding to gift a newly married couple? Practical, thoughtful and timeless, it's a gift any newlywed couple are sure to appreciate and the perfect way to mark the start of an exciting new chapter in their lives.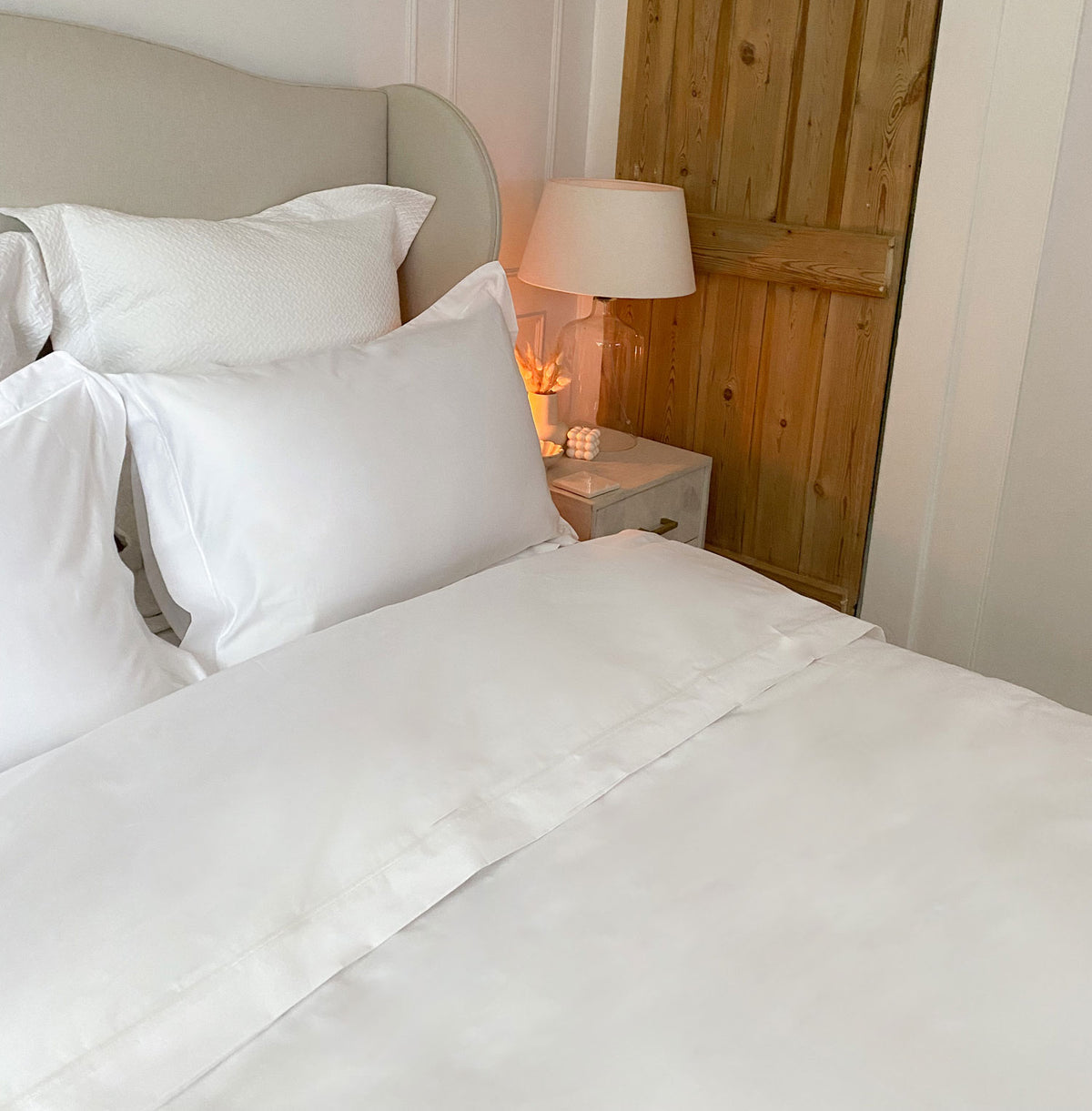 The best hotel quality pillows have a distinctive weight and feel and one of the main reasons is the filling. Hotels with the best pillows typically use a blend of luxury down and feather and they do so for good reason. 
Is it time to spring clean your bedroom? Decluttering your bedroom and giving it a good spring clean can help create a calm, relaxed bedroom sanctuary.