Mattress guide - How to choose a new mattress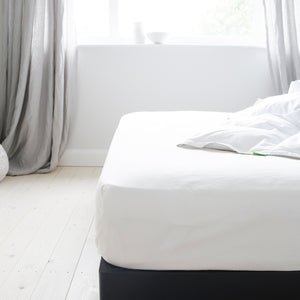 How do you choose the best mattress that will give you a great night's sleep? Our mattress buying guide is here to help.
BEST MATTRESS BUYING TIPS:
WHEN: You should think about replacing your mattress every 7 to 10 years.
HOW: Most mattress buying now happens online and many mattress brands offer a trial period of 100 nights or more, sometimes up to a year. So, it's easy to try before you buy!
SIZE: Your mattress should be 10cm longer than the tallest person sleeping on it, so if you are over 6ft make sure you get a king size bed or larger.
COST: The mattress industry is very competitive so you should be able to make great savings if you keep an eye out for discounts offered by the big brands.
CHECKLIST: Consider these things when deciding which mattress to buy - your preferred sleeping position, mattress types, mattress firmness, mattress sizes, the environmental impact and more.
MATTRESS COMFORT & SUPPORT
The key to choosing the right mattress is how comfortable it feels and how it supports your back. Think about how you sleep. Are you a back, front or side sleeper? Choose the firmness that offers you the right support for your preferred sleeping position:
Back sleeper - A medium firm mattress will provide support for your lower back whilst still being soft enough to be comfortable for your back.
Front sleeper - A firm mattress will keep your spine alignment straight and prevent you sinking into the mattress which can cause pain to your lower back.
Side sleeper - A soft mattress will allow your spine to rest in its natural position taking any pressure off your back as you sink into the mattress.
How to test your mattress is supporting you effectively - Lie down and if you can easily slide your hand in the small of your back then the mattress is too firm or if you can't slide your hand in at all, the mattress is too soft.
Bed base - Your bed base is also going to affect the mattress feel. A solid divan or slatted base will give the mattress a firmer feel. A sprung divan will produce a softer feel.
MATTRESS TYPES
There are 4 main mattress types: sprung, memory foam, latex and hybrid.
SPRUNG MATTRESS: A traditional style of mattress which comes with thousands of small springs.
Pocket sprung mattress - The best type of sprung mattress as each spring moves separately from each other providing stronger support, which makes it ideal for two people of different weights. A pocket sprung mattress provides a bouncier feel to sleep on compared to a memory foam mattress. You can choose which tension you want, soft, medium or firm, and even choose different firmness on either side of the mattress. They are heavy so getting them into your bedroom and turning them regularly will be at least a two person job!
Open-sprung mattress - Cheaper than a pocket sprung mattress, this type of mattress can be a great choice for the spare room or for children as a more cost effective option as they grow. It consists of one long piece of wire coiled into springs which is therefore less responsive to movement and less supportive, but it is light and easy to turn. 
MEMORY FOAM MATTRESS: This mouldable material has become a very popular choice over the last few years and is widely available from most big mattress brands. Memory foam allows you to sink in and gently melt into the foam as it moulds around you and absorbs your weight. It's supportive and relieves pressure on your joints so it can be a good option if you suffer from joint or back pain. It provides quite a different kind of feel to a more traditional mattress and may make you feel a bit claustrophobic.
Older memory foam mattresses tended to trap body heat and feel rather hot during warmer weather but newer higher quality memory foam mattresses come with cooling top layers that prevent this from being an issue. A good choice if you are allergic to natural materials like lambswool that are often used to fill sprung mattresses.
A Memory foam mattress can be delivered in a box. A mattress in a box has been compressed in an air-sealed bag, tightly rolled and put in a box for delivery, which can make it quick to deliver and easier to lift into your bedroom.
LATEX MATTRESS: Latex foam mattresses use a mix of natural and synthetic latex to produce a very durable mattress. These mattresses are also breathable so you won't feel overly hot. If you like a firm solid feeling mattress, then this could be a good option for you. Bear in mind that they are often rather heavy and hard to move. Cheaper brands may also develop impressions where you lie or become a bit lumpy. Good for dust mite allergy sufferers.
HYBRID MATTRESS: These mattresses combine a pocket-sprung base and memory foam top layer to offer a supportive and responsive mattress with the sink in comfort of memory foam. There's no need to turn these mattresses and they work well if you are allergic to the natural fillings like wool used in sprung mattresses. You may or may not enjoy the sinking in feeling of the memory foam top!
CARING FOR YOUR MATTRESS
It's an expensive purchase so make sure you look after it carefully! The sleep foundation suggests that a mattress should last between 7 – 10 years, though many mattresses will last longer than this. The quality of the mattress, its use and how well its looked after will all have an impact.
Our mattress care tips:
Get the right size - If the mattress is too large for your bed frame, you could damage the sides of the mattress.
Will it need turning - Make sure you are able to lift the mattress so that you can turn it regularly. Choose a mattress with sturdy side handles.
Does it come with a removable cover - If not, purchase a good quality mattress protector. Wash the cover or protector regularly to keep your mattress clean. You may want a waterproof mattress cover for young children or pets.
Add a mattress topper - These can add an extra level of comfort to your mattress as well as helping it to last longer. Some mattress toppers can help keep you cooler or warmer.
UK MATTRESS SIZES
These are the standard UK mattress sizes:
Single mattress size – 90cm x 190cm
Double mattress size – 135cm x 190cm
King size mattress size – 150cm x 200cm
Super king mattress size – 180cm x 200cm
ALLERGIES TO MATTRESS FILLINGS
Some sprung mattresses are filled with materials that you may be allergic to so check carefully before you buy. Fillings include lambswool, mohair and cotton. Cashmere and silk are also used as fillings but are less likely to cause allergies.
Dust mites may be able to live in sprung mattresses but not in Memory foam or latex mattresses, so consider these options if you have a dust mite allergy. However, if you allow your bedding and sprung mattress to breath and keep your bedding fresh you can avoid dust mites entering your bedding.
NEW BEDDING
You may find you need new bedding to complement your new mattress purchase. If your mattress has altered the way you lie in bed, you may need new pillows so that your head is still fully supported.
If your mattress is more breathable, you may need a higher tog duvet, or if your mattress is keeping you warmer, you may need to lower your duvet tog.
And finally, treat yourself to a set of new Egyptian cotton or linen bedding to enhance your great night's sleep on your new mattress!
---
Also in The scooms blog
What could be better than a beautiful set of luxury bedding to gift a newly married couple? Practical, thoughtful and timeless, it's a gift any newlywed couple are sure to appreciate and the perfect way to mark the start of an exciting new chapter in their lives.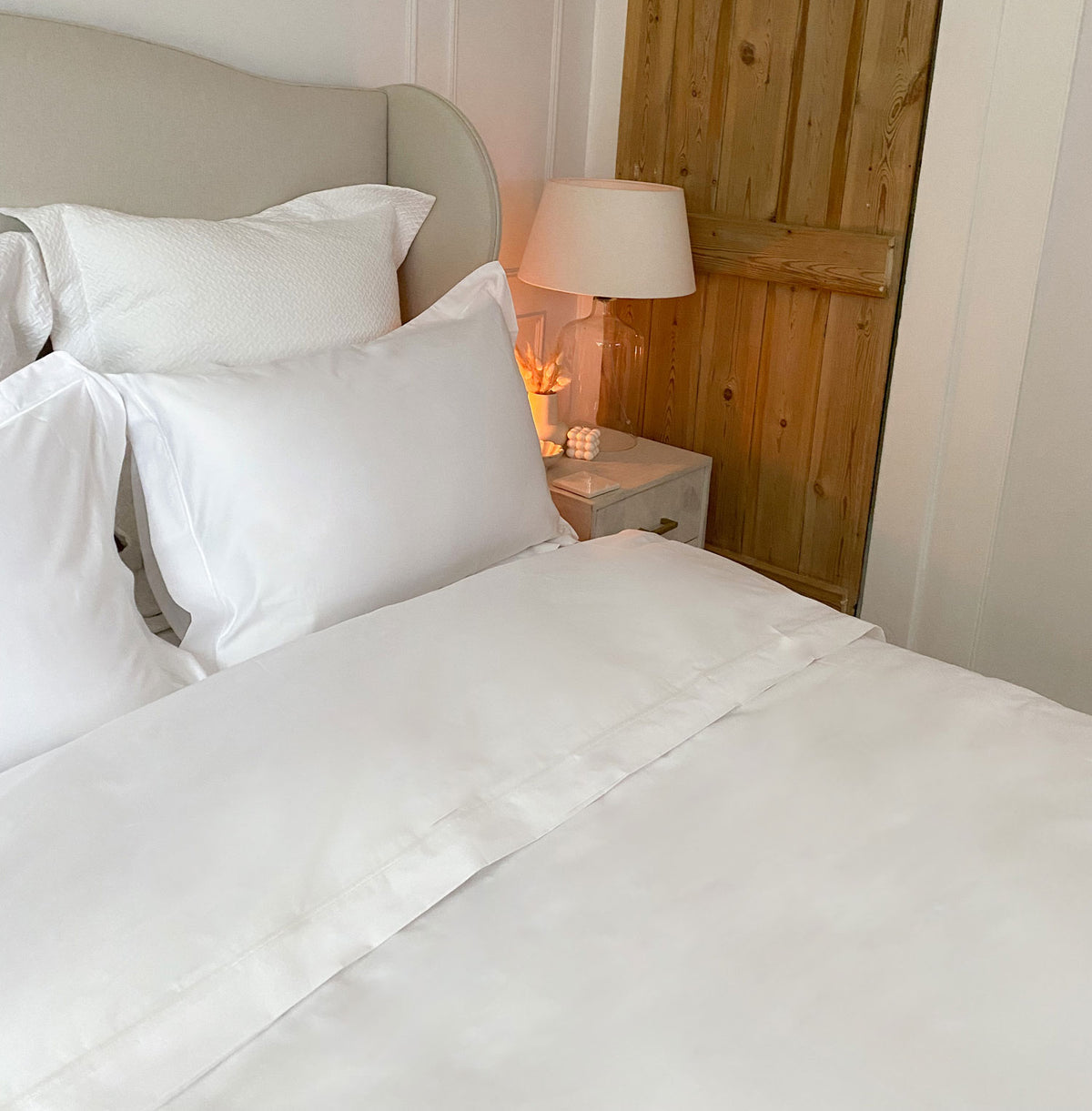 The best hotel quality pillows have a distinctive weight and feel and one of the main reasons is the filling. Hotels with the best pillows typically use a blend of luxury down and feather and they do so for good reason. 
Is it time to spring clean your bedroom? Decluttering your bedroom and giving it a good spring clean can help create a calm, relaxed bedroom sanctuary.