It's all in the duvet details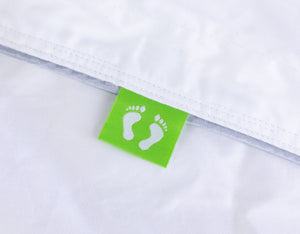 There is no magic in magic, it's all in the details, Walt Disney
We get asked all sorts of questions about our duvets, mostly about the details. So, we thought it would be useful to answer the most frequently asked questions in this blog. After all, it's often the little things that count!

HOW DO YOU KNOW WHICH WAY ROUND THE DUVET GOES?
It can often be confusing trying to tell which way round your duvet goes in your duvet cover. Double duvets are square, the same length on every side, so that's easy! Single duvets are much longer in length than width, so that's easy too. But King duvets and Super king duvets are greater in width than length and it can be difficult to tell which side is which.
So, we have added small feet labels to our scooms duvets which helpfully explain which way round your duvet goes! It's a small detail but bound to save you lots of time!
See our guide for more tips on how to put on a duvet cover.
Details make perfection, and perfection is not a detail, Leonardo da Vinci
ARE YOUR DUVETS NOISY?
No! scooms goose down duvets are not noisy. Our goose down duvets don't rustle or crinkle when you move around. scooms duvets are encased in 100% Supersoft sateen cotton with 300 thread count which doesn't make a noise when you or your other half roll over! No one wants a crinkly duvet!
So why do other duvets make a noise?
A quiet duvet or a noisy duvet is generally due to the duvet casing, essentially the material that the filling is covered in. If the duvet casing is made with a stiff cotton, a really tight weave or has a protective coating, then it can make a noise when it's moved, though it should lessen with use and with each wash - if you have the patience to wait that long! 
DO YOUR DUVETS SMELL?
No! scooms goose down duvets don't smell. We gently wash our goose down and feather in thermal spring water without using harsh chemicals, so there is no animal or feather smell.
Why can down duvets smell?
Naturally filled duvets like goose down, duck down, goose feather, duck feather and wool can sometimes have an odour due to remnants of the natural oils that may remain on the filling after washing. Duck down and feather tend to smell more than goose down and feather fillings as they have a higher oil content.
Reasons for a lingering down or wool odour in your duvet:
Improper cleaning of the filling.
Heat or humidity in transit during shipping.
The filling becoming wet and left damp for a long period of time.
How to get rid of that down, feather or wool smell in your duvet:
You can try getting rid of your duvet odours by airing your duvet or pillow outside in the fresh air and in the sun. Or washing your duvet or pillow with a nice smelling washing powder. Or drying your duvet with a lovely natural scent.
scooms Wool dryer balls are a natural alternative to dryer sheets or fabric softener. Dryer sheets are typically saturated with chemicals and perfumes, but you can add your favourite smell like lavender to your drying duvet or pillow by adding a couple of drops of essential oil to your wool dryer balls.
You must do this after the drying cycle has ended. Soak your wool dryer balls for 20 minutes with 2 to 6 drops of your favourite essential oil. Then run the load again on a non-heat setting for 10 to 20 minutes. Look here for more details on how to use Wool dryer balls.
DOES THE DOWN AND FEATHER POKE THROUGH THE DUVET CASING?
No! The duvet casing on our scooms duvet has a special tight weave to make it both down and dust mite proof so you would only very rarely find a feather escaping from our duvet. Each duvet is double stitched so they are robust and durable.
The 10% white feather we use in our duvets is high quality and deliberately small in size so that the quills are not stiff and hard as can be found with larger feathers. Our down and feather filling is also sewn into multiple small pockets, trapping the filling in individual pockets to ensure an even spread.
Why do feathers come out of a duvet?
If the duvet casing is made with a low thread count, a loose weave or weak stitching then there is a greater chance of feathers leaking out. Something else to look out for is the amount of feather in the duvet. The higher the percentage of feather, the more chance of leakage. Look for a duvet with a high percentage of down rather than feather.
How do I stop the feathers coming out of my duvet?
If your duvet is leaking feathers, try these tips to prevent any further leakage:
Use a duvet cover with a high thread count and a tight weave to contain any loose feathers.
Don't sit on the duvet for too long as this may lead the filling to disperse and leak.
Dry-clean or use a commercial self-service washing machine and dryer rather than a regular home washing machine and dryer which may cause your duvet to flatten, lose its fluffiness or leak.
However, if your duvet is losing a lot of feathers it may be a manufacturing fault. Check the guarantee policy of the brand you bought it from and you should be able to return it or have it replaced.
HOW DO YOU USE THE DUVET FASTENERS?
Our All season duvet is made up of two duvets, a 4.5 tog duvet and a 9 tog duvet, that fit together with easy to use snap fasteners, so that you can make up a warm and toasty 13.5 tog duvet. (Also called a 3 in 1 duvet.). View our tog guide to find out more about the tog rating of a duvet.
The duvet fasteners are like cufflinks or poppers; two separate pieces that pull apart and snap together. The easiest way to part them is to push up diagonally on one side of the fastener. You can do this from the middle of the fastener using the duvet material if it's more comfortable.
All our all season duvets come with a full set of 16 fasteners or 12 fasteners for our single size duvets, plus 3 spare. We provide extra or replacement fasteners with no charge on request.
Our single tog duvets (9 tog, 4.5 tog or 2.5 tog) all come with button holes so that any duvet can be paired with another. Just email us if you need fasteners at sleep@scooms.com. We recommend attaching one fastener to each duvet corner and then 3 on each side for double, king and super king size duvets.
The difference between something good and something great is attention to detail. Charles R. Swindoll
---
Also in The scooms blog
What could be better than a beautiful set of luxury bedding to gift a newly married couple? Practical, thoughtful and timeless, it's a gift any newlywed couple are sure to appreciate and the perfect way to mark the start of an exciting new chapter in their lives.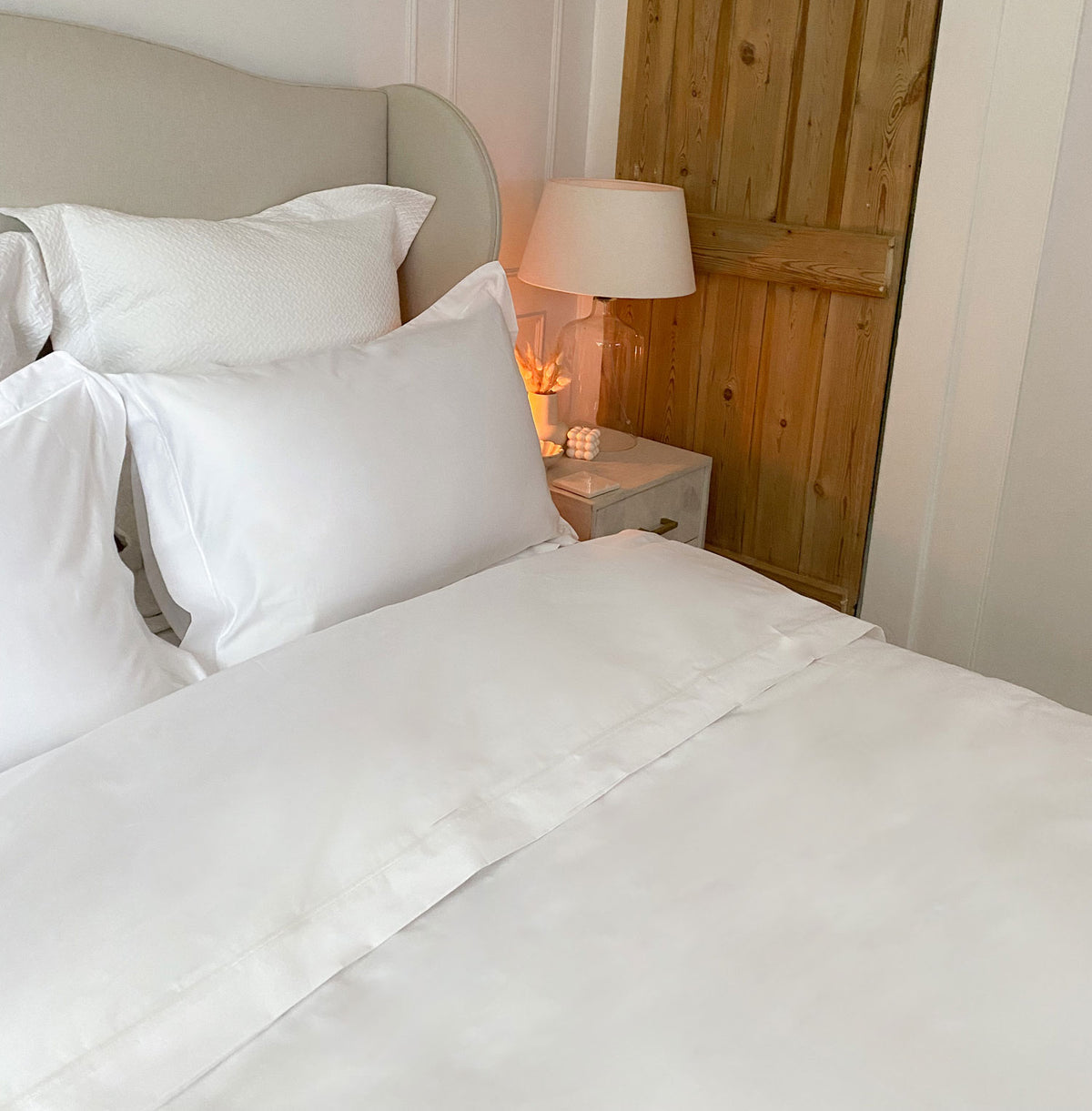 The best hotel quality pillows have a distinctive weight and feel and one of the main reasons is the filling. Hotels with the best pillows typically use a blend of luxury down and feather and they do so for good reason. 
Is it time to spring clean your bedroom? Decluttering your bedroom and giving it a good spring clean can help create a calm, relaxed bedroom sanctuary.