Single Egyptian Cotton Bedding Bundle
Pure Egyptian cotton bedding that's luxuriously light, breathable and durable; with a smooth, silky-soft feel and soothing drape. Like sleeping in a luxury boutique hotel every night! Comes with a 60 night trial.
Single Duvet Cover Egyptian Cotton (140 x 200cm)

£70.00

x

Out of stock

Single Fitted Sheet Egyptian Cotton (90 x 190 x 40cm)

£40.00

x

Out of stock

Single Bundle: 1 x Duvet Cover, 1 x Fitted Sheet, 1 x Standard Pillowcase Pair (SAVE 5%)

£137.75

x

Out of stock

Total

£0.00
Sleep in pure luxury with our single sized Egyptian cotton bed linen in a 5% off bedding bundle - 1 x single duvet cover, 1 x single fitted sheet and 1 x pair of standard pillowcases. Have a great night's sleep! Request swatches.
Material: Certified authentic 100% Egyptian cotton.
Thread count: 600 TC.
Weave: Silky-soft sateen.
Duvet cover & pillowcase design: Oxford with 5cm border and single line marrow stitch cord.
Duvet cover fastening: Large easy to use buttons.
Sheet feet label: Helpfully explains which way round your sheet goes.
Duvet cover sizes: Single: 140 x 200cm * Double: 200 x 200cm * King: 230 x 220cm * Super King: 260 x 220cm.
Fitted sheet sizes: Deep fit, up to 40cm / 15.7" mattress depth - Single: 90 x 190cm * Double: 135 x 190cm * King: 150 x 200cm * Super King: 180 x 200cm.
Flat sheet sizes: Single: 180 x 275cm * Double: 230 x 275cm * King: 275 x 275cm * Super King: 305 x 275cm.
Pillowcase sizes: Standard: 50cm x 75cm * King: 50cm x 90cm.
US bedding sizes: Approximate matches are US King/UK Super king * US Queen/UK King * US Full/UK Double * US Twin/UK Single.
Plastic free packaging: Delivered in a reusable cotton bag in a cardboard box, without plastic wrapping or paper inserts.
60 night trial: If you don't love your bed linen, return it for free and we'll give you a full refund. (Returned products are not re-sold as new.)
Delivery: Free UK next day delivery via DPD for orders placed by 1:00pm, Mon - Fri. (During very busy periods DPD can't guarantee next day delivery.)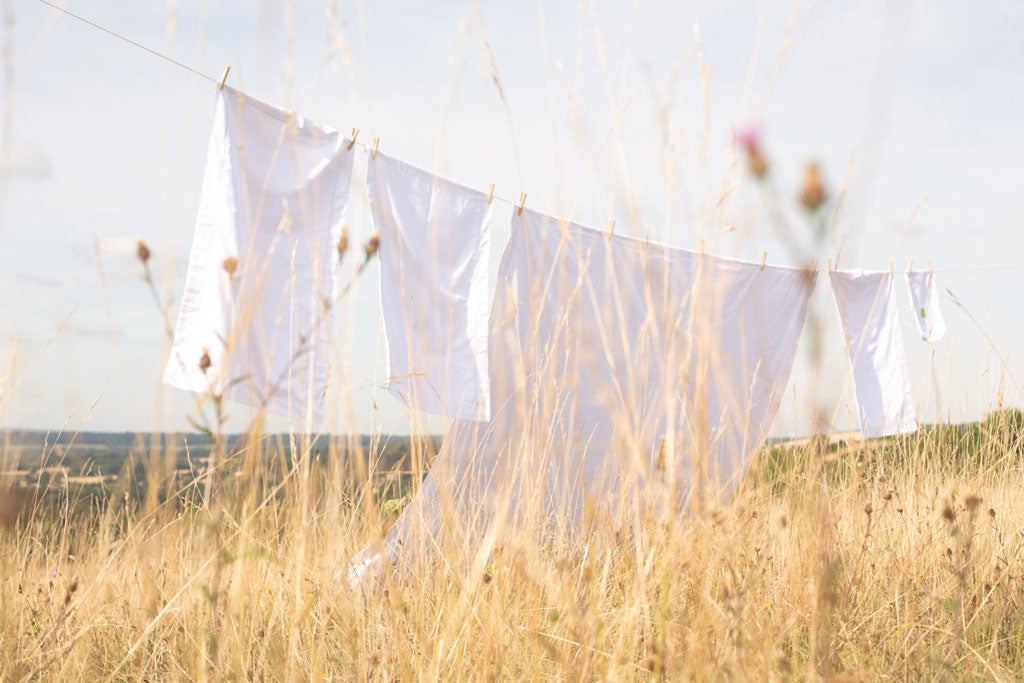 Why Egyptian cotton bed linen?
Egyptian cotton is simply the best type of cotton in the world. Superior to other cotton plants, its extra long fibres produce thinner and smaller but stronger cotton meaning a higher count of threads can be used and producing a luxurious fabric which is strong, light, supple, breathable and durable. Giving our bed linen a dense, smooth and silky-soft feel, with an oh so soothing drape.
Design and comfort
Pure Egyptian cotton sateen weave bed linen in an elegant classic white Oxford design edged with single silky marrow stitch piping. Like sleeping in a luxury boutique hotel every night!
Thread count
The number of threads woven together per square inch of material. Good thread count generally ranges from 200 to 800. We've selected 600 thread count as it's softer, more durable and feels wonderfully indulgent!
Sateen weave
This four-yarn-over and one-yarn-under weave leaves greater thread surface exposed giving the silky-soft feel and lustrous appearance. It's buttery soft and feels wonderfully comfortable against your skin.
Highest standards
We're proud that our bed linen comes with the authentic 100% Egyptian cotton trademark and Oeko-Tex Standard 100 verifying that all scooms bed linen has been tested against harmful  toxins and chemicals. After all, do you spend a third of your life in bed!
Care & cleaning
Wash your bed linen at 40° before use, then once a week or go greener at 30°.  Tumble dry on low heat or air dry in the sunshine to keep your whites bright. Iron damp on a high steam iron setting.  Your linen will become softer with every wash. Love your bed linen and it will love you.
Luxury at a fair price
Luxury bedding at prices that are unbeatable on the high street!  We don't skimp on ingredients but do cut unnecessary costs that have no bearing on quality like shops, middlemen, fancy marketing campaigns and designer licensing fees; passing the savings on to you.
Plastic free packaging
Designed in the UK and made with care in India, your bed linen will arrive in a lovely white reusable material bag, in a scooms cardboard box without any unnecessary plastic wrapping or paper inserts.
---
Excellent quallity pillow cases
My old pillow cases were looking a bit battered so I decided it was time to upgrade, having already bought a Scooms fitted sheet it seemed to make sense to try the pillow cases. As expected they are excellent quality and noticeable smoother than our old pillow cases.
It's definitely a step up from the old ones, looking foward to a few good nights sleep.
Lovely quality new sheets
I ordered some new fitted sheets to replace our old JL sheets, they turned up quickly in good quality packaging. The sheets are ready to use out of the box and fitted really welll over the extra deep memory foam matress we have.
There are lots of small details that are nice such as the label showing which end is which on the sheet, so far they are great with a smooth and soft feel. Well worth the money.
Soooo comfy
This bed linen is comfy, smooth and soft. When you think how many hours you spend in bed, they are definitely worth the money. I never used to iron duvet covers but feel I have to iron this, it's best to do it when it's damp as they recommend, for me this is now an extra chore but I figure it's worth it to have such comfy bed linen.
Top Quality Bedding
Everything about Scoom is top quality. Next day delivery then smooth and soft duvet, bottom sheet and pillowcases in Egyptian cotton. Just feels so much more comfortable and will get better with a few more washes. You get what you pay for and quality is rarely cheap but these are money well spent given the hours you will use them.
Great quality
Its a joy to sleep on love the feeling the sheets on my skin i ordered the hole bed cover and I'm going to get the second one soon thank you scooms .
Smooth and soft
Nice detailing on the edge, a very good sheet!
Excellent sheet
This is a comfortable and generously proportioned sheet. Where I to make any change though I'd opt for a higher thread count, but this is a minor quibble
I would buy pillow cases as well but am holding out for Euro versions. I live in hope they they may yet come one day… ;-)
Beautiful bedding
Bought these along with fitted sheet. All simply perfect. Genuine Egyptian cotton makes such a difference. Who knew? Love them thank you. Also very prompt delivery.
Amazing
The best sheets I have ever owned, and amzing customer service to boot!
Beautiful bedding
I bought a fitted sheet . Its a generous size even for a deep mattress.
It's a joy to sleep on, soft and smooth. Love it!