What size is a standard pillow?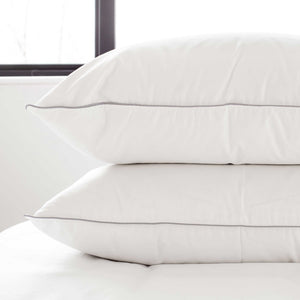 What is the standard pillow size? A standard size pillow is 50cm x 75cm (20" x 30").  A king size pillow, also called super king pillow, is 50cm x 90cm (20" x 35"). These rectangular pillows are the two most common pillow sizes in the UK.
| | | |
| --- | --- | --- |
| | PILLOW SIZE UK | |
| STANDARD | 50cm x 75cm (20" x 30") | SHOP NOW |
| KING / SUPER KING | 50cm x 90cm (20" x 35") | SHOP NOW |
| TODDLER / CHILD | 40cm x 60cm (16" x 24") | |
| SQUARE | 65cm x 65cm (26" x 26") | |
| BODY | 45cm x 150cm (18" x 59") |   |
 Our Hungarian goose down pillow comes in standard and king size.
Here's our guide to pillow sizes:
WHICH SIZE PILLOW DO I NEED?
Choose the pillow size that you find most comfortable. If you have a single bed, double bed or king size bed, then a standard size pillow will fit best. You may want a larger king size pillow if you have a super king size bed or an emperor size bed, so that two king size pillows fit across the width of your large bed.
How your pillows will fit across your mattress width:
| | |
| --- | --- |
| MATTRESS WIDTH UK | BEST PILLOW SIZE |
| SINGLE: 90cm | STANDARD: 75m or KING: 90cm |
| DOUBLE: 135cm | TWO STANDARD: 2 x 75cm = 150cm |
| KING: 150cm | TWO STANDARD: 2 x 75cm = 150cm |
| SUPER KING: 180cm | TWO KING: 2 x 90cm = 180cm |
WHAT SIZE IS A KING PILLOW?
A king size pillow measures 50 x 90cm which is 15cm wider than a standard size pillow. A king pillow is also called a super king pillow. 
WHAT SIZE PILLOW SHOULD A CHILD USE?
Children, aged over 18 to 24 months, should use smaller size 'Cot' or 'Toddler' pillows measuring 40cm x 60cm (16" x 24").  An adult size pillow may strain your child's neck and shoulders.
See our guide to When can a baby have a pillow
WHAT SIZE IS A SQUARE PILLOW?
A square pillow measures 65cm x 65cm (26" x 26"). This is a Euro Continental size pillow and not commonly used in the UK as a pillow to sleep on. You may want to use square pillows as an extra support to prop yourself up when sitting up in bed or to stylishly decorate your bed.
WHAT IS A WEDGE PILLOW?
A wedge pillow is triangular in shape, very firm and used specifically to elevate your head as you sleep. They are used to help people with respiratory issues, sinus problems and snorers and sleep apnea sufferers.
WHAT IS THE POINT OF A BODY PILLOW?
Body pillows are long pillows, around 5ft long, that can be really useful during pregnancy to support your bump or after surgery to help make sleeping more comfortable. A body pillow can help you to align your head, neck and back to reduce pressure on your shoulders and hips when you sleep. This can help prevent any aches and pains that you may be experiencing.
WHAT IS A BOLSTER PILLOW?
A bolster pillow is long and narrow and usually firm. It doesn't come in a standard size or shape. It's usually used to provide back or arm support. A bolster pillow can often be solely decorative and used to dress a bed or sofa.
---
Also in Pillows
Choose the best pillow by considering the pillow filling, the support the pillow offers, the size and any important accreditations, along with your favoured sleeping position.
You should sleep on only one pillow. The right pillow should help your body maintain the ideal sleeping position throughout the night, keeping your head, neck and spine in neutral alignment.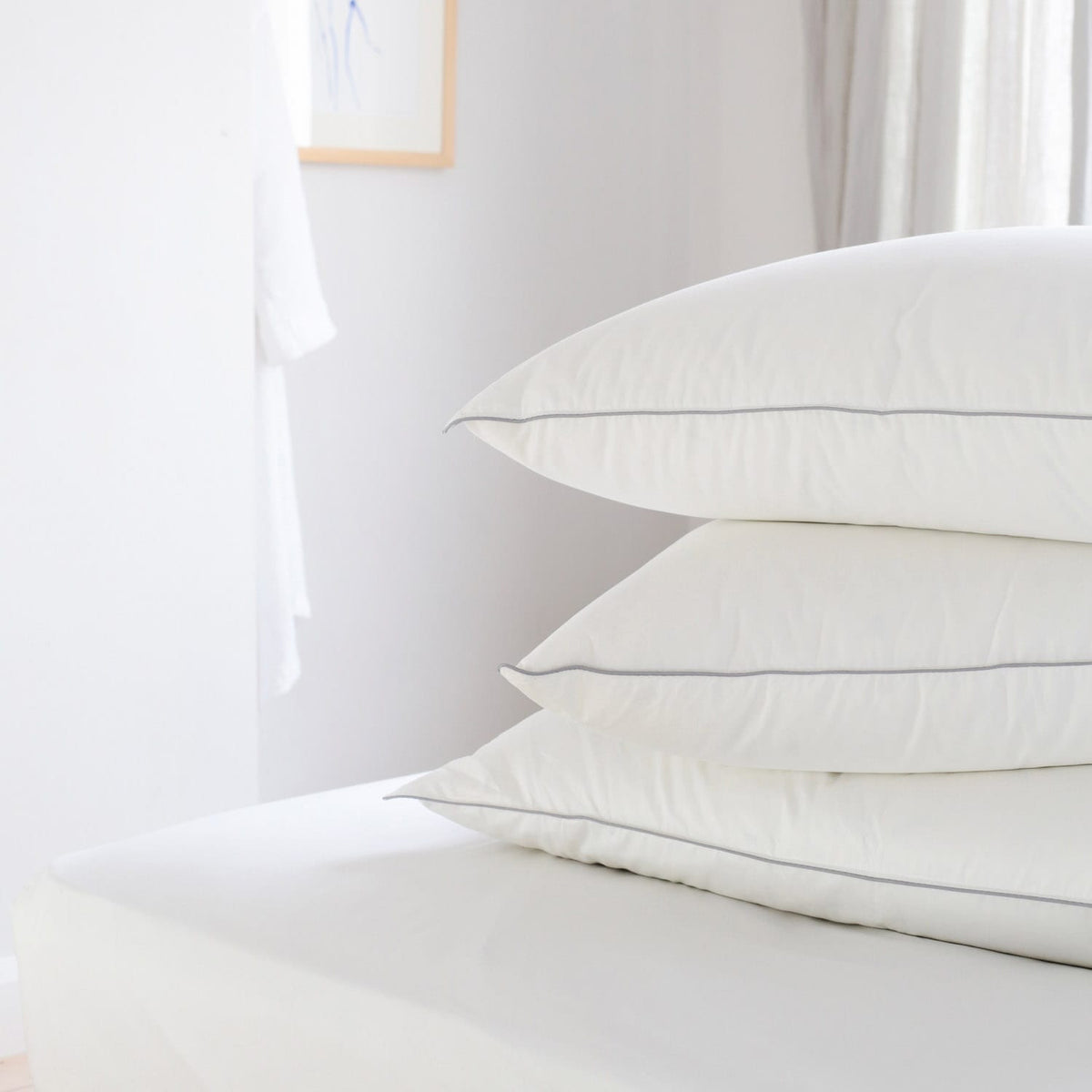 If you wake up with 
neck pain
 or stiffness, and perhaps shoulder pain too, then it could be because your 
pillow
 is not properly supporting your head and neck. Your neck should remain in line with your head as you sleep.