How to create the perfect spa bath at home
It's so important to sometimes take some 'me time' and really relax both your mind and your body. A spa like bath can be the perfect way to relax and reset and it's something you can do at home; there's no need to splash out on a luxury hotel room.
Follow our guide on how you can create your own zen like spa experience at home.
 
PLAN AHEAD
Make sure you plan ahead so that everything is prepared and ready. Taking the time to prepare your bath and environment, will help you feel happy and relaxed even before you get in the bath.

1. Choose a day and time when you won't be disturbed.
2. Do any cleaning and decluttering a day or two before.
3. Purchase any products you need earlier in the week.
4. Finish off any urgent or timely work or chores.
5. Allow yourself time after your bath to continue to relax.
DECLUTTER

Many of us share our bathrooms with others in our family. So, our bathrooms might be functional but cluttered rooms. Put away all those pots, jars, tubes and toys to create clutter free surfaces. And why not take the time to throw out any old creams/make up/products that have passed the sell by date.

While you are at it, give those surfaces and mirrors a good clean with a non-chemical based cleaner or just wipe down with vinegar.


SET THE ATMOSPHERE

One or two plants can transform a bathroom. We like the Boston Fern, Golden Pothos and the Aloe plant, which also has the benefit of being great for soothing sunburns and skin irritations.

Light and scent your bathroom with a few strategically placed naturally scented candles avoiding candles made with chemicals. Our scooms natural candles are non-toxic, eco friendly and smell wonderful! They come in 3 irresistible fragrances, soothing Lavender + Bay, warming Sea salt + Oak and fresh Wild Woods + Fir.

You could also add a few tea lights around the room.

Then turn off any bright or harsh lights.
CHOOSE LUXURY TOWELS

Luxury towels can make every bath or shower time feel wonderful. Our scooms fluffy and plush range of Egyptian cotton towels and bath mats will perfectly complement your spa like bath time. You can also place a rolled-up hand towel at the head of the bath to support your head and neck when you are in your bath.

For that extra touch of luxury, warm your towel on a radiator or towel rail before your bath and use freshly washed towels! Then wrap your towels around you after bath and envelop yourself in cosy luxury.
Not sure which size towel will suit you best? Check out our Towel size guide.
NATURAL BATH PRODUCTS

We personally love bath salts with a few drops of a relaxing essential oil like lavender. Choose natural and chemical free products, avoiding any bath bombs or things that fizz.
WARM UP THE HOUSE

For extra indulgence, (this is your treat), make sure that the house is toasty warm before your bath. That when you get out, you won't be immediately plunged into a chilly house.
SOOTHING MUSIC

Pre-pick your playlist of soothing, relaxing music. Nothing too upbeat or too sad!
FOOD AND DRINK

Avoid eating a heavy meal before your spa evening. Something light and healthy is perfect. Likewise, don't drink too much. A treat such as a couple of chocolates, a few strawberries and a glass of fizz or a herbal tea can really add to your pampering experience.
SWITCH YOUR PHONE OFF

Remember to switch your phone off. Don't let anything or anyone interrupt your me-time!
JUST THE RIGHT BATH TEMP
Run the bath before you get in. You want a goldilocks bath, not too hot but not too cold, just right. Around 37°C to 40°C should be perfect. It's also worth thinking about the type of bath you are using. Cast iron and copper baths soak up heat quickly, cooling the water, so fill up, leave for 5 mins then check the temperature.
We recommend ensuring that your hot water boiler has been on for a while before you run your bath in case you need to top up. It would be very disappointing to find that your bath has become lukewarm and you have no hot water to top it up with!
SHOWER FIRST

You could think about having a quick shower before your bath. You'll find your bath so much more enjoyable if you feel really clean getting in. Remember this is all about pure indulgence…
IMAGINE…

A great way to relax in your bath is to just let your imagination flow. Think of a lovely day you had recently or something you are looking forward to.
HOW LONG SHOULD I SPEND IN MY SPA LIKE BATH?

This is up to you. The optimal length of time to relax your muscles and your mind is between 15 and 30 minutes. But of course, there's nothing stopping you staying in for longer.
GET A GOOD NIGHT'S SLEEP AFTERWARDS

Research shows that going to bed between 1 to 2 hours after your bath is ideal. This gives your body time to cool down ready for sleep. Make sure you do something relaxing after your bath such as reading a book. Don't stimulate your mind by checking your phone, emails or watching TV.

Pop a hot water bottle in your bed after your bath if the night is chilly. Then when you get into bed, it will feel nice and cosy.

You should then fall into a lovely relaxing sleep.
---
Also in The scooms blog
What could be better than a beautiful set of luxury bedding to gift a newly married couple? Practical, thoughtful and timeless, it's a gift any newlywed couple are sure to appreciate and the perfect way to mark the start of an exciting new chapter in their lives.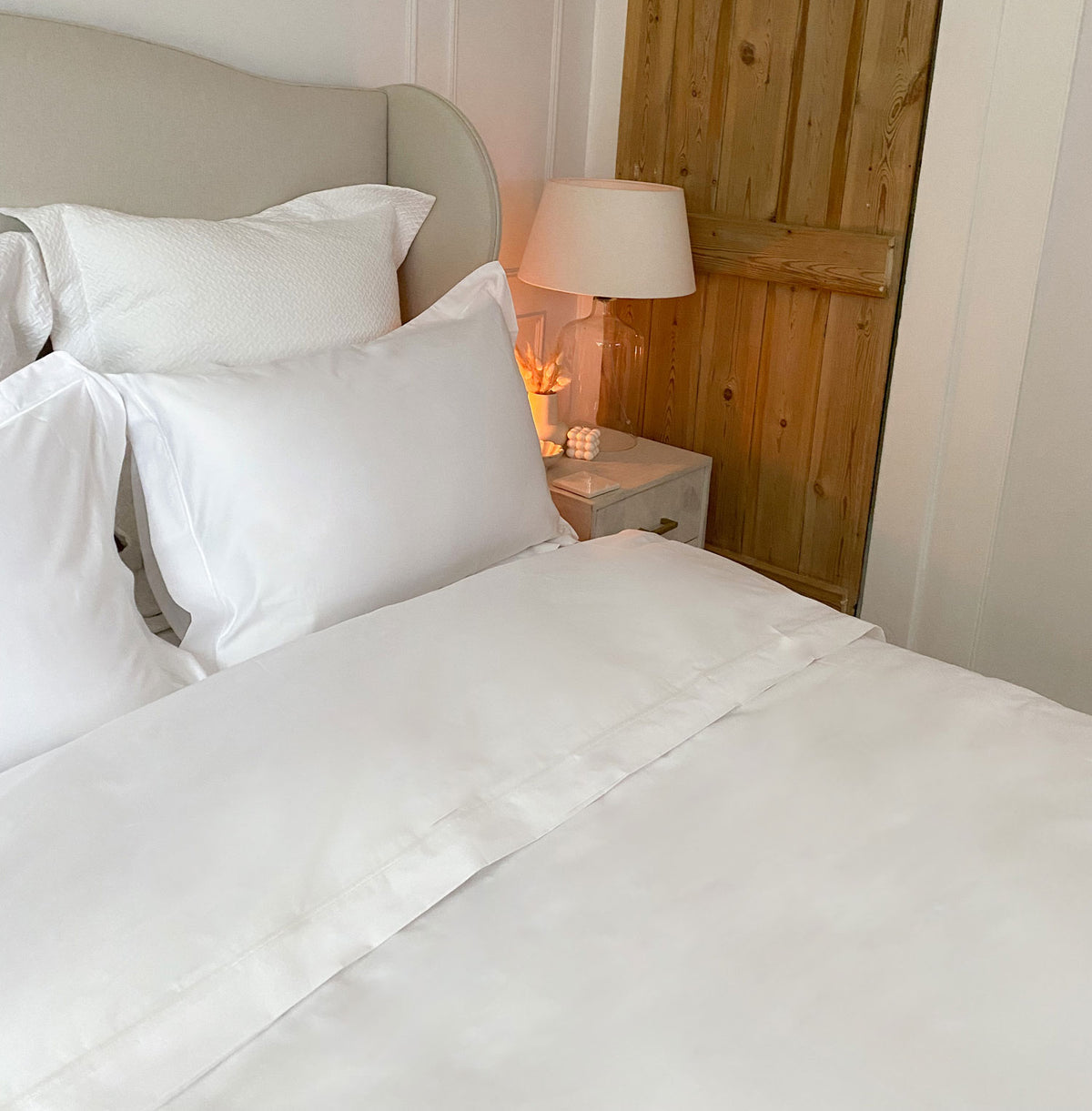 The best hotel quality pillows have a distinctive weight and feel and one of the main reasons is the filling. Hotels with the best pillows typically use a blend of luxury down and feather and they do so for good reason. 
Is it time to spring clean your bedroom? Decluttering your bedroom and giving it a good spring clean can help create a calm, relaxed bedroom sanctuary.