Natural candles for a healthy home
Candles can transform our home environment, relaxing or invigorating us depending on the scent we choose. But is the scented candle you're burning helping to soothe you or could it actually be polluting your home and harming your health?
We've put together a guide to natural scented candles so you can make sure the candle you're buying contains only natural ingredients that won't release anything nasty into your home.
WHAT IS A NATURAL CANDLE?
A natural candle is a candle made with only natural ingredients. Look for a 100% soy wax or beeswax candle using a natural fragrance or essential oils and a sustainably sourced wood or 100% cotton wick.
WHAT IS THE HEALTHIEST TYPE OF SCENTED CANDLE?
Is the candle you are burning toxic? Natural waxes such as soy, rapeseed, coconut and beeswax all burn cleanly. Look at the ingredients carefully before you buy. If you want to avoid releasing pollutants into your home that may be harmful to your health, don't burn candles made with:
Paraffin wax - which is made from petroleum.
Chemical fragrances - which can induce headaches.
Wicks with a metal core - which can spread heavy metal particles in the air.
Some candles use a blend of waxes, so check if all the waxes used are natural or if only the main wax is natural and others are not. For example, a soy wax blend will contain a high percentage of soy wax but may also contain paraffin wax.
WHAT IS THE MOST ENVIRONMENTALLY FRIENDLY SCENTED CANDLE?
Soy wax and beeswax have the best eco credentials as they are natural, sustainable. and biodegradable. Whereas paraffin is extracted from the planet, soy is plant based and easy to regrow. However, there can be concerns over deforestation and the use of pesticides and fertilisers used to grow soy beans. Beeswax is also naturally derived and may help actually clean the air as it burns.
Soy wax is vegan friendly but the jury is out on whether beeswax is vegan friendly or not.
CANDLE PACKAGING & THE ENVIRONMENT
Many candles are wrapped in single use plastic packaging but this almost always ends up in our seas or in landfill. Make sure your candle is packaged without any plastic.
Check if the glass container is made from recycled or repurposed glass. And once you have finished burning your candle, reuse or repurpose the candle jar as a plant pot or to grow your own herbs, etc. Don't let your jar end up in landfill! 
At scooms, we're proud to use repurposed glass jars for our natural candles and plastic free packaging.
CANDLE FRAGRANCE
Make sure your candle fragrance doesn't contain any chemical nasties like synthetic colours or artificial fragrances.
Artificial fragrances can let off VOCs, like formaldehyde, acetaldehyde, acetone, naphthalene, limonene and alcohol, which can trigger headaches, asthma attacks and dizziness.  
CANDLE WICKS
Check that the cotton candle wick doesn't contain a metal core to keep it upright. As these types of wicks burn, heavy metal particles can spread through the air and could also release a small amount of lead.
Choose a sustainably sourced wood or 100% cotton wick, like our scooms natural candles.
CANDLE WAX
Almost any kind of oil can be turned into a wax. There are 3 main types of candle wax, paraffin, soy and and beeswax. Other candle waxes include coconut and rapeseed.
PARAFFIN WAX
Many scented candles are made from paraffin wax, a by-product of petroleum. The wax is treated and used to make a variety of things including candles. Paraffin waxes can produce strong fragrances.
However, many experts believe that as paraffin candles burn they release air pollutants known as toxic volatile organic compounds (VOCs). These may be harmful to our health, releasing cancer-causing chemicals, and detrimentally affecting people with respiratory conditions like asthma.
SOY WAX
Soy wax burns cleaner and longer than paraffin wax. So, there will be a lot less soot in your home, meaning cleaner walls and healthier lungs. As soy wax burns at a lower temperature the wax melts more evenly, so the essential or natural oils in the scented candle are also released more slowly.
The other good news about a soy wax candle is that due to the lower burning temperature, it will last longer than a paraffin or beeswax candle. Maybe even twice as long! 100% soy wax is what we use in our scooms natural candles.
BEESWAX
Beeswax is sourced naturally from bees and is the oldest type of candle wax, dating all the way back to the Ancient Egyptians. These candles are very healthy to burn being smokeless and sootless. Some reports state that they can also help purify the air. 
However, beeswax isn't often used for scented candles as the natural smell doesn't easily mix with other scents. A beeswax candle has a lovely honey aroma of its own when burned. So, scented candle makers will often mix in another type of candle wax such as coconut which holds scent well.
---
Also in The scooms blog
What could be better than a beautiful set of luxury bedding to gift a newly married couple? Practical, thoughtful and timeless, it's a gift any newlywed couple are sure to appreciate and the perfect way to mark the start of an exciting new chapter in their lives.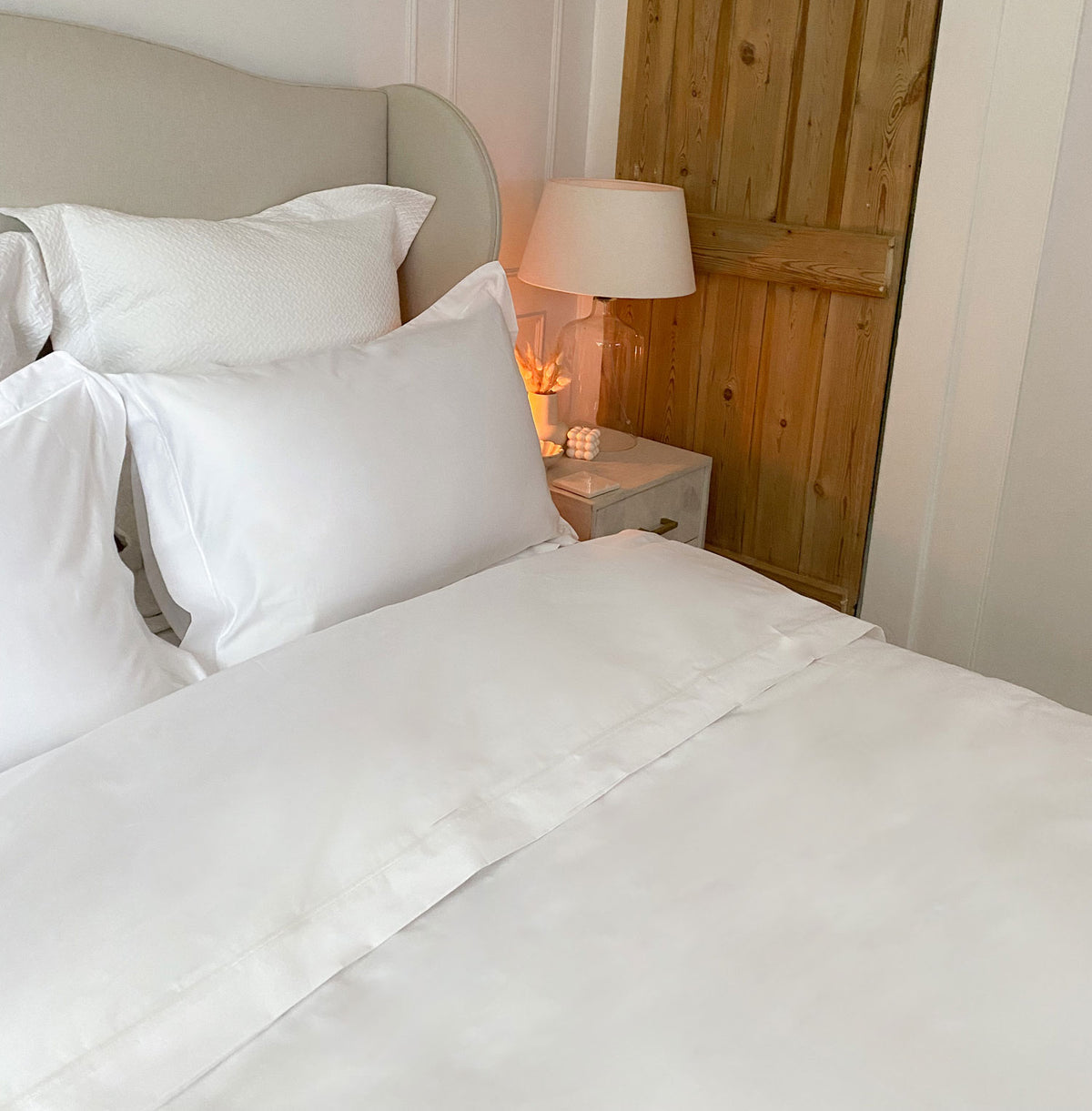 The best hotel quality pillows have a distinctive weight and feel and one of the main reasons is the filling. Hotels with the best pillows typically use a blend of luxury down and feather and they do so for good reason. 
Is it time to spring clean your bedroom? Decluttering your bedroom and giving it a good spring clean can help create a calm, relaxed bedroom sanctuary.