Silk eye masks benefit your sleep & skin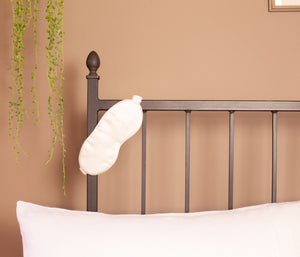 Silk eye masks, the 'essential luxury sleep accessory'? Yes, I think so! I've been sleeping with one of our new Mulberry silk eye masks for the past couple of months and now I don't think I could sleep without it! (Once I'd realised how to wear it! Don't stretch it tautly and uncomfortably across the broadest part of your head, gently settle the strap just above your ears!)
If, like me, you don't have blackout curtains or you're a light sleeper, then a silk eye mask really can make a difference to the quality and quantity of your sleep. Silk also has naturally occurring skin-friendly properties which bring other added benefits to your complexion. (Perhaps even anti-ageing!)
Find out more:
IMPROVED SLEEP
If your sleep environment isn't dark enough, your body won't know that it's night time and the restful slumber that you crave will be illusive. Total darkness will boost your body's melatonin level and send you to sleep quicker.
Sunlight or street lighting streaming through your curtains during the night, or during the day if you work night shifts, can also your sleep.
Blackout blinds and curtains can be expensive so an eye mask can be a much cheaper and easier solution to block out the light helping you to make that switch into sleep mode and preventing you from being woken up before you've had your essential 8 hours!
And if you're travelling and trying to sleep on a plane, bus or train or suffering from jet lag, then an eye mask can be the ideal travel accessory. It's easy to pack and take with you and the scooms silk eye mask comes in a handy silk drawstring carry bag. The effects of lack of sleep can make you less alert at that work meeting or grumpy at that family gathering. A shame if you've made all that effort to get there!
As adults we need 7 to 8 hours sleep a night for optimum physical and mental health. Here's some more tips on how to get a better nights sleep.
BEAUTY SLEEP
Silk really can be a night-long beauty treatment while you sleep! The naturally occurring proteins and oils that silk contains can help care for your skin. Recent studies of these proteins and amino acids show that they can make your facial lines and wrinkles appear smoother and less noticeable, as they relax your nervous system.
These natural chemicals can also speed up the metabolism of your skin so that your skin cells develop and repair quicker than normal.
The dense weave of silk fibres hold moisture close to your skin as you sleep  helping your skin to maintain it's natural moisture level as less moisture is drawn away from your face. This extra moisture keeps your skin hydrated and can help to reduce all those unwanted lines, wrinkles and dark circles!
Wearing a silk eye mask can also prevent your expensive night or eye cream from going to waste and rubbing off on your pillow!
Also, as the super soft texture of silk lacks friction it won't leave creases on your skin or pull at your hair while you sleep.
All helping to lead to a smoother and refreshed looking complexion while you do nothing but snooze! 
REDUCED FROWN LINES
Apparently light disturbances while you sleep can cause you to frown at night, contributing to those ageing lines and wrinkles. Who knew! 
Wearing an eye mask all night will shield your eyes from any unwanted light and help protect against premature wrinkles. 
To avoid creating new wrinkles, the eye mask you choose should feel weightless on your face and stay put all night long.
SENSITIVE SKIN
Silk, particularly 100% pure mulberry silk, is hypoallergenic with natural anti-bacterial properties. It contains a natural protein called Sericin which reduces the possibility of an allergic reaction.
Materials like cotton or synthetics can pull at the skin and absorb moisture or overheat the skin which can cause irritation. Silk is gentle on the skin and the delicate eye area.
If you have a skin condition like eczema, rosacea or dermatitis, you may find the smooth coolness of a silk eye mask soothing to your skin and not irritating to your skin condition.
As smooth as silk ...
EASY TO WEAR
Our silk eye mask won't crease or tug on your skin, or pull on your hair. It's lightweight with a gently elasticated silk covered strap that will ensure your eye mask stays on all night long.
The scooms silk eye mask fits best if strap sits below the broadest part of your head, just above the top of your ears. Don't wear it taughtly and uncomfortably stretched across the broadest part of your head.
Whichever eye mask you choose, you shouldn't feel any discomfort as you sleep.
GREAT FOR ALL SEASONS
Silk is naturally temperature regulating which is needed for sleep to occur. 
It's cool to the touch and breathable but also insulating, so it should feel warm in the winter and cool in the summer, making a silk eye mask an excellent sleeping aid. 
Perfect to sleep in all year round!
MULBERRY SILK
Mulberry silk is spun by silkworms who feed on mulberry leaves and is the best silk you can buy for use in silk bedding and clothes. Mulberry silk is incredibly soft and durable.
6A GRADE SILK
Silk is graded on an A, B, C scale. Each letter referencing a different type of silk product quality. 'A' being the finest, highest quality silk product and 'C' being the lowest.
The additional number takes the grading a step further, '6A' being better quality than '5A'. So grade 6A means that quality of silk is the best for that specific type of silk.
22-MOMME SILK
Momme
is a unit of measurement, like thread count for cotton. As silk fibres are much thinner in diameter than cotton, momme is used instead of 'thread count'.
Momme describes silk's weight and density. Higher momme measurements mean there are more strands of silk per 100 yards of fabric, so the silk is higher quality and more durable. For example, If the weight of the fabric is 19 pounds, the momme measurement will be '19-momme'.
Momme measurements range from 11-momme to 25-momme. However, 25-Momme is much too heavy for clothes or bedding and is usually used for homeware such as curtains. 
22-Momme is the ideal momme measurement for the best quality silk bedding or clothing.
---
Also in The scooms blog
What could be better than a beautiful set of luxury bedding to gift a newly married couple? Practical, thoughtful and timeless, it's a gift any newlywed couple are sure to appreciate and the perfect way to mark the start of an exciting new chapter in their lives.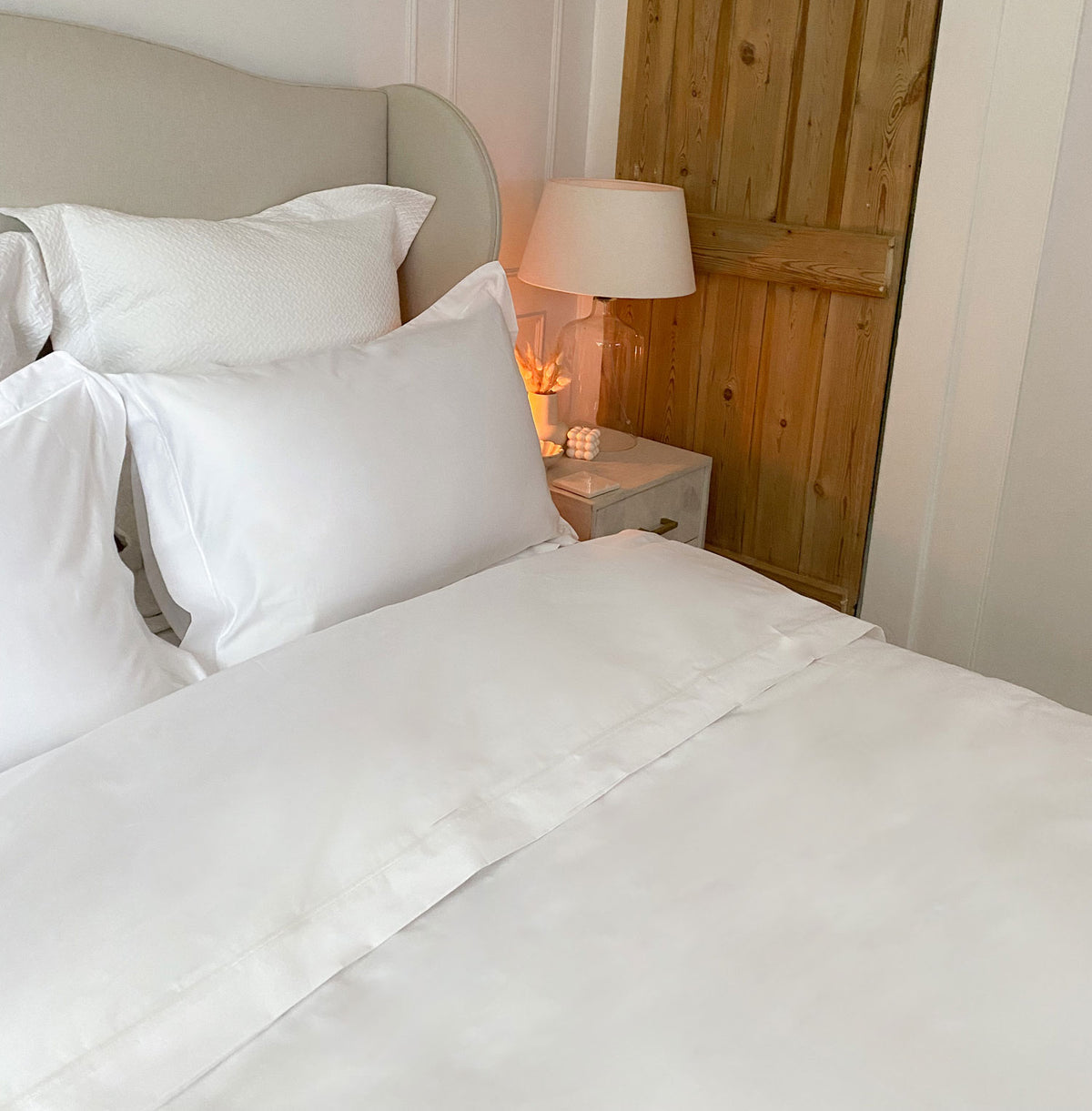 The best hotel quality pillows have a distinctive weight and feel and one of the main reasons is the filling. Hotels with the best pillows typically use a blend of luxury down and feather and they do so for good reason. 
Is it time to spring clean your bedroom? Decluttering your bedroom and giving it a good spring clean can help create a calm, relaxed bedroom sanctuary.