Using natural wood floors in the home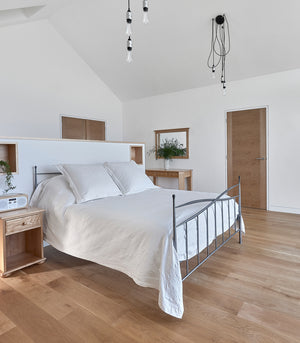 We've been speaking to Ted Todd Floors, the UK's leading luxury wood floor specialists, about the importance of using natural materials in the home.
Like scooms, Ted Todd are strong proponents of using natural, ethical and sustainably sourced materials in the home. We asked the Ted Todd team about their values and ethos and why they recommend investing in wood floors in the home.
WOOD FLOORS IN THE BEDROOM
Robert Walsh, Founder and Owner, gave us his insight on using wood as the perfect natural bedroom floor.
"When it comes to the bedroom, wood floors work beautifully as they are one of the most traditional and natural types of flooring. Bringing in a touch of nature and the great outdoors, they can really help to transform your bedroom into a calming and relaxing escape.
When it comes to choosing and buying a wood floor, it's important to choose something that you really love as it is a big investment, and one that will last a lifetime. Good quality wood flooring will last for decades to come, and with minimal maintenance, will age gracefully. With a variety of species and finishes available, you can make a real statement with a herringbone or chevron design or allow the floor to blend seamlessly with your existing décor with a plank format."
TELL US ABOUT TED TODD AND THE HISTORY OF THE BRAND?
Our journey began in 1993 after our founder Robert Walsh, then a 21-year-old graduate, spent a summer restoring reclaimed pine floorboards in his parent's back garden, and received his first order for 40 square yards for a barn conversion.
We started making new wood floors in 1997, drawing on what we had learnt from reclaiming 18th and 19th century wood floors. These were mostly solid, wide and long Oak floorboards which quickly proved popular with customers. Ever since, we've been driven by a commitment to the environment. As we grew, our ethos remained the same - to create great looking wood floors without compromising on sustainability.
HOW DOES USING THIS BEAUTIFUL, NATURAL MATERIAL BENEFIT US FROM A DESIGN AND HEALTH PERSPECTIVE?
Wood floors bring you closer to nature. By bringing nature, and the outdoors, inside your home you will naturally create a serene, calming sanctuary.
There is an increasing awareness around the health benefits of living with a wood floor vs a manmade option such as LVT or carpet. Our wood floors are SVOC free and have the added benefit that the whole floor and not just off-cuts can always be re-used or recycled.
For these reasons, wood floors offer a sense of well-being that manmade alternatives cannot replicate. The texture and undulations, even the scent of the wood heightens the senses, which creates a calmness and feeling of security.
USING PALE WOOD FLOORS TO CREATE A CALMING EFFECT IN THE HOME
Pale wood flooring usually refers to wood floors that are white or very light in tone. You can achieve very different looks when fitting a pale wood floor, simply by choosing different grades, designs, textures or finishes.
A prime grade light wood floor will look very different to one that is nature or rustic grade. With prime grade, the boards will be very uniform in appearance, with minimal colour variation and no knots. This means they make a great choice for a serene, calming space.
Wood flooring brings you closer to nature in general, so it creates a soothing feeling.
WHY IS IT IMPORTANT TO YOU TO CHAMPION SUSTAINABILITY AND THE USE OF NATURAL MATERIALS IN INTERIOR DESIGN?
Nothing compares to natural materials in interior design – there's a reason why wood floors, marble, metals and of course wooden furniture has endured for so long. They are extremely durable and last for a long time – wood floors can be sanded and resealed if needed which extends their life cycle, making them a truly sustainable choice. They also are a natural insulator, meaning that utility bills can be reduced which also helps the environment!
By using a wood-based material, especially one that is FSC certified, your eco-friendly flooring choice could in fact have a negative carbon footprint!
WHY HAS FSC CERTIFICATION BECOME AN IMPORTANT PART OF TED TODD'S ETHOS?
Sustainably sourcing our timber has always been important to us. When our founder, Robert, began in 1993 he was reclaiming and refurbishing old wood floors, and it wasn't until 1997 that we moved to making floors crafted from new timber. We decided then and there that we would only deal with suppliers who could prove that timber was from well managed sources, and so we became one of the first wood flooring companies in Europe to become FSC certified.
Since then, we have grown our collection of products but have stayed true to our roots and are proud to say all our timber is sustainably sourced.
HOW CAN PEOPLE MAKE MORE CONSIDERED DESIGN CHOICES THAT ARE BETTER FOR THEIR HEALTH, WELLBEING AND THE ENVIRONMENT? 
Low VOCs and SVOC Free – Harmful to both humans and animals, the full effects of volatile and semi-volatile organic compounds are unknown so choosing a low VOC or SVOC free floor should be top of your list if you are looking for non-toxic flooring in the UK.
Wellness Enhancing - You can enhance your connection with nature through your material choices. It's proven that the benefits of natural products, natural lighting, good ventilation and the use of greenery indoors can make you feel good at home or in a shared space.
Carbon Neutral - Wood is the only construction material that stores carbon. In June 2019, the UK legally committed to cut emissions of carbon dioxide and other greenhouse gases to net zero by 2050.
Sustainability – For the most eco-friendly flooring choice, your primary consideration should be sustainability. FSC certification ensures that forests are well managed for the production of wood-based products with an emphasis on combatting deforestation and the global protection of forests.
Recyclability – Plastic flooring will generally end up in landfill at the end of its lifecycle. Ted Todd and Woodworks floors have been created to last a lifetime. Should your floor come to the end of its use, you can be assured that it can be fully recycled, unlike manmade plastic alternatives.
Visit tedtodd.co.uk, the UK's leading luxury wooden floor specialists
WIN A SCOOMS 9 TOG HUNGARIAN GOOSE DOWN DUVET
To enter, all you need to do is FOLLOW both @tedtoddfloors and @scoomssleep on Instagram, LIKE the competition post on our Instagram page, and TAG one friend in the comments! Competition closes 31 August 2021 – Good Luck! 
T&Cs apply: Competition ends 31 August 2021. Winner will be randomly chosen from all valid entries by scooms. The winner will be contacted by message on Instagram from scooms official Instagram page, @scoomssleep. The winner will be able to choose which size 9 tog Hungarian goose down duvet they would like and it will be sent direct from scooms to the winner.
---
Also in The scooms blog
What could be better than a beautiful set of luxury bedding to gift a newly married couple? Practical, thoughtful and timeless, it's a gift any newlywed couple are sure to appreciate and the perfect way to mark the start of an exciting new chapter in their lives.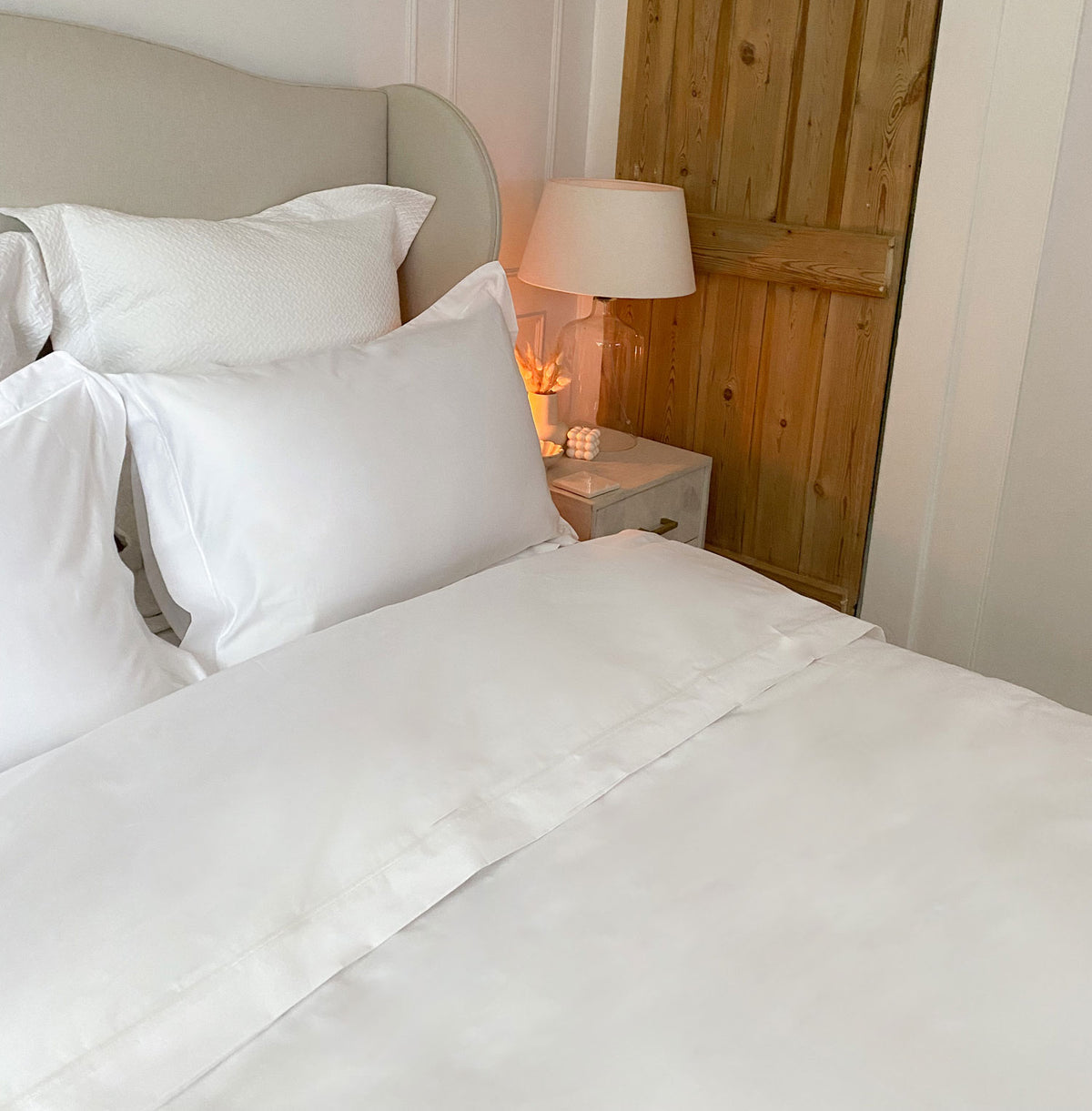 The best hotel quality pillows have a distinctive weight and feel and one of the main reasons is the filling. Hotels with the best pillows typically use a blend of luxury down and feather and they do so for good reason. 
Is it time to spring clean your bedroom? Decluttering your bedroom and giving it a good spring clean can help create a calm, relaxed bedroom sanctuary.