Why buy with scooms?
The Independent's Best Buy Duvet 2023
Say hello to one perfect all natural Hungarian goose down duvet! We rigorously researched materials, explored construction techniques and examined sleeping preferences to identify the 7 key elements that we believe make up the perfect duvet. Try it for yourself with our 60 night duvet trial.
If you don't love your scooms duvet, return it within 60 nights of your purchase and we'll give you a full refund. (Including free returns for mainland UK customers.) 
7 REASONS TO BUY THE SCOOMS DUVET:
NATURAL MATERIALS
We only use the finest natural materials. A special mix of 90% authentic Hungarian goose down and 10% Hungarian selected small white goose feather, (to add a little weight), is what makes the scooms duvet so comfortable. Our goose down is a by-product of the food industry and ethically sourced, traceable and rigorously tested: RDS certified.
We put our down through a unique washing process using natural thermal spring water to preserve its properties. We don't use any toxins or chemicals in our duvet production. The Oeko-Tex 100 standard verifies that the scooms luxury down duvet has been tested for harmful toxins and chemicals.
Our down duvets are encased with the perfect weight 100% cotton casing. We use a 300 thread count super soft sateen cotton with a special tight weave to make it both down and dust mite proof.
Read our Guide to Hungarian Goose Down.
TEMPERATURE REGULATION
Your duvet should provide the right temperature while you sleep whatever the season. Duvet tog rating is a useful measure of a duvet's warmth. The higher the tog, the warmer the duvet. We recommend a 2.5 tog to 4.5 tog for the summer, 9 tog for the spring, autumn and winter months, and 13.5 tog for extra winter warmth. 
Duvet fill power measures the quality of the down in a duvet, specifically the down's insulating ability - the 'loft' or 'fluffiness' of the down. A high fill power means that the down is light and airy and insulates well. Fill power typically ranges from about 300 fill power for feather fillings to around 800 fill power for the highest quality down. Our 100% Hungarian down duvet has high 700 fill power, which is the highest fill power for down produced from mature geese as a by-product of the food industry.
MOISTURE CONTROL
We sweat while we sleep, passing moisture into our duvet. It's important that the duvet filling 'breathes' to enable the moisture to escape. We use the highest quality naturally breathable Hungarian goose down in our duvets as it offers three to four times more air circulation than synthetic materials.
BODY CONTOURING
People come in different shapes and sizes.  Our perfectly balanced mix of natural materials guarantees that our down duvet has the right drape whatever your shape. Even if there are two different sized people in the bed, it naturally maps to your body shape, producing a more comfortable sleep.
CLEVER CONSTRUCTION
How a duvet is made has a big impact on the comfort it provides and therefore, the quality of your sleep. Our down duvet has multiple small pockets to trap the down and ensure an even spread across the duvet, in a box stitch construction. The pockets on our 9 tog down duvets also have clever extra side walls, which are trickier to make but gives the down more space creating extra fluffiness and increasing breathability, in a baffle box construction. Each duvet is then double stitched for extra strength.
ALLERGEN RESISTANCE
Our Hungarian goose down duvet comes with the Nomite standard, an anti-allergen standard, that certifies that the scooms down duvet is suitable for house dust mite allergy sufferers. Read more in our guide to Nomite duvets and pillows.
It's a misconception that synthetic duvets are less of an allergen than natural down duvets. The most common allergy is to the house dust mite rather than to the duvet materials. Studies have shown that synthetic bedding can harbour more dust-mites due to a typically looser weave casing and limited breathability. Using 90% Hungarian goose down, with its natural temperature and moisture regulating properties, ensures that the scooms goose down duvet provides a poor habitat for dust mites. The 100% cotton casing with an especially tight weave helps prevent dust mites passing through.
ALL SEASONS COMFORT
An all season duvet consists of two duvets, a lighter duvet plus a warmer duvet. We have three All season duvet combinations, a 13.5 tog, a 11.5 tog and a 7 tog. Our all seasons duvets come with really easy to use fasteners so that you can fit the two duvets together when the nights get colder to create a warmer tog duvet. Choose the perfect warmth for you, whatever the temperature. 
Our all season duvets come in a handy material bag so you can store one duvet while you use the other.
Find out more in our guide: How to choose the best duvet.
WHAT DOES SCOOMS MEAN?

We often get asked why we chose the name 'scooms'. It doesn't actually mean anything! We liked the name 'scooms' as it has a warm, restful feeling and the double 'oo' reminds us of a couple of duvets rolled up next to each other.
The scooms goose down duvet has been crafted to make sleep beautifully simple. Try it for yourself with our risk free 60 night duvet trial.
We're sure you'll love it!
---
Also in Duvet fillings
Hungarian goose down duvet guide, we tell you why you should choose goose down duvets and goose down pillows; 12 things you need to know about goose down before buying your goose down duvet or pillow; and the 7 elements we believe make up the best goose down duvet.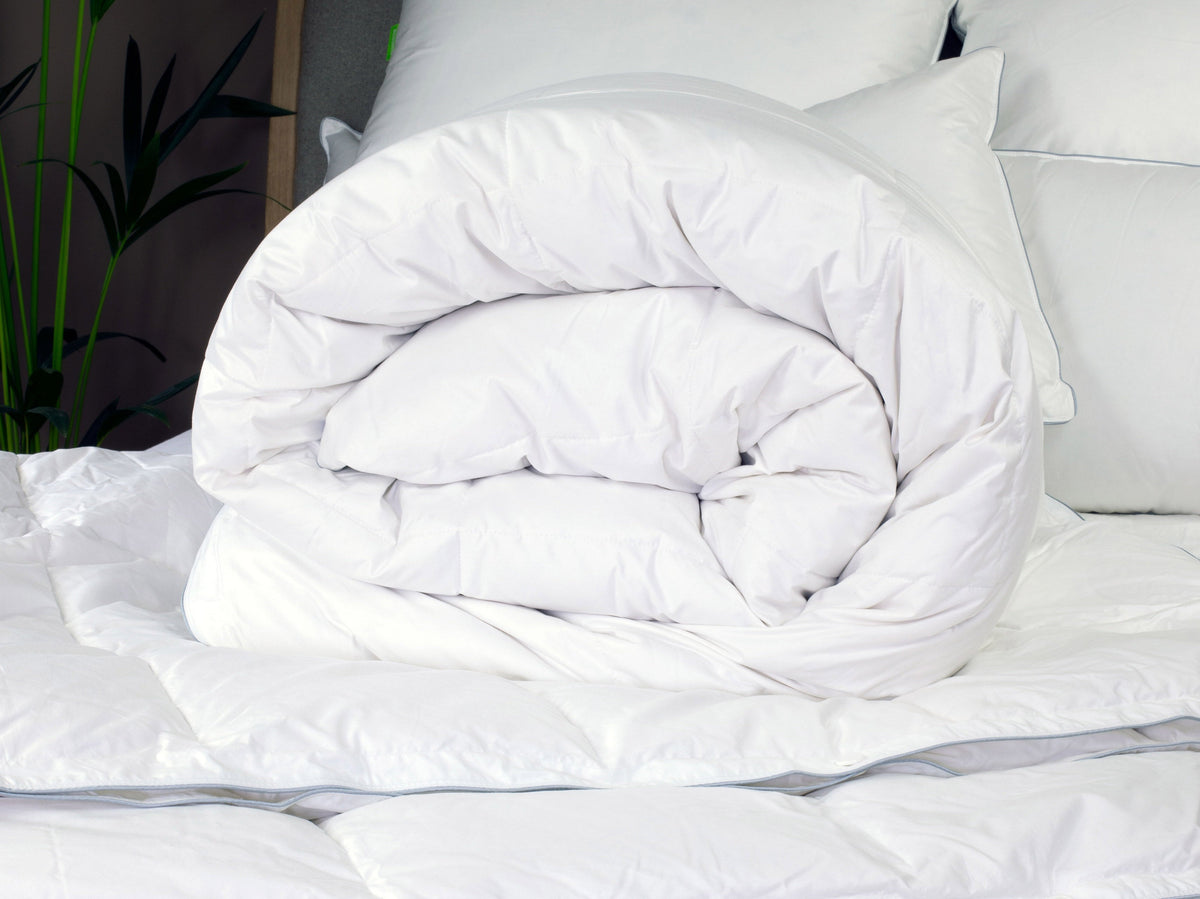 Our best duvet buying guide covers the 10 most important things to think about when buying a duvet: tog rating, duvet filling, fill power & weight, how the duvet is made and the environmental impact. Plus, duvet sizes, anti-allergy bedding, accreditations to look for and how to care for your duvet.
The goose down and feather used in scooms duvets and pillows is a by-product of the food industry and ethically sourced, traceable and rigorously tested.