Make a driftwood Christmas tree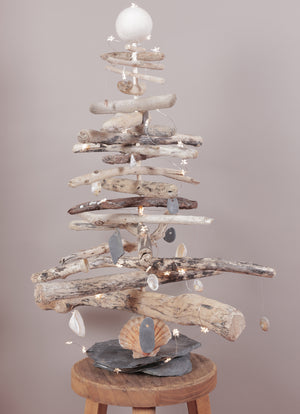 We've been feeling festive and getting Christmas crafty here at scooms! We picked up some lovely sun blanched and sea smoothed driftwood while we were in Cornwall this summer and Jonathan has turned it into a wonderfully festive ornamental Christmas tree.
Here is Jonathan's quick and easy guide to making your own festive driftwood Christmas tree. It took him a couple of hours to put together. You can scavenge most of the things you need, there's no DIY expertise required, and you only need one power tool, a drill!
WHAT DO I NEED TO MAKE MY DRIFTWOOD CHRISTMAS TREE?
Here are the essentials you'll need to make your driftwood tree. Don't worry if you haven't got exactly the same materials, just use what you can find!
Driftwood in various sizes.
Wooden dowel rod - we used a 9mm diameter x 900mm long rod. You can find these in most DIY shops.
Wood glue – to hold your branches in place. (Optional).
Base – we used a piece of slate but a large piece of driftwood will also work, it just needs to be heavy enough to support your tree.
Decorations – we used shells, small pieces of slate, some scooms wool dryer balls and a string of battery powered lights. Be creative!
String, cotton thread or fishing line - to tie your accessories onto the tree.
A drill and a 9mm drill bit - or the same size drill bit as your dowel rod.
BEACHCOMBING FOR DRIFTWOOD
A great reason to head to the beach for the day and go for a walk. We picked up our driftwood when were we on a summer trip to Cornwall, but you can of course find it at any time of the year.
You will need an idea of how big you want to make your tree so that you know how much driftwood to collect. Our driftwood Christmas tree is 70cm tall with around 20 branches.
TIPS FOR SCAVENGING FOR DRIFTWOOD
Get a few more pieces than you think you will need as you may get a few breakages.
You will need different sized pieces, larger driftwood for the bottom of the tree and smaller pieces for the top.
The smaller pieces will need to be wide enough for your drill – we found that 1cm diameter was about the smallest sized piece that we could use.
Check to see if the driftwood has any creatures or live barnacles on them. If they do, leave them where they belong, on the beach.
Look for driftwood that looks aged and worn – it will definitely add character to your tree.
Don't forget to grab a few shells or other bits and bobs that will make great beach themed decorations.

GETTING YOUR DRIFTWOOD READY TO USE
When you get home, rinse your driftwood in fresh water and then leave it to dry naturally.
Once it's dry, you can sort out your pieces. Arrange the pieces by size with the widest and longest ready to use for the bottom layers of the tree. Ideally you won't cut the ends of your driftwood as the uncut ends will have a lovely worn effect from being in the sea.
Remember, your tree doesn't have to be perfect. Odd shapes and sizes will add character!
DRILLING
Measure the approximate centre of each price of driftwood and drill a hole in the centre.
Drill a hole in the base that you are using.
Remember to wear safety goggles!

THREADING
Push the dowel rod through the hole in each of the pieces of driftwood branches.
Adjust the spacing and layout so that it looks right for your tree.
You might need to use a little glue to hold the branches in place if your branches slide down your tree instead of staying put.
If you have used glue, leave to your tree to dry until the glue has set.
DECORATING
This is your chance to get creative! We decorated our driftwood Christmas tree with:
Shells – drill a small hole in a shell, attach it to a piece of fishing line or string and tie to a branch.
Slate – we found some lovely small pieces of slate on the beach. Just drill a hole in each piece and attach.
Wool balls – we used one of our wool dryer balls for the top of our tree.
Lights – for the finishing touch, we used a string of battery powered LED lights.
THAT'S IT!
Your tree is now ready to take centre stage at Christmas. And it will be an impressive festive backdrop on zoom this year with the rest of the family!
You might even want to make more driftwood trees as Christmas presents!
---
Also in The scooms blog
What could be better than a beautiful set of luxury bedding to gift a newly married couple? Practical, thoughtful and timeless, it's a gift any newlywed couple are sure to appreciate and the perfect way to mark the start of an exciting new chapter in their lives.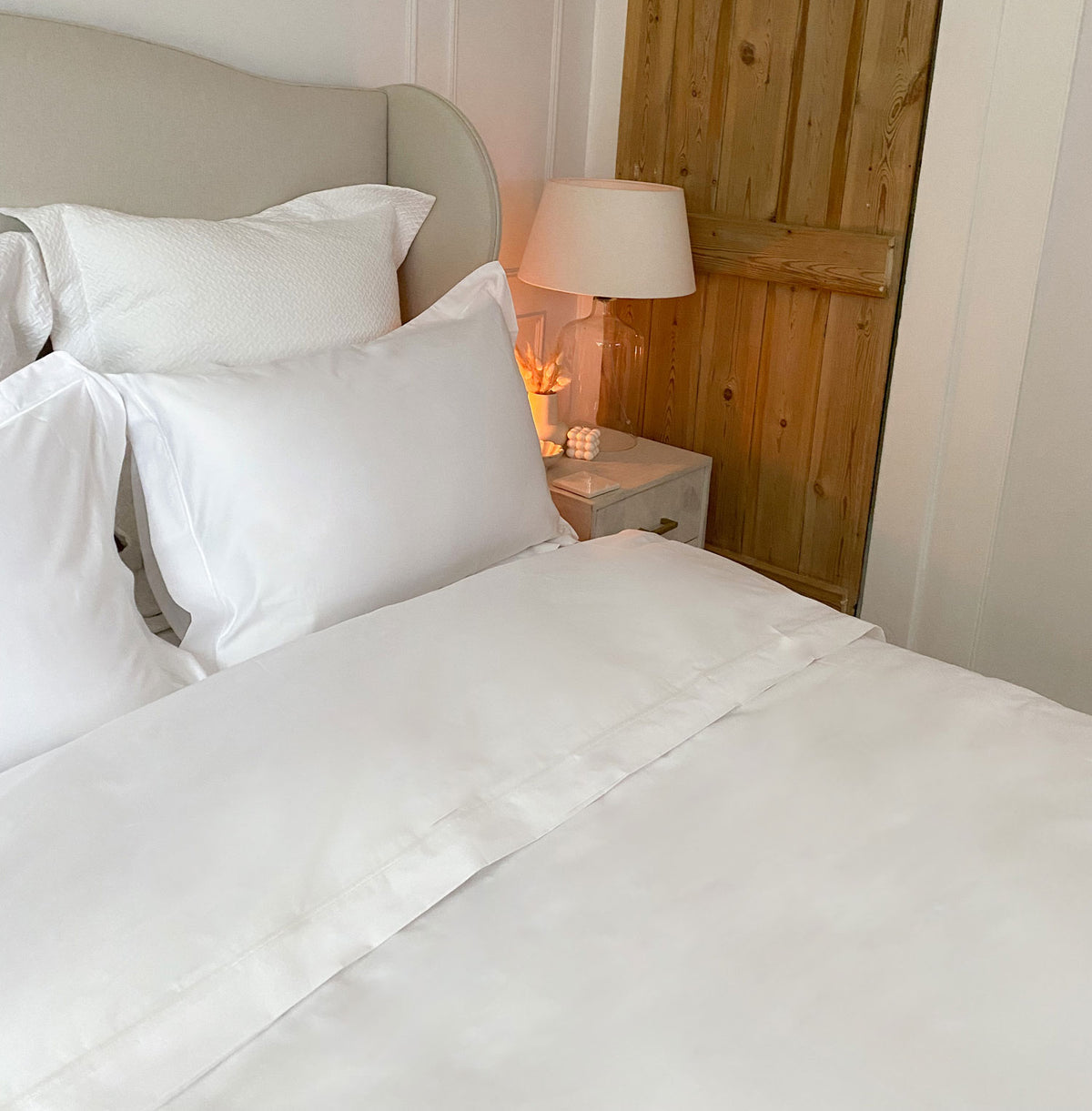 The best hotel quality pillows have a distinctive weight and feel and one of the main reasons is the filling. Hotels with the best pillows typically use a blend of luxury down and feather and they do so for good reason. 
Is it time to spring clean your bedroom? Decluttering your bedroom and giving it a good spring clean can help create a calm, relaxed bedroom sanctuary.