Anti-allergy duvets and pillows - the myth!
So, you can't use feather pillows and Hungarian goose down duvets because you have a dust mite allergy - right? Wrong! We're banishing the anti-allergy bedding myth!
THE MYTH
The myth that feather and down duvets and pillows can cause allergic reactions has led to a boom in anti-allergy synthetic bedding products. But if you test the two types of bedding side by side, natural down and feather bedding versus synthetic, this myth can be quickly put to rest.
I do have a dust mite allergy and so I always used to buy synthetic bedding that was specifically branded as hypoallergenic or anti dust mite. Then when we researched starting scooms I realised it wasn't a particular type of filling that attracted dust mites but a specific kind of environment.
Scientific research has demonstrated that even if you suffer from house dust mite allergies or asthma, you can enjoy sleeping with natural down and feather bedding. 
WHAT DUST MITES LIKE
Essentially, what house dust mites love are damp and warm conditions - high humidity. They live off the scales of human and pet skin. Yuck! So, they definitely don't eat down or feathers! Dust mites don't have a particular preference for either synthetic or natural duvet or pillow fillings.
Studies have shown that synthetics are less breathable resulting in damper conditions that allow the mites to thrive.  Synthetic bedding can also harbour more allergens because the casing weave is often looser, allowing the mites to get in. Find out more in this article from the Asthma & Allergy Centre.
According to NOMITE: 'Long-term studies have found only extremely small concentrations of mites and allergens inside down and feather bedding. Down and feather beds achieve, therefore, extremely positive results when compared with synthetic bedding. They are completely safe from an allergologic point of view. Bedding articles filled with down and feathers neither host house dust mites nor do they provide a source of food for them.'
WHAT MAKES BEDDING ANTI DUST MITE?
The most important thing is to make sure that your bedding doesn't create an environment that appeals to dust mites. What to check for:
Casing with a specially tight weave - The tiny gaps between the cotton fibres should be too small for the mites to pass through.
Breathable filling - Specially selected down which is naturally breathable will reduce moisture and damp conditions.
Humidity control - Down provides excellent temperature regulation, quickly warming up while you sleep and quickly decreasing in humidity when aired.
Washable - The majority of down and feather duvets and pillows are washable.
NOMITE CERTIFICATION
The NOMITE mark is an anti-allergen standard that indicates that a product is suitable for house dust mite allergy sufferers.  NOMITE® certified down and feather bedding also use down and feather proof fabric ticking, which also acts as a 'barrier' to the dust mite.
Read more about NOMITE anti-allergen acceditation.
The scooms pillow and duvet are NOMITE approved.
LOOKING AFTER YOUR BEDDING
How you care for your bedding is also important:
Reduce moisture - Air your bed every morning by folding back the duvet as this further reduces any moisture.
Wash regularly - Clean your duvet and pillow every 6 to 12 months following the care label instructions.
Use bed linen that is made of a natural material, like 100% cotton, so that the down can breathe, (which synthetic materials don't allow).
---
Also in The scooms blog
What could be better than a beautiful set of luxury bedding to gift a newly married couple? Practical, thoughtful and timeless, it's a gift any newlywed couple are sure to appreciate and the perfect way to mark the start of an exciting new chapter in their lives.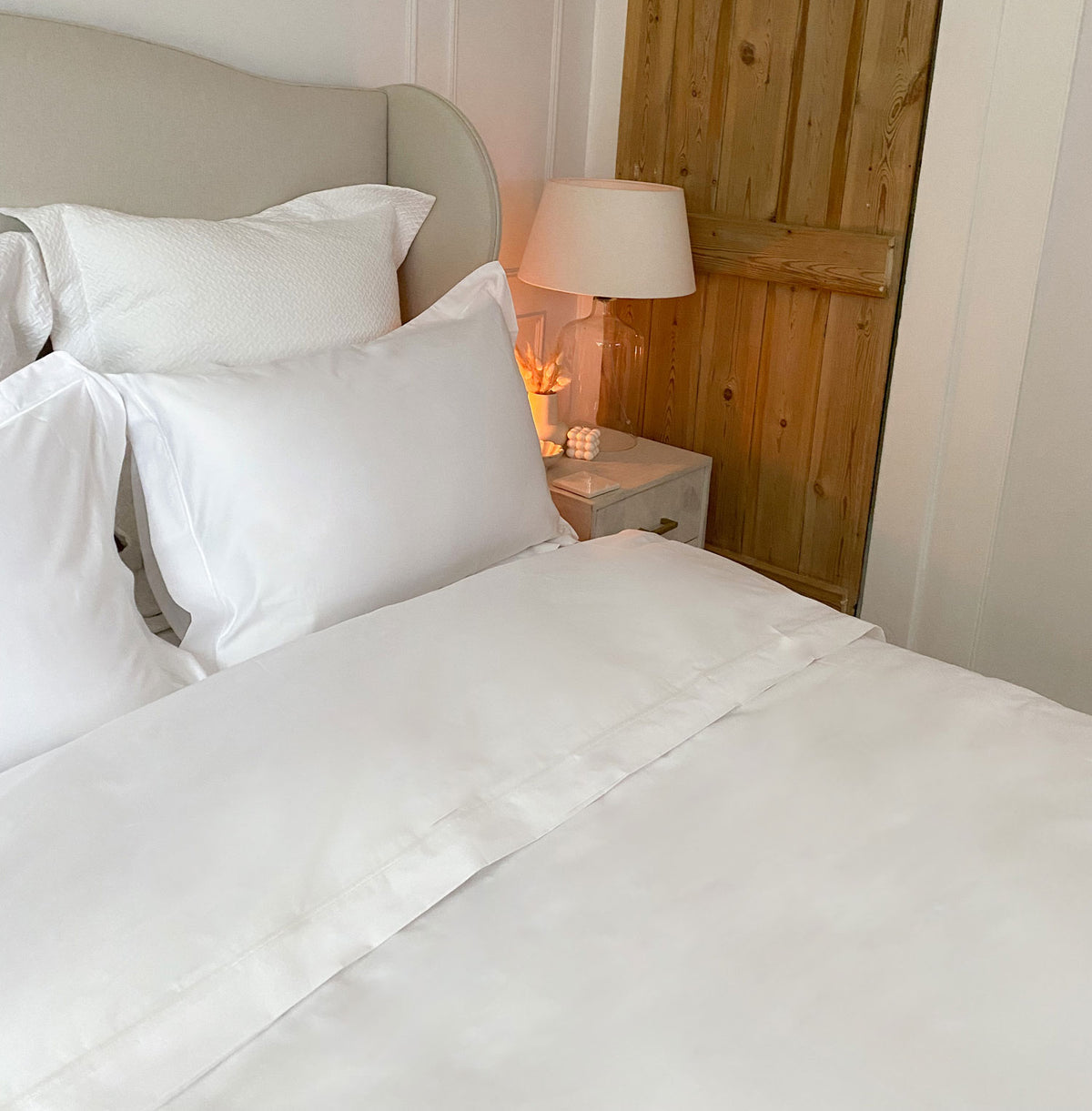 The best hotel quality pillows have a distinctive weight and feel and one of the main reasons is the filling. Hotels with the best pillows typically use a blend of luxury down and feather and they do so for good reason. 
Is it time to spring clean your bedroom? Decluttering your bedroom and giving it a good spring clean can help create a calm, relaxed bedroom sanctuary.