Flat sheets vs fitted sheets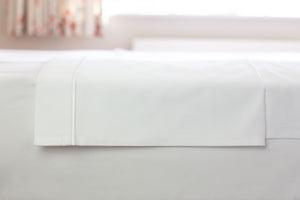 Are fitted or flat sheets better? Flat sheets lie flat on your mattress. Fitted sheets have elasticated corners that fix in place over the mattress sides. Here's our guide to everything you need to know about flat sheets versus fitted sheets:
WHAT IS THE DIFFERENCE BETWEEN A FLAT SHEET AND A FITTED SHEET?
Flat sheet vs fitted sheet - Flat sheets are simply rectangles of cloth that lie flat on your mattress and are easy to fold. They often have a decorative border. Fitted sheets have elasticated corners so that they can be easily pulled over the mattress sides and corners to create a secure tight fitting sheet to lie on. They are tricky to fold neatly.
The scooms flat sheet is edged with single silky marrow stitch piping to match our Oxford pillowcase and duvet cover. 
HOW DO YOU USE A FITTED SHEET AND A FLAT SHEET?
Fitted sheet vs flat sheet - Fitted sheets are typically the bottom sheets that you use to cover and protect your mattress or if you use one, over your mattress protector. A fitted sheet will hug the corners of your mattress and keep your sheet neat and unwrinkled. You lie on top of the fitted sheet when you sleep. Though some people and often hotels do use a flat sheet instead as the bottom sheet.
Flat sheets are generally used as the top sheet that you place between the fitted sheet and your duvet or perhaps blanket. So when you're in bed, the flat sheet is over you and the fitted sheet is underneath you. You can tuck a flat sheet in at the sides so that it doesn't move around.
A flat sheet can add an elegant and attractive look to your bed as it is folded over the top of your duvet or blanket showing off the design feature such as our single line marrowing on scooms bed linen. They also serve the purpose of protecting your duvet cover or blanket so that these don't need to be washed as often.
On really hot high summer nights, you might choose to sleep just with your flat sheet instead of a duvet or blanket. 
DO YOU NEED A FITTED AND FLAT SHEET?
Are flat sheets better than fitted sheets? It's really personal preference whether you want to use a flat sheet as a top sheet while you sleep or if you find it easier without.
If you want a layer in between you and your duvet cover that you can easily and quickly remove from your bed to wash frequently, then a flat sheet is a must. It will save you washing your duvet cover as often. You may also just like the way it looks on your bed, adding that luxury hotel feel!
Fitted sheet or flat sheet? - However, it is more common now to do without a flat sheet and simply use a fitted sheet, duvet cover and pillowcase for bed linen. A flat sheet can move around as you sleep, wrapping around your legs or getting tangled up at the bottom of the bed. It will need straightening and tucking in again every morning or evening so you may find that too much bother.
An extra flat sheet layer may also make you too hot while you sleep. 
CAN YOU USE A FLAT SHEET AS A BLANKET
Yes, a flat sheet can be used as a warm and comfortable extra layer instead of using a blanket on top of your duvet and squashing the down. 
And during hot summer nights, a flat sheet can be just the cool covering you need to help you sleep more easily, allowing your skin to breathe. Choose cotton or linen materials to keep you cool.
DO YOU TUCK IN A FLAT SHEET?
To tuck or not to tuck! If you do like using a flat sheet, then there are pros and cons to how you choose to tuck it in:
PROS:
Security - A bit like being swaddled as a baby, a tucked in top sheet can give you that tightly hugged feeling that's comforting, calming and can help you fall asleep.
Cosiness - On chilly nights, tucking yourself into bed for the night can help you feel warmer so that your sleep is not disrupted by being cold.
CONS:
Restrictive - Your movement can be restricted by a firmly tucked in top sheet. If you like to move around and change positions as you get to sleep, then being tucked in will feel very uncomfortable. It may also give you leg cramps.
Over heating - If you start to feel hot while you sleep, being held in place by a tucked in top sheet could stop you naturally cooling down by moving around  and flinging your covers off when you need to.
WHY DO HOTELS NOT USE FITTED SHEETS?
You can use a flat sheet as a bottom sheet for your bed and do without a fitted sheet, as many hotels do. You may prefer tucking in a flat sheet as your bottom sheet if you are great at hospital corners!
Often hotels use flat sheets as bottom sheets as it is easier to both iron and neatly fold a flat sheet than a fitted sheet and means that the housekeepers don't need to lift up the mattress to remove a fitted sheet as we do at home. Lifting up lots of mattresses on their rounds requires lots of arm strength and can lead to health problems like carpel tunnel syndrome.
The bottom flat sheet hotels use are often a larger size than the top sheet. Both flat sheets are tucked around the mattress using hospital corners.
HOW TO TUCK IN YOUR FLAT SHEETS WITH HOSPITAL CORNERS
This is how to tuck in your flat sheets hotel style. You will need two flat sheets. These can be the same size or the top sheet can be a larger size:
Lay both sheets flat on your mattress, with the top sheet upside down so that the correct side of the sheet is showing when you fold over the top.
Tuck both flat sheets into the sides and end of your bed, leaving the corners hanging out.
Lift the edge of the flat sheets to a 45-degree angle to your mattress and pull tight. Then tuck both sheets together under your mattress.
This method of tucking sheets neatly underneath the mattress using overlapping folds is called hospital corners. The name originates back to nursing in the 19th century. Hospital corners were used to keep the sheet firmly in place and make it easier for nurses to change the sheet without causing discomfort to the patient.
HOW TO CHOOSE FLAT SHEETS AND FITTED SHEETS
FITTED SHEET SIZES - For a fitted sheet the size should be the same size as your mattress. So, if you sleep on a King size mattress, your fitted sheet should be King size. Otherwise the fitted sheet corners won't hug your mattress corners.
These are our scooms sheet sizes:
Single: 90 x 190cm
Double: 135 x 190cm
King: 150 x 200cm
Super King: 180 x 200cm
DEEP FITTED SHEETS - You also need to know your mattress height, as well as your topper height if you use one. At scooms, our fitted sheets are deep fit, up to 40cm, so that they will fit all mattresses depths.
A deep fitted sheet is the same length and width as a regular fitted sheet but has a deeper drop or depth to accommodate a thicker mattress or mattress plus topper. It can be easier to put on a deep fitted sheet as they fit almost any mattress. 
FLAT SHEET SIZES - Size for flat sheets is less restrictive and more of a personal choice. We would recommend buying the same size sheet as your mattress, a King size flat sheet for a King size mattress for example, but if you like sleeping under a much larger sheet, you could opt for a Super king flat sheet instead.
SHEET QUALITY - Make sure you choose good quality cotton sheets for both your flat and fitted sheets such as our 100% Egyptian cotton sheets. These are much more breathable and durable than synthetic materials and just as easy to look after. Our sheets also become softer with each wash.
SHEET COLOURS - Choosing your colour scheme is also important. White does of course go with everything which is why white sheets are the most popular choice. Both fitted and flat sheets come in a wide variety of colours and patterned designs.
---
Also in The scooms blog
What could be better than a beautiful set of luxury bedding to gift a newly married couple? Practical, thoughtful and timeless, it's a gift any newlywed couple are sure to appreciate and the perfect way to mark the start of an exciting new chapter in their lives.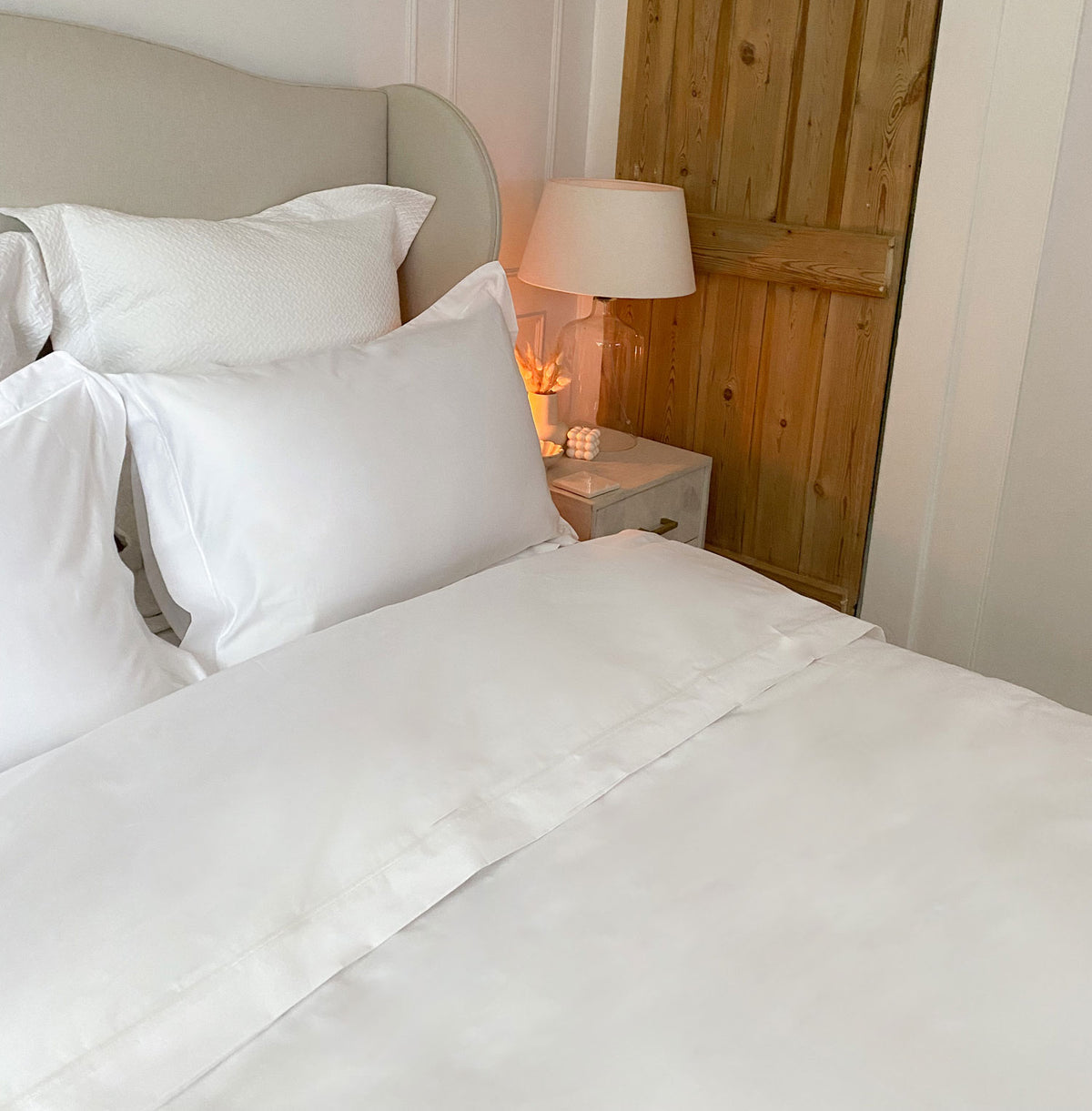 The best hotel quality pillows have a distinctive weight and feel and one of the main reasons is the filling. Hotels with the best pillows typically use a blend of luxury down and feather and they do so for good reason. 
Is it time to spring clean your bedroom? Decluttering your bedroom and giving it a good spring clean can help create a calm, relaxed bedroom sanctuary.