Scandinavian bedroom style
We love the Scandinavian bedroom style. That muted, natural colour palette. The light, fresh feel. A relaxing atmosphere that encourages you to exhale and unwind at the end of a long day. Or, for that matter, at any time of day!
Here we take a look at what makes the Scandi bedroom style so appealing. Use our Scandinavian bedroom design tips to create your own Scandi style bedroom.
SCANDINAVIAN STYLE INTERIORS ON TREND
First of all, we had hygge (pronounced hue-guh), the Danish trend for all things cosy and comfortable. In magazines everywhere, we were seduced by pictures of warm, enticing rooms, with the focus on flickering candles, gorgeous fireplaces and all-encompassing knitted throws. We could imagine ourselves holding a mug of hot chocolate, while staring out of the window at the falling snow.
Then along came lagom (pronounced lah-gom), the Swedish lifestyle trend that encourages the art of balanced living. Here the philosophy is to enjoy having just enough, rather than an excess of anything, for a happier, more environmentally-conscious life. This translates into interiors that feature hand-picked, much-loved items that will last.
7 SCANDI BEDROOM IDEAS
We have a soft spot for both of these Scandinavian styles. But what is the Scandi look in detail and how can you use Scandinavian decor to make your bedroom look Scandinavian?
1.  USE NEUTRAL SCANDINAVIAN COLOURS
The typical Scandinavian colour scheme features a restful neutral palette of white, grey and duck-egg blue. These are colours that help your mind and body relax.
Often, you'll see a dark grey accent wall behind the bed, dotted with sets of black and white photographs or drawings. This is a wonderfully low-key, pared-back way of personalising your Scandi bedroom.
Explore the tranquil possibilities of soothing grey tones with our new linen bedding in calm grey, our alpaca wool throw in natural grey and our grey herringbone and grey spot merino lambswool throw. 
2. LAYER YOUR SPACE WITH WHITE
White is absolutely central to the Scandinavian bedroom colour scheme. Use it as your base layer for walls and bed linen, as well as for accents that add texture to your bedroom. Think of a white muslin canopy draped above your bed, a simple wooden chair painted white or a white ceramic pendant light that turns a warm shade of amber when it is illuminated.
3. ADD A POP OF COLOUR
In amongst the minimal palette of white, grey and duck-egg blue, use a pop of colour to add interest to your Scandinavian-style bedroom and draw the eye to a favourite spot.
Mustard yellow works well as an accent colour, particularly in the form of cushions or as upholstery for a bedroom chair. Or you could paint the interior of a white or neutral wooden wardrobe with a vibrant purple or dramatic fuchsia to create a splash of colourful energy when you open the doors.
We have to say, too, that our pink Mulberry silk eye mask works well as an eye-catching nightstand accessory. Protect it during the day in its matching Mulberry silk drawstring bag and make sure it's to hand when you go to bed. Silky-smooth and softly-padded, it's the essential luxury sleep accessory.
4. KEEP IT CASUAL WITH LINENS
Everything about Scandi décor says, "Don't try too hard." In our view, linen bedding is the perfect way to achieve that effortlessly relaxed Scandi bedding look.
Linen bedding has a naturally crumpled texture and a super-soft feel that gets softer after every wash. It's wonderfully low-maintenance – and of course there's no need to iron.
To get the Scandinavian bedding look, try our new range of 100% linen bedding. Made from the best French flax, it's gently garment washed in small batches, making it soft, supple and luxuriously light.
5. TRY A SCANDI-STYLE DOUBLE DUVET
Have you heard about Scandinavian double duvets? Apparently, there's a trend in countries like Sweden, Norway and Denmark for couples to sleep under separate duvets but still in one bed together. So, each person gets their own single size duvet in the warmth (tog rating) of their choice. An ingenious solution if one of you is centrally-heated while the other is a chilly soul who's always freezing.
If you'd like to try sleeping with a Scandi-style double duvet, we can recommend our single size Hungarian goose down duvets. They come in a variety of warmths – from a light 2.5 tog duvet to a combined all season 13.5 tog duvet. So if you're a hot sleeper, you could slumber cooly in your own 4.5 tog duvet while your other half is warm and snug in their 9 tog duvet!
Alternatively, if you're happy sleeping under one duvet with your partner, have a look at our gloriously comfortable range of double, king and super king size duvets. They contain the perfect blend of 90% goose down and 10% small feathers for the ultimate combination of warmth and drape.
6. CREATE A HYGGE CORNER
All the best Danish bedrooms have a hygge corner where you can curl up, get cosy and relax. You'll want to put your feet up, so you need a sofa, a chaise longue or an armchair with a footstool. You'll also want a soft, shaggy rug on the floor and a good reading light on the table beside you.
A snuggly throw is essential for your Scandi bedding hygge corner. Try our exceptionally soft, lightweight merino lambswool throws, which will keep you warm all through Spring.
We're also a bit obsessed with our pure alpaca wool throws. Even warmer and lighter than lambswool, they're softer than cashmere – and more ethical too. Choose from a Scandi-friendly colour palette of cream, charcoal, grey and natural herringbone. 
7. BRING THE OUTDOORS IN
Another Scandinavian trend we've been hearing about recently is friluftsliv (pronounced free-loofts-liv), which means "open-air living".
This outdoor-loving philosophy encourages Swedes, Danes and Norwegians to get outside whatever the weather.
Reconnect with the calming power of nature – and recreate Scandinavian bedroom style - by bringing the outdoors in. Grow houseplants that give your bedroom a feeling of serenity, such as the Peace Lily, or plants that are known for their ability to filter the air, such as the Areca Palm or Aloe Vera.
Alternatively, transport yourself by conjuring up the soft, earthy notes of log fires and sea air with our Sea salt + Oak candle, or imagine you're stepping into a forest with our Wild woods + Fir candle.  
WHAT'S YOUR SCANDI BEDROOM STYLE?
We've given you the key elements of Scandinavian style, so now it's over to you. If we've inspired you to create your own Scandinavian bedroom, send us a photo.  We'd love to see your Scandi look bedrooms!
---
Also in The scooms blog
What could be better than a beautiful set of luxury bedding to gift a newly married couple? Practical, thoughtful and timeless, it's a gift any newlywed couple are sure to appreciate and the perfect way to mark the start of an exciting new chapter in their lives.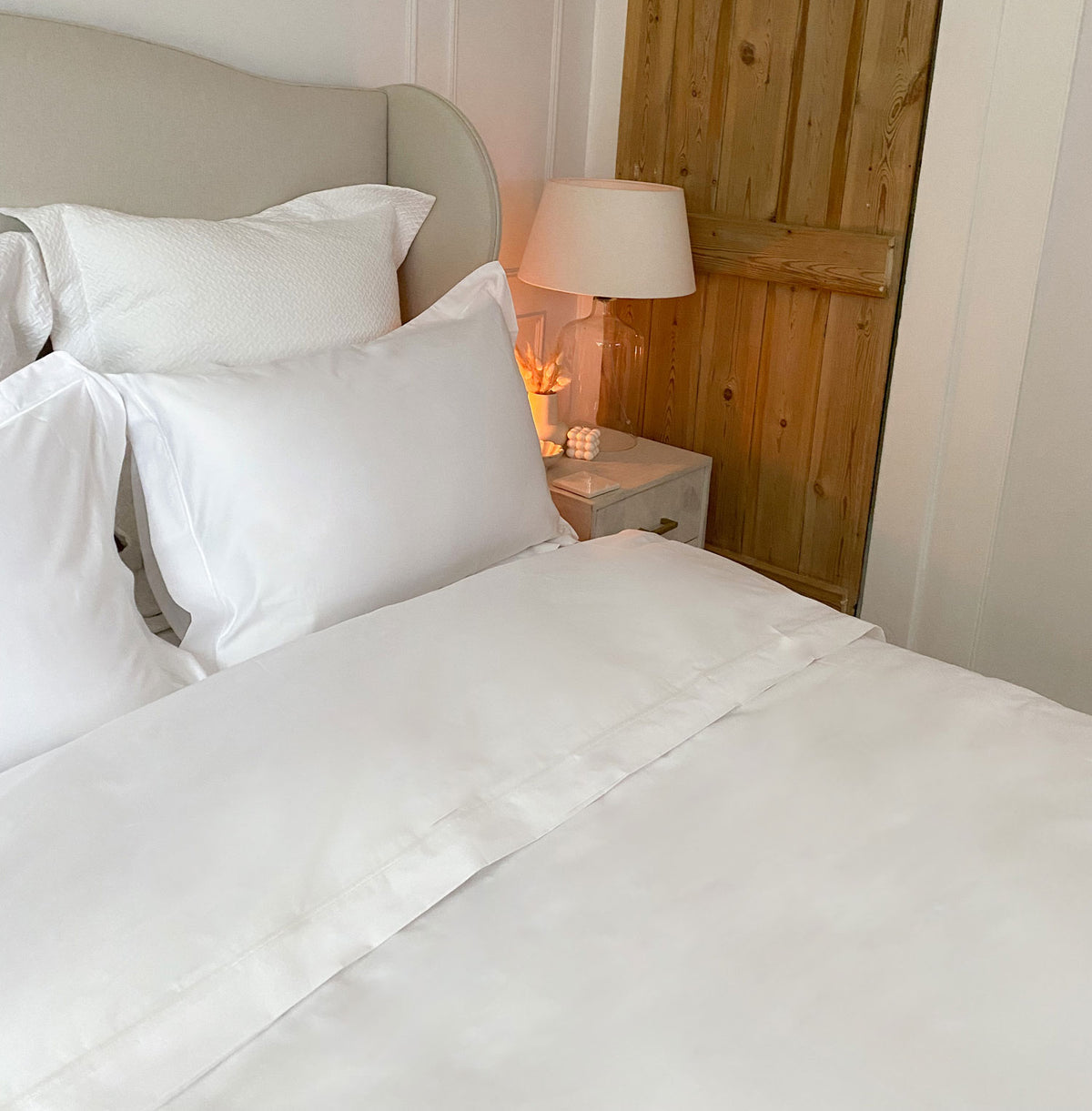 The best hotel quality pillows have a distinctive weight and feel and one of the main reasons is the filling. Hotels with the best pillows typically use a blend of luxury down and feather and they do so for good reason. 
Is it time to spring clean your bedroom? Decluttering your bedroom and giving it a good spring clean can help create a calm, relaxed bedroom sanctuary.