The Independent's Best Winter Duvet 2019-2023
We're delighted that the Independent has selected the scooms all seasons duvet as its Best Winter Duvet 2019 - 2023
The Scooms All Seasons Duvet is hands down the best all-seasons duvet we've ever tried. With bells on. (Kate Hilpern, 2019)
What the Independent considered:
If you're starting to feel chilly when you climb into bed at night, it may be time to change your duvet to one that's going to keep you snug in the colder months ahead. You have two options – either go for a heavier tog duvet (ideally anything over 10 tog for winter) or get an all-seasons duvet (multiple duvets that you can attach together for the winter).
The duvet filling requires serious consideration. Synthetic microfibre duvets are good for allergy sufferers, as well as generally being more affordable. But those with deeper pockets may prefer the more luxurious feel of natural fillings, such as feather or down (or both combined). Some natural fillings, such as silk, are also good for allergy sufferers and there are also some specially-designed fillings available too, as with Rested Outlast All Seasons.
Breathability is key if you're prone to waking up sweaty and don't forget the casing, which you don't want to feel scratchy against your skin through your duvet cover. Finally, make sure the filling is evenly distributed and consider if you'll want to be able to wash and dry your duvets at home.
The Scooms All Seasons Duvet is hands down the best all-seasons duvet we've ever tried. With bells on.
Our all seasons is also our favourite scooms duvet. Perfect for getting a great night's sleep all through the year. With the all seasons, you actually get two duvets, a 9 tog duvet and a 4.5 tog duvet. The two duvets can be really easily fitted together with snap fasteners to create a 13.5 tog warmth that will keep you warm and toasty all winter. The scooms all seasons duvet comes in a lovely green material carry bag so that when you want to separate your duvets, you can store the second duvet in the bag until the next season.
We recommend using the 9 tog duvet for the autumn and spring months when you need a medium level of warmth. The lower warmth and lighter weight 4.5 tog duvet is perfect for the summer months. For more information on duvet togs check out our guide to duvet togs.
Seriously luxurious duvet made from 90 per cent Hungarian goose down.
We chose goose down as the filling for our duvets rather than duck down, feather or synthetic. It provides superior insulation to any other duvet filling, with greater warmth and breathability. The larger clusters of goose down result in a duvet that is lighter, fluffier and floatier than duck down or feather duvets. It's like sleeping under a cloud!
Our Hungarian goose down guide.
Breathability is key if you're prone to waking up sweaty.
Our high quality naturally breathable Hungarian goose down also provides three to four times more air circulation than synthetic materials or denser natural materials. We all sweat when we sleep and only a duvet that breathes will allow the moisture to escape.
The cotton casing is as soft as they come.
To match our high quality duvet filling, we chose a high quality duvet casing. Made from Supersoft sateen cotton with a 300 thread count it feels soft and not at all scratchy against your skin through the duvet cover. Plus, we've used a special tight weave so there is no chance of any down or feather sticking through or those pesky dust mites being able to penetrate.
Make sure the filling is evenly distributed.
Trying to have good night's sleep when your duvet filling has sunk to the end of the duvet around your feet is impossible! We've made sure that this doesn't happen with the scooms duvet by using two methods of stitching to ensure an even spread of filling.  The lighter scooms 4.5 tog down duvet uses box stitch, sewing the top and bottom cover together in a criss cross pattern to form boxes with an equal amount of filling in each box.
We then double stitch every duvet to make sure that it is very durable.
Enough poppers to keep the duvets securely fastened.
When we did our research, we found that many of the methods of fixing the two all seasons duvets together were fiddly and frankly annoying! Ties and buttons are hard to use and often don't seem to securely fix the two duvets together so that the duvets don't twist round inside the duvet cover, having the ironic effect of destroying restful slumber.
Our fasteners are similar to poppers but easier to use and they do their job properly. No twisting around in our all seasons!
It's all sustainably sourced, anti-dust mite and there are no chemical nasties.
We pride ourselves on our very high standards. You do spend a third of your life in bed, so your bedding should reflect that! We guarantee that our down and feather only comes from a single source in Hungary and that it is all a by-product of the food industry. Our duvets are made using efficient energy and eco-friendly technology.  They have been approved by these organisations:
Nomite certifies that the scooms duvet is anti-allergen for house dust mite allergy sufferers.
Oeko-Tex 100  tests for harmful toxins and chemicals, so definitely no chemical nasties.
Downafresh makes sure our feather and down meets hygiene and cleanliness requirements to European standard EN 12935.
Responsible Down Standard is an independent, voluntary global standard following the chain of custody from farm to product to make sure our down and feathers come from geese that have been treated well.
We don't use any plastic in our packaging either. All our duvets are delivered in reusable material carry bags, in cardboard boxes without plastic wrapping or paper inserts.
You get free next day delivery and if you don't like it after 60 days, you can get your money back.
If you order a scooms duvet before 3pm Monday to Friday, we will deliver it the next day via one hour timed delivery slots with DPD. We want everyone to be happy with their scooms duvet so we offer a stupendously good 60 night duvet trial so that you can check that the scooms duvet really is right for you. Return your duvet for free within that time and we will give you a full refund.
You'll want to be able to wash and dry your duvets at home.
scooms duvets can be washed in the washing machine at 40°. We suggest washing your duvet every 6 to 12 months and tumble drying if you have can.
seriously luxurious duvet...
We hope you'll agree with the Independent and find the scooms duvet is the best duvet you've ever slept under!
---
Also in The scooms blog
What could be better than a beautiful set of luxury bedding to gift a newly married couple? Practical, thoughtful and timeless, it's a gift any newlywed couple are sure to appreciate and the perfect way to mark the start of an exciting new chapter in their lives.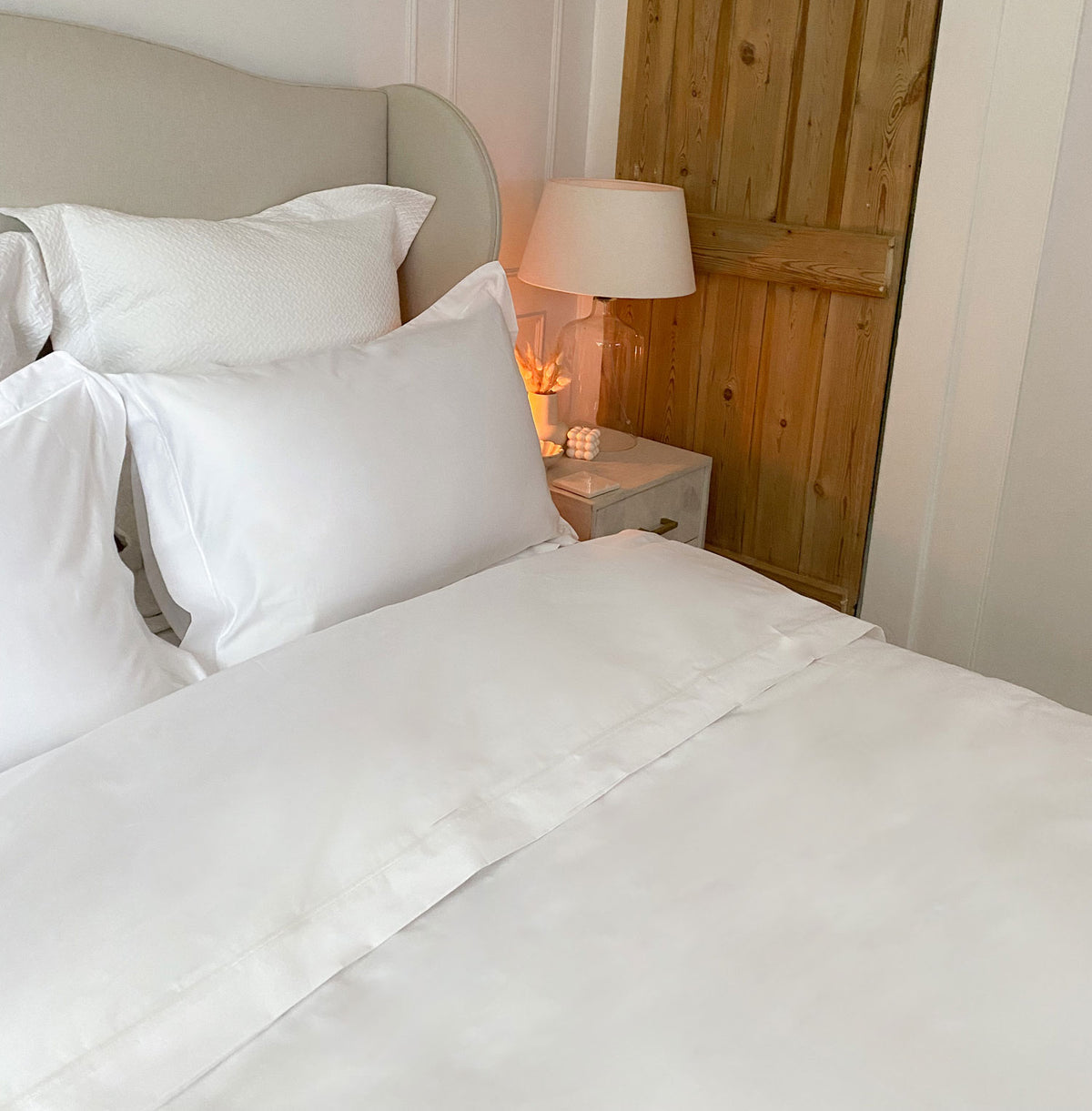 The best hotel quality pillows have a distinctive weight and feel and one of the main reasons is the filling. Hotels with the best pillows typically use a blend of luxury down and feather and they do so for good reason. 
Is it time to spring clean your bedroom? Decluttering your bedroom and giving it a good spring clean can help create a calm, relaxed bedroom sanctuary.