22 creative ways to repurpose old bedding
Boredom busting ways to recycle and repurpose your old bedding! 
We've come up with 22 creative ways to use your old bedding - sheets, bed linen, duvets and pillows. And only one involves sewing! Phew!
Also, check out our blog on Recycling pillows and duvets.
If you want your 'creation' featured on scooms, email your photos to sleep@scooms.com and we'll put it up on our blog! 
So, bust that boredom and get busy creating:
Fun & games
1. Homemade teepee
See our quick and easy guide to making a kids teepee in under 60 minutes. No sewing, power tools or fiddly measuring and cutting required, just lots of enthusiasm and a big smile!
How to make a teepee  (A previous very popular blog post!)
2. Pin the tail on the donkey
Cut out the shape of a donkey from your sheet or duvet cover. Go online and print out or copy a donkey picture or stencil (or another animal if you fancy!)
Decorate it if you want to.
Cut out a tail.
Cut out 3 or 4 strips to use as a blindfold. If your bed linen is a pale colour, you will probably need to use several strips together to make sure you can't peak through!
Get the whole family ready and play!
3. Treasure hunt
Tear up some strips from a sheet and decorate or just number each one.
Hide them throughout your garden or house.
Set kids or adults free to find them.
Award whoever finds the most with a small prize!
4. Make a dog toy
If you have a dog, especially a young one, they will love a new toy to chew!
Cut 12 strips, each around 1m long and 3cm wide from a sheet. (You can vary the size to suit your dog).
Gather all your strips and tie a knot at one end.
Separate the strips into threes and start to plait.
As you get towards the end tie another knot.
Voila! A simple dog toy that your pooch will love!
5. Decorate & make your own wrapping
Be super organised and make your own wrapping out of old bed linen to wrap presents in next Christmas instead of wrapping paper! 
Furoshiki is a type of traditional Japanese wrapping cloth traditionally used to transport clothes, gifts or other goods. (Translated as 'bath (furo) spread (shiki).')
How to make Furoshiki:
Cut pieces of cloth into a square. They can be any size.
The most common sizes are 45cm x 45cm and 70cm x 70cm.
Decorate with fabric paint or dyes. Get creative and get the kids to make their own!
Find more tips here: invaluable.com/blog/furoshiki/
6. Fashion your own apron
Not enough aprons to go round when the whole family is at home? No problem, make some more!
Ideal for arts & crafts and cooking!
Take an old bedsheet and fold it in half.
Cut a hole that's big enough to fit your head through.
Put it over your head and trim the length to size.
Use one of the offcuts to make a simple belt.
Decorate if you want with fabric paint and dyes, or iron or sew on designs.
Household tips
1. Homemade wine cooler
Fancy a cool bottle of Prosecco but forgot to pop it in the fridge? Try this:
(This works best when there is a breeze.)
Wrap the bottle in a strip of wet cotton.
Leave for about 15 mins.
Check that the bottle is now nicely chilled. 
Drink!
2. DIY cool box
If you're sitting on your balcony or in your garden now that the weather is warming up, you may wish you had an easy way to keep your food and drink cool. We have an easy solution:
You will need a cardboard box, six plastic bags and an old down/feather pillow or duvet.
Fill each bag with the down/feather so that it is about 3cm thick when laid flat.
Seal the end with some tape.
Do this with all the six bags then tape each bag to each side of the six sides of the box.
Add your cold drink or food and it will stay chilled while you chill outside!
3. Movie screen
Host your own movie night at home!
Projector required plus one clean large white sheet.
Use the sheet to make a simple but effective movie screen.
Either hang from a pole or build a frame.
Grab the popcorn and enjoy!
4. Refill stuffed toys and cushions
Down and feathers from old duvets and pillows make great extra filling for leaking or deflated stuffed toys and cushions.
Wash the pillows or duvet first.
Lay out something to place the down and feather on, like a sheet, table cloth. or towel so that the down/feathers don't stick to your carpet!
Remove the down/feather carefully.
Grab the stuffed toy or cushion, make a hole if necessary and get stuffing!
Sew the hole back up.
Now your toys and cushions have a new lease of life!
5. Radiator duster
Ever tried to dust behind a radiator? It's not easy and vacuum cleaner gadgets can be pricey. Find an old sheet and try this:
Cut 9 strips from an old sheet, about 2m long and 30cm wide.
Tie a knot in one end.
Roughly plait them together in bundles of 3.
Tie a knot in the other end.
Get a few extra strips of sheet and make knots along the strips you have plaited.
Dangle behind the radiator and move up and down to remove the dust.
Have a vacuum cleaner ready to suck up the dust that you dislodge.
Simple but effective!
6. Rags
You can never have enough rags! From cleaning the windows and clearing up paint dribbles from DIY to a spot of car or bike maintenance, so useful!
Just cut up an old bed sheet, pillowcase or duvet cover for instant rags.
Easy!
7. Loft insulation
Duvets can't be recycled so loft insulation is a great way to make sure your old duvet doesn't end up in landfill. (Though it won't, of course, be as insulating as proper loft insulation.)
All types of duvets can be used as loft insulation including synthetic duvets.
Just lay out in the loft, avoiding any electric cables.
Use carefully and sparingly, an old duvet will not be as fire resistant as proper loft insulation.
8. Stop chimney drafts
If you have an unused chimney that lets in drafts, try this:
Pop an old pillow into the chimney gap.
NOTE: never light a fire or use a gas or electric fire with the pillow still in place.
Remember to remove the pillow on Christmas Eve. We wouldn't want Father Christmas getting stuck!
Home office uses
1. Zoom / Video conference backdrop
Working from home but embarrassed by the view your colleagues see behind you on Zoom? No problem!
Make a simple backdrop with a clean white sheet or duvet cover.
Decorate with marker pens or paint. Use a simple image like your company logo or get your kids to design something fun!
Hang from a pole or construct a wooden frame.
Take part in those video conference calls with pride!
2. Sound proofing
Professional You Tubers know that good sound is key to a good video.
If your room has lots of hard surfaces, the sound will bounce around and distort.
Use pillows as sound dampers by placing them around your room.
Transform your video audio!
3. Packaging material
Make your own environmentally friendly packing materials!
At scooms, we don't use any plastic in our packaging material. You can do the same with old bed linen, duvets or pillows:
Use old bed sheets, duvet covers or pillowcases to wrap and protect your package.
If you need extra protection, cut up old bedding and construct some pockets.
Then use the down and feather filling from old pillows and duvets to fill the pockets and seal with tape or staples.
As well as protecting your items, the sheets and down are light so they won't add much to your postage costs.
Great for the garden
1. Slug deterrent
A great organic way to deter slugs and snails from your plants.
You will need the filling from old down and feather duvets and pillows.
Scatter the down and feather around the plant to form a barrier.
The more feathers the better as they are spikier. So in this case, a lower quality feather and down duvet will work best.
As feather and down are biodegradable, there is no need to remove it once you have harvested your crops.
2. Weed control
If you've just dug your vegetable patch and you're about to plant new seedlings, you'll be thinking about how to prevent weeds also appearing. Our tip:
Get an old 100% cotton sheet, make some holes in it and plant the seedlings through it.
The cotton will allow water to penetrate and reach the soil.
Or for larger plants, cut out cotton discs to go around the base of each plant.
Once the plants are fully grown, you can remove and shred the biodegradable cotton sheet and add it to your compost bin or dig it into the soil.
3. Feather fertiliser
Feather and down can be great organic slow release fertiliser as it's high in nitrogen.
You will need feather and down from old pillows or duvets.
Put the feathers and down in a large container such as a water butt and let it fill up with rain water.
Place a wire grid over the contents and weigh it down with a few bricks.
Keep in the shade for around 2 months until it forms a soft mush.
Place this mush around your plants to form a nitrogen rich mulch or lightly fork in.
Happy plants!
4. Feather and down for nesting birds
Wild birds use a variety of materials to construct and line their nests to act as cushioning, insulation and camouflage. Feather and down from your old pillows will add a lovely, cosy layer to a nest:
Only use down and feather from bedding that hasn't been treated with chemicals (like scooms duvets and pillows.)
Place the down or feather anywhere in your garden or on your balcony. Perhaps hanging from your bird feeder, on bushes or hanging on trees. (But make sure cats can't reach the birds!)
You could use a mesh bag or feeder so that the material doesn't blow away. 
You might want to put a shelter over the nesting materials so they stay dry.
See our blog post for more tips:
5. Ancient fire starter
Here's one for Bear Grylls fans! Charcloth is used by adventurers and ancient civilisations as a fire lighter. It can be ignited by even the smallest single spark from a flint and steel and in turn be used to light a tinder bundle to start a fire.
Cut a few pieces out of an old 100% cotton sheet (it has to be 100% cotton) about 40cm square each.
Get an airtight tin such as a Golden syrup or treacle tin.
Make a hole in the top about the size of a match stick.
Put enough of the cloth in the tin to fill it and put the lid on.
Put the tin on some hot campfire coals and leave until the smoke coming out of the hole slows, which should take around 15 mins.
Remove from the fire and seal the hole with a stick.
Allow to cool and then remove the cloth which will be black (like a cloth version of charcoal).
When you next need to light a fire, just tear off a piece.
Use a flint and steel to land a spark on it. The cloth will glow.
Put the cloth into some tinder, blow and it will burst into flames.
Bear Grylls would be proud!
---
Also in The scooms blog
What could be better than a beautiful set of luxury bedding to gift a newly married couple? Practical, thoughtful and timeless, it's a gift any newlywed couple are sure to appreciate and the perfect way to mark the start of an exciting new chapter in their lives.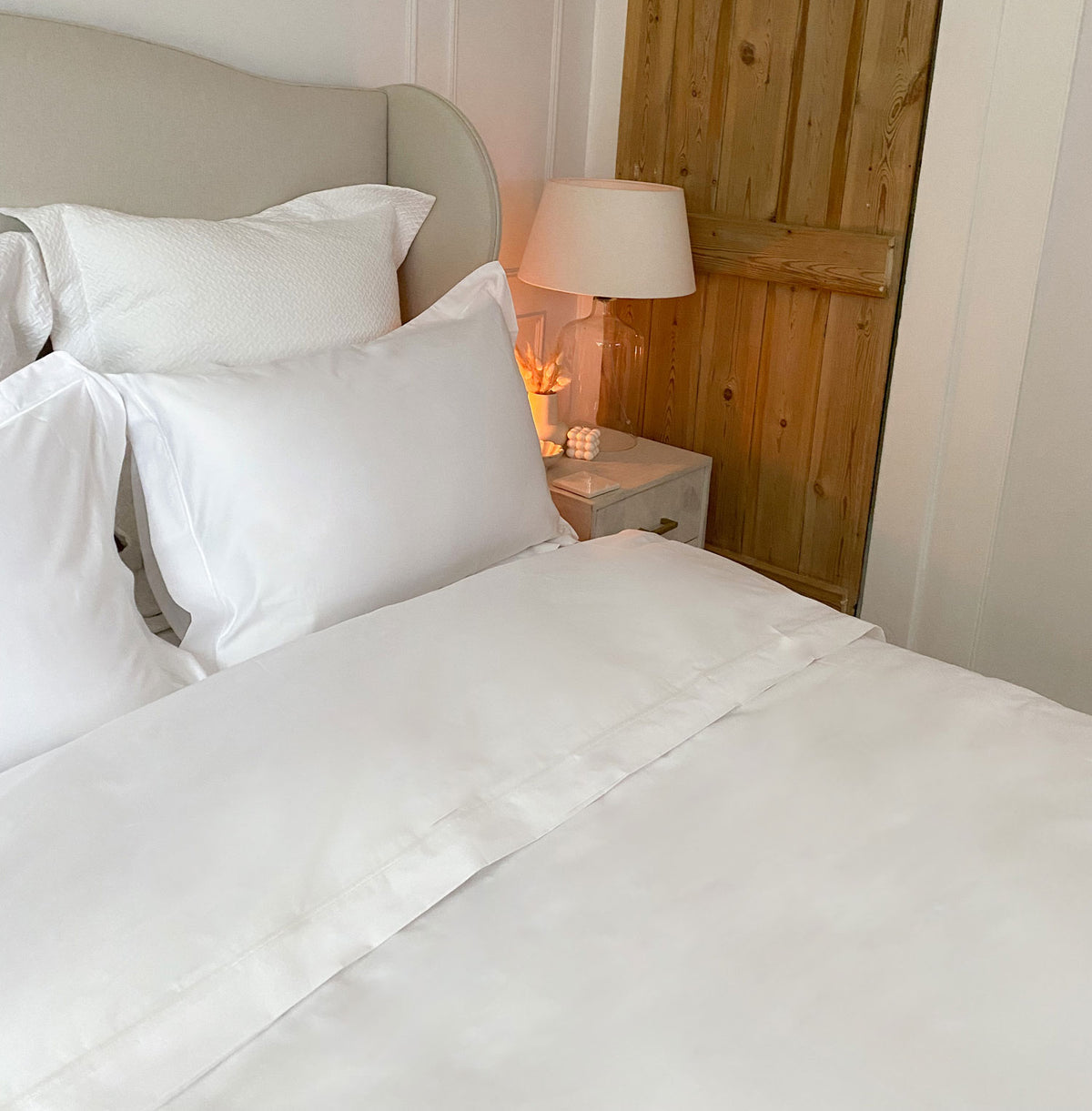 The best hotel quality pillows have a distinctive weight and feel and one of the main reasons is the filling. Hotels with the best pillows typically use a blend of luxury down and feather and they do so for good reason. 
Is it time to spring clean your bedroom? Decluttering your bedroom and giving it a good spring clean can help create a calm, relaxed bedroom sanctuary.