Interview with founders Emily & Jonathan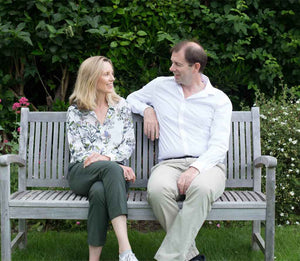 THE BEST BEDDING FOR THE BEST NIGHT'S SLEEP
A few years ago, our family moved back to Surrey from California, where Jonathan had been working for a digital health start-up company. We needed a lot of new bedding, duvets, pillows and bed linen. It had to be amazing quality to give us the best night's sleep, and it had to be suitable for dust mite allergy sufferers too, as Emily is allergic to dust mites. We thought it would be pretty straightforward.
OUR MISSION: IN SEARCH OF THE PERFECT BEDDING
Our first online search proved the opposite. There was so much choice and so many claims, it was beyond confusing. How could we choose the best duvet? Is duck down better than goose? Which materials are truly anti-allergy? And why are there so many types of Egyptian cotton?
Among the blizzard of claims and counter-claims, we found it impossible to work out what was best.
So this became our new mission. We set off to create our ideal environmentally-friendly, sustainably sourced, dust mite allergy resistant duvet, pillow and bed linen set.
WHICH DUVET IS BEST?
The duvet came first. We had dreams of the perfect, fluffy duvet that cocoons your body like a cloud.
Natural fillings such as goose down, duck down and feathers were the obvious choice as they're soft, warm, breathable and washable.
Goose down and duck down both have their advantages. Down is the finest layer of feathers found underneath the outer plumage of the bird. If you imagine it like a dandelion head, it radiates out, trapping warmth in the air pockets between the filaments. Nature creates it as a layer of insulation and it's around three times warmer than synthetic materials.
Goose down has the edge, though, as it has better thermal insulation properties. We specifically opted for sustainably-sourced Hungarian goose down. Thanks to the cold climate, Hungarian geese produce larger, fluffier 'dandelion heads' of down for a duvet that keeps you warm and cosy all night.
EXPERIMENTS WITH GOOSE DOWN
However, a good night's sleep is not simply due to the warmth of your duvet. You also want the duvet to drape around you, so you have to add some weight to the gossamer-light down.
Goose feathers are heavier than goose down, so we experimented with different blends to find the perfect balance. We settled on a mix of 90% goose down and 10% feathers for the ultimate combination of warmth and drape. (We did also create a 100% goose down prototype duvet, which our youngest son still loves and uses. But it was a bit too floaty for the rest of us.)
Next, we looked into how to construct the ideal duvet, selecting different types of stitching for our 4.5 and 9 tog duvets to make sure the filling was evenly distributed. Then, to fit in as much fluffy down as possible in our 9 tog duvet, we added clever extra side walls in each of the multiple small pockets.
Early on, we decided that the cover had to be pure cotton as it's breathable, moisture wicking and helps ensure the best night's sleep. So to finish, we chose a 100% super soft sateen cotton cover with a 300 thread count and a specially tight weave to make it dust mite proof.
We had invented our ideal 'sleeping under a cloud' duvet. What's more, it met the Nomite anti-allergen standard, meaning that Emily and others with dust mite allergies could rest more easily at night.
IN SEARCH OF THE PERFECT PILLOW
The perfect pillow had to be soft, fluffy and supportive, inviting you to just sink into it and drift off.
Our goose down and feather duvet experiments gave us the starting point. But we didn't want to use the same mix of 90% goose down and 10% feathers. The best pillows have a 'chamber' construction that has a firm inner core with a high feather content surrounded by a softer squashier layer that's rich in goose down.
After trying out various combinations, we decided on an inner core made from 85% feathers and 15% down and outer chambers made of 90% down and 10% feathers. This created a pillow that was wonderfully supportive and comfortable, as well as breathable and dust mite allergy resistant.
Our pillows have 100% cotton high thread count covers, they're produced without harmful toxins and chemicals, and the Nomite mark guarantees that they're dust mite proof, like our duvets.
DEMYSTIFYING BED LINEN
The next step in our journey was finding the perfect bed linen to complement our duvets and pillows.
We were determined to source the best possible cotton for our bed linen, which meant Egyptian cotton.
Bed linen made from Egyptian cotton has a well-earned reputation as the most luxurious in the world. Egyptian cotton is derived from a specific plant, Gossypium Barbadense, grown in the Nile Delta, where the unique climate helps produce extra-long cotton fibres. These long fibres produce strong, long-lasting linens that get softer with every wash.
Often, you'll see bedlinen described as Egyptian cotton. But, on closer inspection, you'll notice it's a blend containing only a small percentage of those special fibres. To be sure that we were sourcing 100% pure, authentic Egyptian cotton for our bed linen, we chose fabrics with the Egyptian cotton trademark.
The next puzzle involved thread counts. Egyptian cotton comes in a range of thread counts from 200 to 800, but higher isn't always better. We chose 600 thread count for our satin-weave bed linen, which gives our sheets, duvet covers and pillowcases a soft, silky feel.
The same attention to detail went into every element of our bed linen, from the large easy-to-use buttons on our duvet covers to the elegant marrow stitch piping on our classic Oxford pillowcases.
PLANET-FRIENDLY PROCESSES AND PACKAGING
To ensure that our bedding is planet-friendly, our goose down and feathers are responsibly sourced according to the Responsible Down Standard, and only washed in spring water, rather than harsh chemicals.
And we're absolutely committed to plastic-free packaging. Our bedding is delivered to you in a reusable material bag inside a cardboard box. 
WHAT'S IN A NAME?
How about our name? We chose scooms as it has a warm, relaxing sound to it. We also like how the double 'oo' in the middle of the word resembles two duvets rolled up together.
SCOOMS: BEDDING THAT PEOPLE HAVE BEEN DREAMING OF
It's been a whirlwind since our launch a couple of years ago. It turns out we weren't the only people in search of a simple, luxurious bedding collection that doesn't compromise on quality.
We were delighted when The Good Housekeeping Institute gave us their approval, saying "scooms is the bedding range you've been dreaming about". And equally chuffed when The Independent described our duvet as "the best all-seasons duvet we've ever tried, with bells on".
Most of all, though, we enjoy hearing from our customers. They love the quality and the fact that they can always speak to someone friendly on the phone.
It's everything we could have hoped for. We've created a simple, luxurious bedding range that we love and that our customers love too.
What's next? We just want to help more people discover scooms so they can have the best sleep they've ever had.
---
Also in The scooms blog
What could be better than a beautiful set of luxury bedding to gift a newly married couple? Practical, thoughtful and timeless, it's a gift any newlywed couple are sure to appreciate and the perfect way to mark the start of an exciting new chapter in their lives.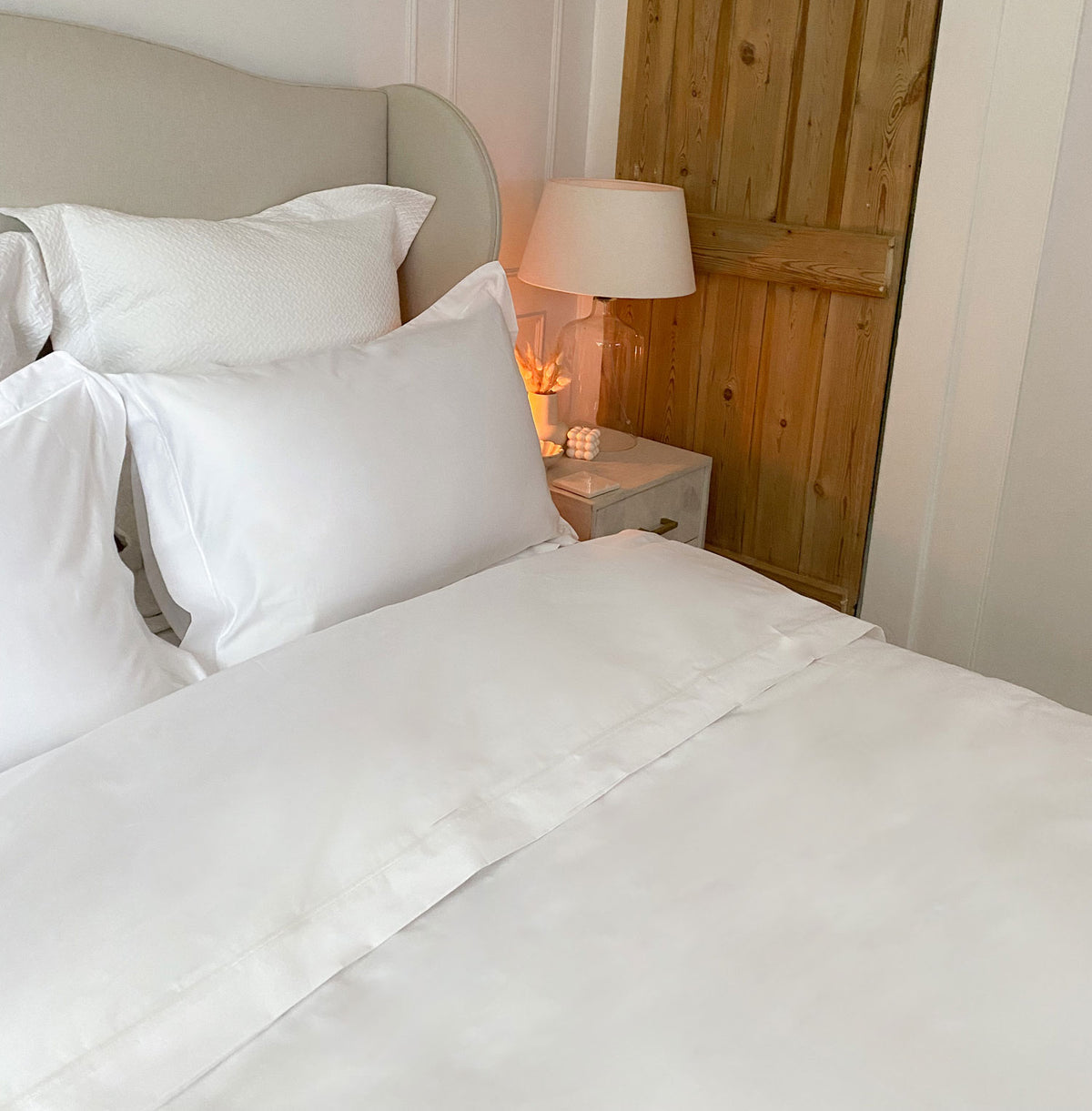 The best hotel quality pillows have a distinctive weight and feel and one of the main reasons is the filling. Hotels with the best pillows typically use a blend of luxury down and feather and they do so for good reason. 
Is it time to spring clean your bedroom? Decluttering your bedroom and giving it a good spring clean can help create a calm, relaxed bedroom sanctuary.