How often should you replace your bedding?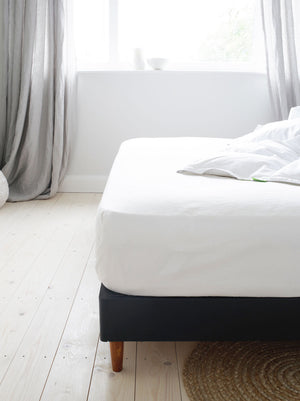 How often should I change my duvet, pillow, bed linen? This is one of the most common questions we get asked at scooms.
What the experts have to say:
Apparently the average person keeps their duvet for too long, around 7 and a half years! But regularly updating your bedding is not only important for your sleep but also for your health.
So how can you tell when it's really time to update your bedding?
Here's our advice:
Are you sleeping well?
If you're sleeping badly and feeling uncomfortable in bed, then something might be wrong with your bedding.
Duvets
Is your duvet warm enough? If you are cold during the night, don't just turn the heating up, it could be time to invest in a higher tog duvet. Experts say that you sleep best in a bedroom around 18C / 65F when your body is a cool to normal temperature with a duvet designed for that season. If you are still sleeping with a 3 to 4.5 tog duvet at this time of year and you're feeling chilly at night, upgrade to a 7 tog duvet to 10.5 tog duvet. Not sure which tog is right for you? View our tog rating chart.

Has your duvet lost its warmth? If your duvet filling loses its ability to trap air, then it will lose its fluffiness and therefore its warmth and start to feel deflated and flat instead. This is a key sign that it's time to replace your duvet. Hungarian goose down duvets, if well cared for, retain loft (fluffiness) for up to three times longer than most synthetics. View our duvet buying guide.

The scooms all seasons duvet comes with two duvets, a 4.5 tog and a 9 tog, that can be easily fixed together when the nights get colder.

Pillows
Is your pillow supporting your head and neck properly? If you are waking up with a stiff or painful neck, then your pillow is no longer doing what it's meant to do. Like mattresses, pillows lose their ability to support over time.

Pillows also absorb body oils and dead skin cells and can attract dust mites. So you really don't want to be using them forever!

Has your pillow lost its shape? Some fillings last longer than others. Natural down and feather will last longer than polyester. Over time though, all pillows lose their shape and need to be replaced. View our guide on how to choose a new pillow.

Do our pillow test:
Down & feather pillow - Do you have to constantly fluff it up so that it supports your head?
Foam & synthetic pillow - Has the filling gone lumpy and clumpy?
Has your pillow gone flat?
Does your pillow no longer support your head and neck?
If you fold your pillow in half does it stay folded?
If you answered YES to any of these questions, then you need a new pillow!
Does your bedding still wash well?
Duvets
Is the filling lumpy after a wash? After washing and drying your duvet, you should be able to give it a good shake to fluff up the filling. If however, the filling remains compressed or lumpy, then this is another sign that your duvet is no longer able to provide the insulation that it should. Time to go shopping!

Pillows
Has your pillow lost its shape after a wash? Washing your pillow regularly every six months or so can extend the life of your pillow. Once you notice that the filling no longer springs back into shape after a wash, dry and shake though, then you need to replace it!
Is your bedding looking worn?

Duvets & pillows
Is your duvet or pillow falling apart? If the filling is starting to leak out due to the seams splitting or the casing becoming thin, then it's definitely time to replace your duvet or pillow.

Bed linen
Are your sheets, duvet cover or pillowcases showing signs of wear and tear? It's a bit easier to tell if your bed linen needs updating. Holes, rips, fraying, bobbling - all signs that your bed linen needs a refresh.

Good quality cotton sheets should last between five to seven years, but top quality sheets made from Egyptian cotton should last even longer if you look after them well. Egyptian cotton is more durable than other cottons and bedding made from this long-staple cotton not only gets softer with every wash but also improves with age.
Recycling your bedding
Duvets
Duvets are not widely
recycled
, though you could check with your local council. Instead of throwing your old duvets away though, ask your local animal shelter if they would have any use for your old duvets or pillows.
Pillows
Pillows aren't recyclable but instead of throwing your old pillows away, think about giving your pet a new bed or donating them to a friend's pet or an animal shelter.
Bed linen
There are loads of different uses for an old sheet or duvet cover. We keep all ours to use as dust sheets for painting. They're also great for
making teepees
, to sit on for picnics in the garden, for kids to paint on, etc! Lots of scope for your imagination!
Tips for making your bedding last longer
Our top tip is to buy the best quality bedding you can and to look after your duvet, pillow and bed linen carefully to ensure they last as long as possible.
Duvet
Buy the best quality you can, it will last longer. Buy a duvet with:
100% cotton cover - cotton is breathable so less sweating!
Good thread count - 246 or higher gives a tighter weave preventing the filling poking out.
Careful construction - box stitch or baffle box construction keeps the filling evenly distributed and helps make the duvet more durable.
Care for your duvet:
Pull your duvet back daily to air it and open your bedroom windows to release moisture and humidity.
Don't over wash it - once every 6 to 12 months. Refresh it in between if possible by airing it outdoors.
Use a good quality breathable cotton duvet cover - protect your duvet from body oils, fluids, hair, etc.
Wash your duvet cover once a week - helps keep your duvet clean and fresh.
Pillow
Like a duvet, buy the best quality pillow you can if you want your pillow to be more durable. Make sure your pillow has:
A breathable filling - unless you like the feel of memory foam.
100% cotton cover - cotton is sweat wicking
Good thread count - more tightly woven 246 or higher thread count will stop the filling coming out.
Supportive construction - a chamber pillow (think sandwich) has a core of firmer filling such as feather and an outer layer of softer, squishier filling like goose down.
Care for your pillow:
Use a good quality breathable cotton pillowcase - protect your pillow from oils, fluids, hair, etc.
Bed linen
Good quality linen will last longer and be more durable and less likely to wear and tear. Sheets and bedding made from Egyptian cotton will be more durable than other cottons and get softer with every wash. So, we recommend that you buy Egyptian cotton for sheets and bed linen that will last and improve over time.
Care for your bed linen:
Wash your bed sheets, duvet covers and pillowcases once a week - to keep your bed linen fresh and to protect your more expensive bedding like the mattress, duvet and pillows, from body oils, fluids, hair, etc.
Look after your health - When you don't wash your sheets, oils and fluids from your body can build up and become embedded in the fibres of your bedding which are then more difficult to get rid of. Also, dust mite droppings can cause allergic rhinitis or breathing problems for people with asthma.
When you're ill - experts recommend that bedding is changed every day if possible or at least that your pillowcase is cleaned daily as germs and viruses can live for several hours and even survive a wash.
Top tip on how to kill germs and viruses on your bed sheets from Microbiologist Laura Bowater:

'Dry sheets and pillowcases in direct sunlight if you can, as UV light is effective in killing micro-organisms. Run a hot iron over pillowcases on the cotton setting (200c) to kill any leftover bacteria'.
---
Also in The scooms blog
What could be better than a beautiful set of luxury bedding to gift a newly married couple? Practical, thoughtful and timeless, it's a gift any newlywed couple are sure to appreciate and the perfect way to mark the start of an exciting new chapter in their lives.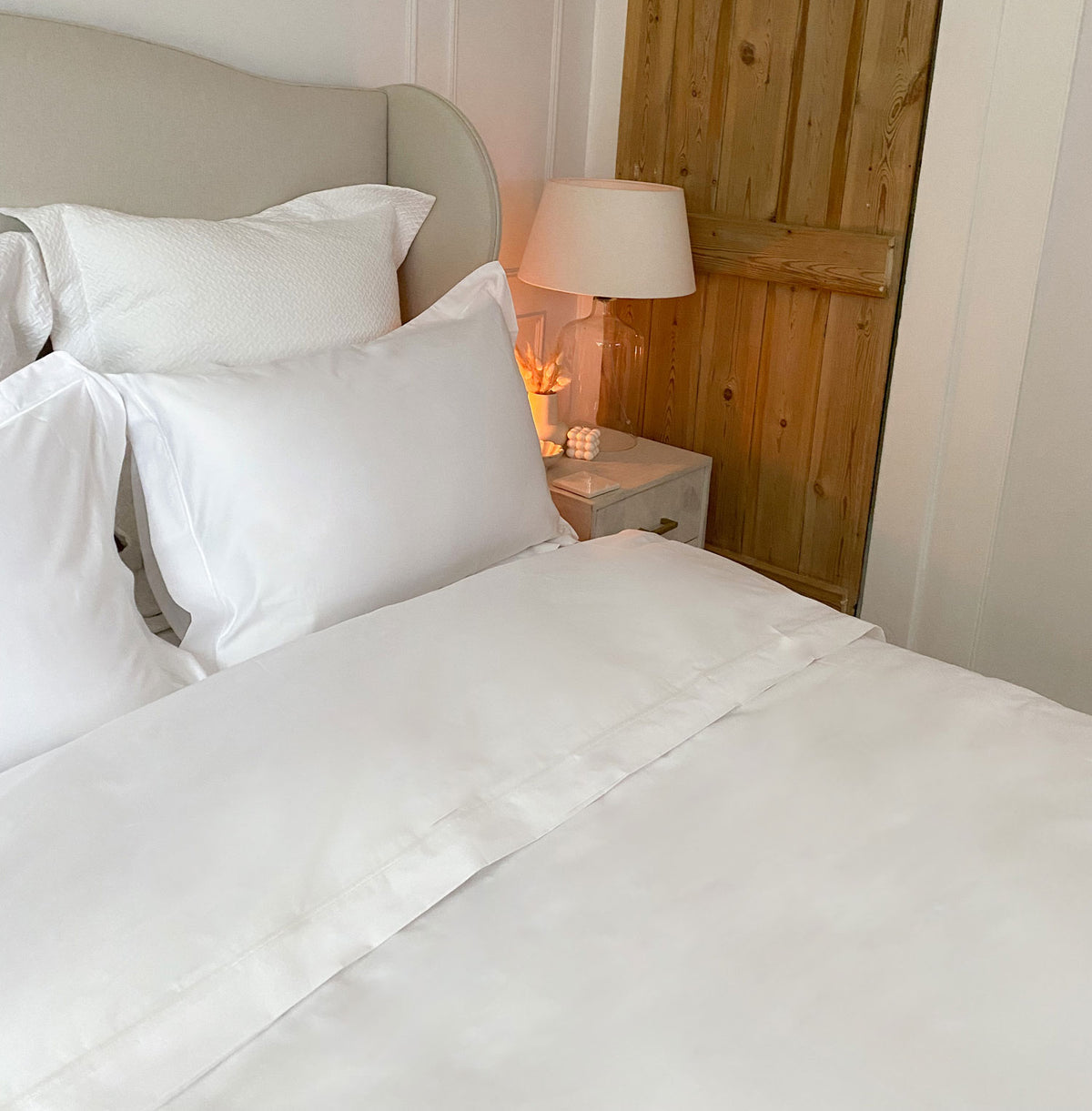 The best hotel quality pillows have a distinctive weight and feel and one of the main reasons is the filling. Hotels with the best pillows typically use a blend of luxury down and feather and they do so for good reason. 
Is it time to spring clean your bedroom? Decluttering your bedroom and giving it a good spring clean can help create a calm, relaxed bedroom sanctuary.